Animal People:
Cheance Adair
Volunteer and Foster for San Diego Humane Society
As a San Diego Humane Society foster and volunteer, Cheance Adair helps pets prepare for their new homes and is passionate about fundraising to create a brighter future for even more animals. She's inspired to make a difference for animals by her "celebrity" pets — a pair of miracle kittens and a hoarding case underdog. In our Animal People interview, she shares how animals have helped her find motivation and a greater sense of community.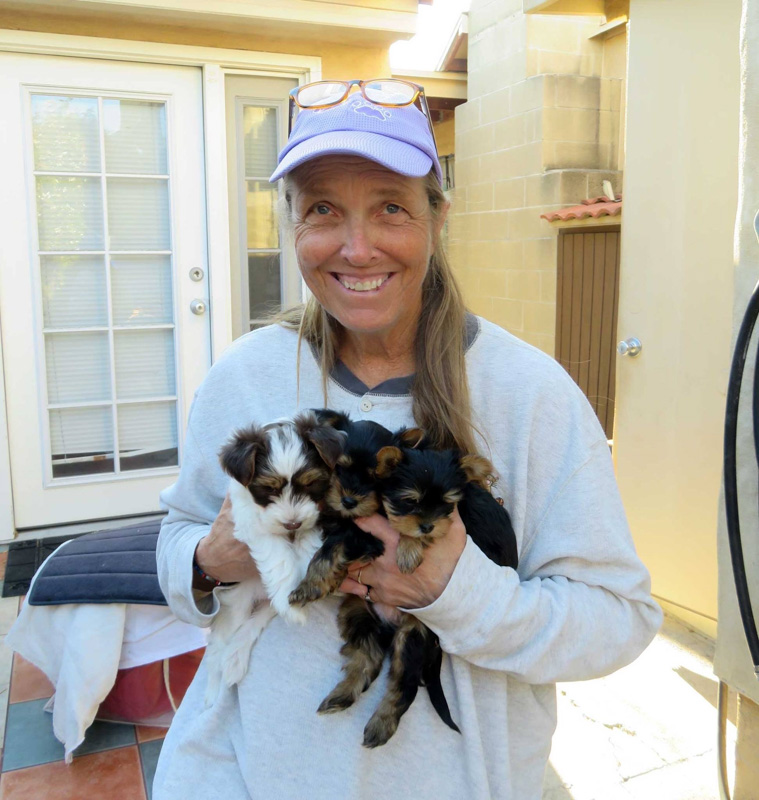 Tell us about the celebrity kittens you adopted!
Mouse and Wifi were my first pets adopted from San Diego Humane Society. I already had my dog, Jack, who was adopted from a friend of mine in San Jose, when I heard their story. Mouse and Wifi — the cable kittens — were somehow boxed up from Cox Cable in Orange County and shipped down to Chula Vista. There's no way to know if their mom was relocating them and just popped them into a box. Somebody in Chula Vista opened the box and noticed the umbilical cords were still intact and contacted the Kitten Nursery.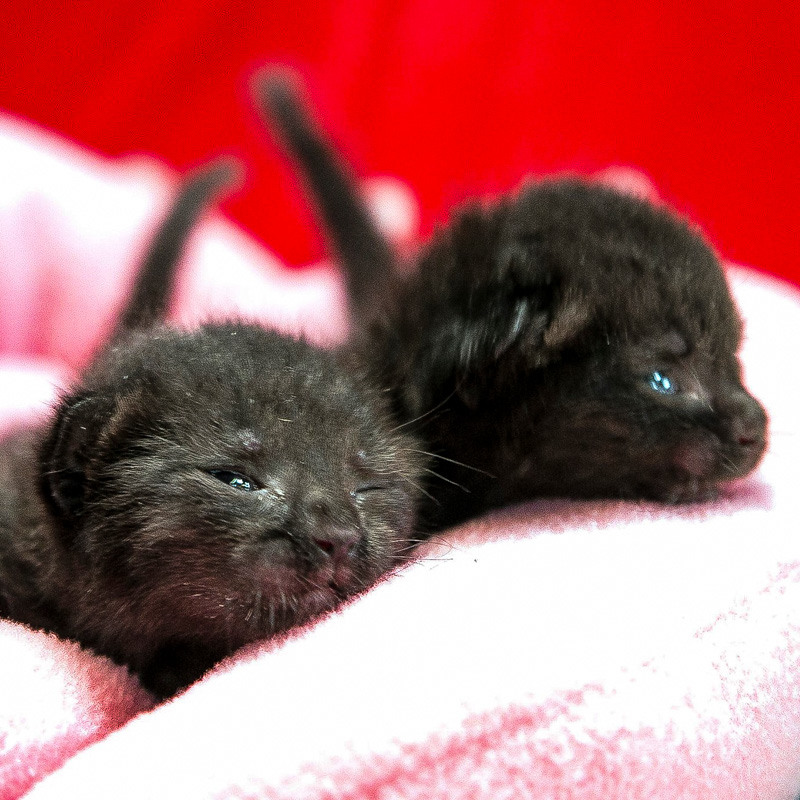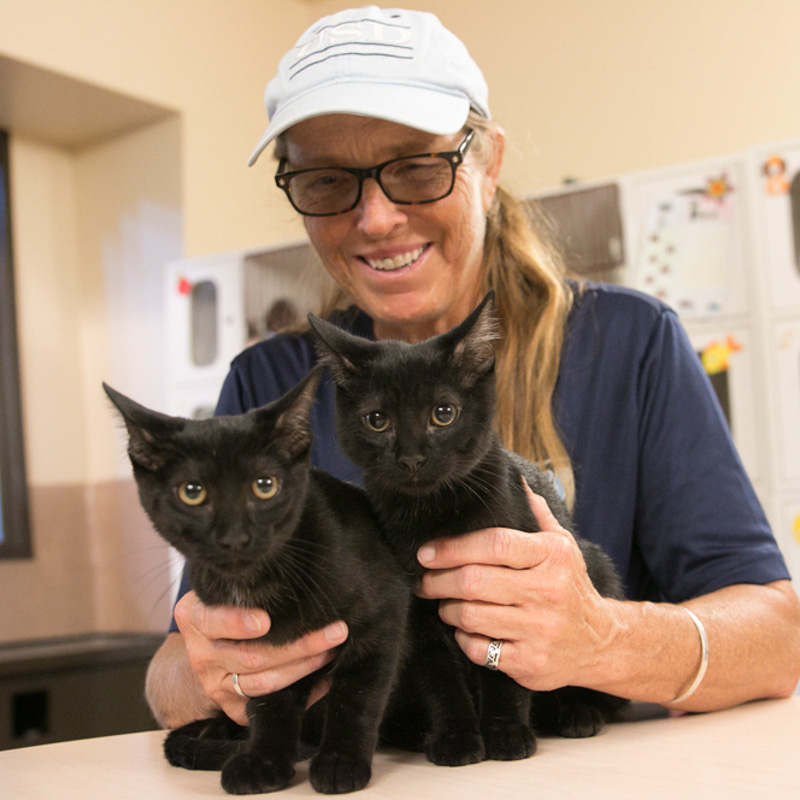 They're still with me, and I renamed them Mister and Sister. I've had them for almost eight years and they're just great companions. I've put shelves all over the place and they have the run of the house, and they're very vocal about it. Mister gets along with everyone and doesn't mind playing, and Sister is a bit standoffish. I've had several rescue cats prior to these two, and as a family growing up on a little farm in Ohio, we always had animals. Having pets in the house was always part of our lifestyle.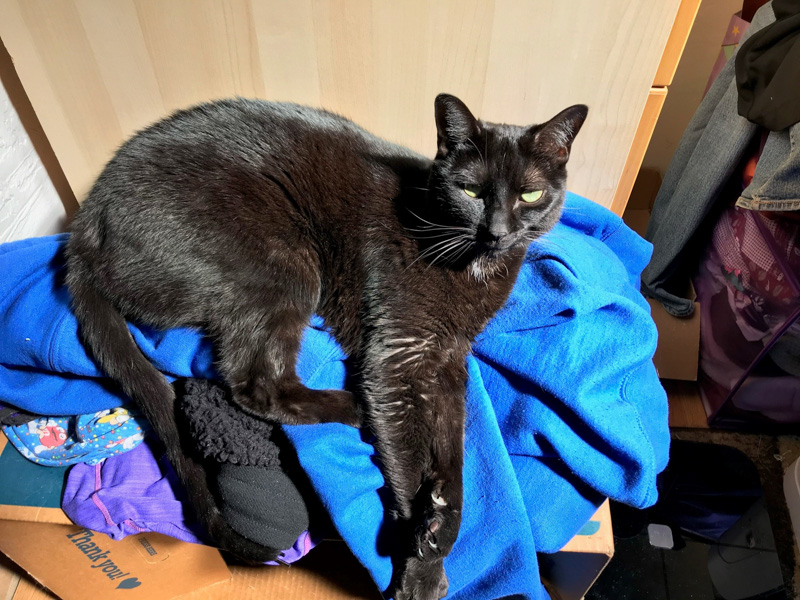 How did you start fostering pets?
I heard about the 92 Yorkies rescue story, but at that time I had another dog at home. I made a contribution to San Diego Humane Society, but I wanted to do more. I was asked if I could foster a little Yorkie mom and I said, "Sure!" I had never fostered before, let alone fostered a mom who was about to have puppies. This was a very popular rescue story, and I thought there must be a plethora of people who were just chomping at the bit to foster. But they came back and said, "We're trying to decide if mom should have the puppies in your house or in the shelter." I thought, "Wow, this is happening!"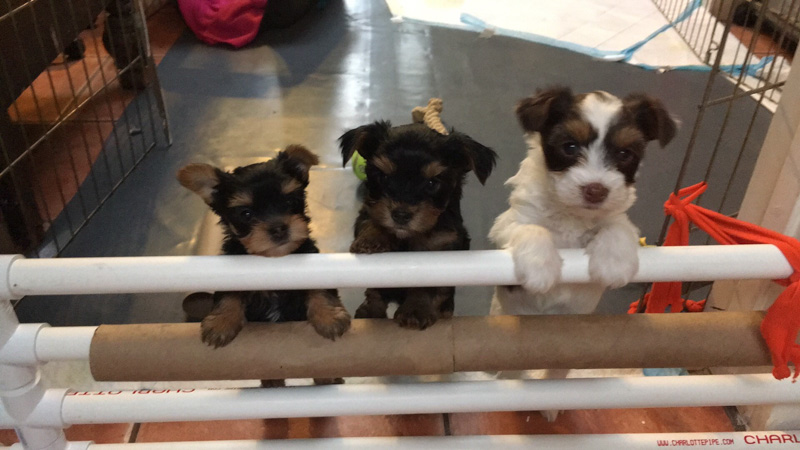 Fortunately, they let mom have her babies under the supervision of San Diego Humane Society because little Lina was only six pounds and maybe two years old, and she was pregnant with five puppies. She had to have a C-section because two of the puppies hadn't made it and one was blocking the birthing canal, but her three healthy babies were born on Super Bowl Sunday 2017. Three days later, they were at my house and I had the opportunity to foster my first litter of puppies. It was crazy and just an amazing adventure to see Lina turn around and care for her puppies. The puppies were each so different as they grew.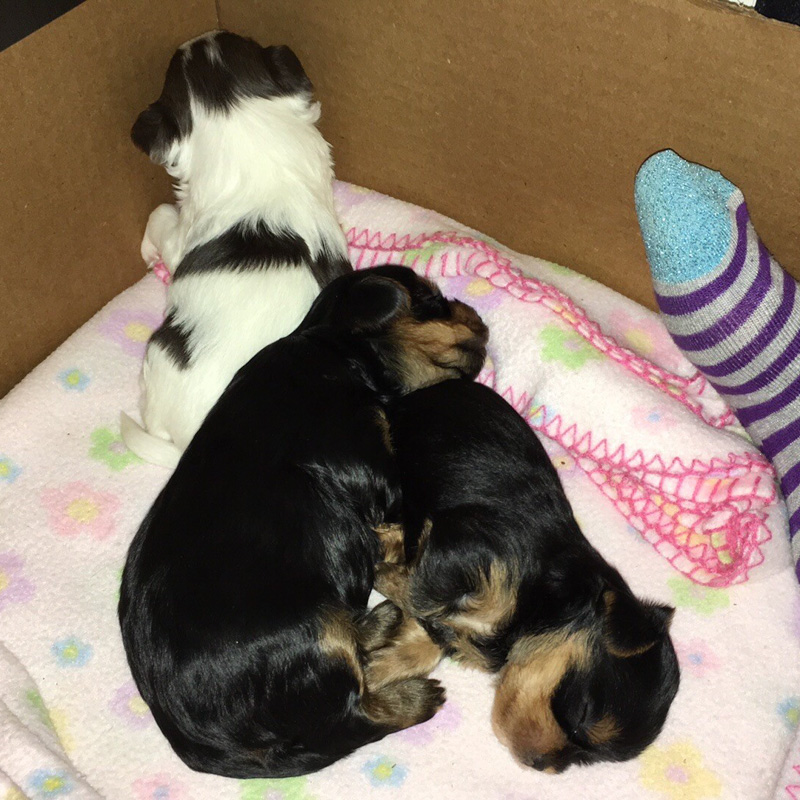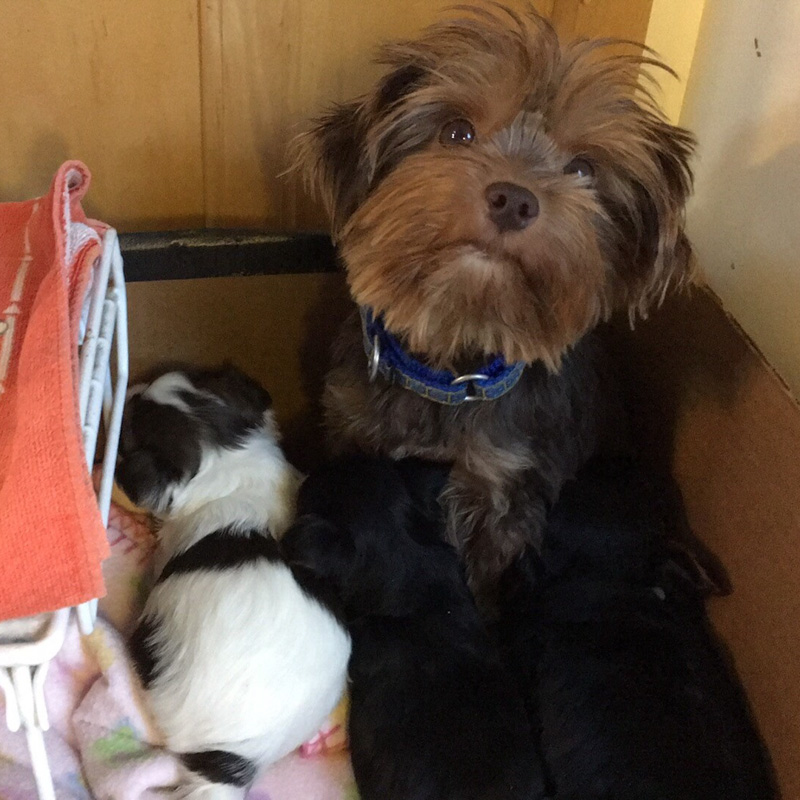 During that time, my dog of 10 years, Jack, was diagnosed with terminal cancer and died a month later. I think Jack knew that I wasn't going to be able to suffer his loss without someone else there. And then there was Trey, Lina's smallest baby. It took Trey 13 weeks to hit the two-pound mark, which she needed to reach to be spayed. I foster failed her, and she's a whopping four pounds now.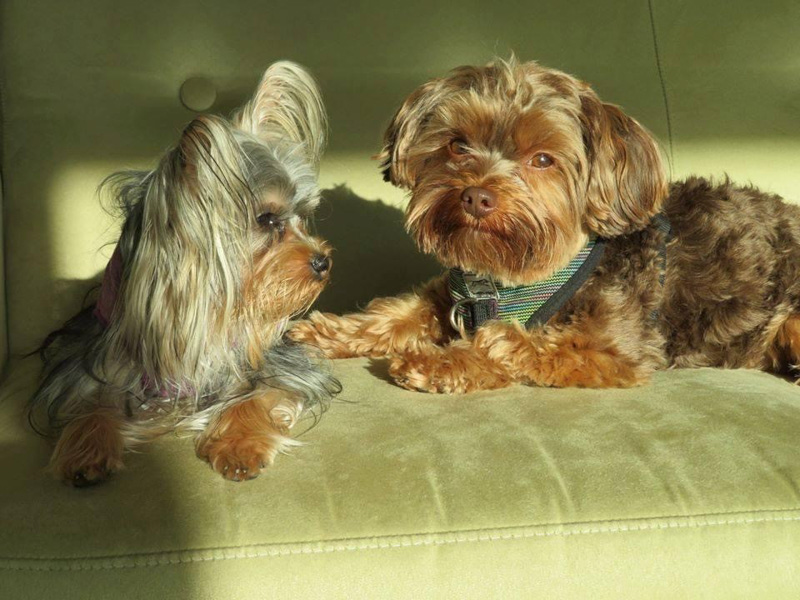 So, you ended up with another "celebrity" rescue pet! How did you know Trey was the pup for you?
It was a hard decision. I thought I would keep Trey's mom, Lina, but I already had other pets and she needed someone who could give her more one-on-one care. I always had an affinity for small things, and I became enamored with tiny Trey, who was just as feisty as her brother and sister who ended up being 8 and 15 pounds. She just won me over with her personality and her perky little ears. I could just pick her up and put her in my pocket and no one would know she was with me!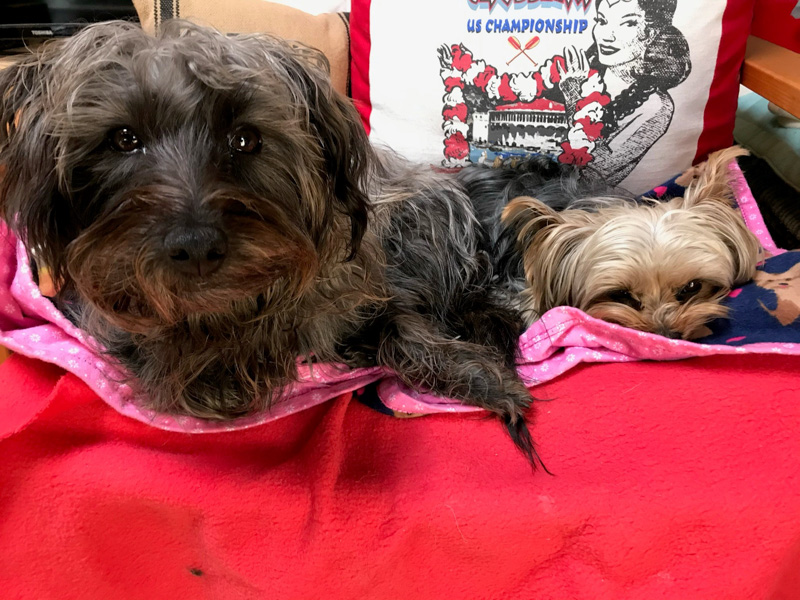 After a loss, it's a little hard to think of getting another pet, but the amount of joy that a pet brings you is worth it. Your heart is always going to break a little with pets, but you just have to push through it. Your heart just keeps making new space and breaking and making new space.
What is your relationship like with Trey?
I wanted to try something different with her than I did with Jack, so we could establish our own relationship. I started running her through a cat tunnel and playing with her as a very young puppy. Then we started training to learn foundation work — like how to sit and stay — and that was helpful for me to spend time with her in that context. Now she's a 4-H jumper and has qualified in toy dog agility. We just came back from a trial where she got three first-place ribbons and three qualifying times. It's pretty funny to watch her when you think of the other larger dogs, mostly border collies, zipping through the courses. She isn't even heavy enough to weigh down the teeter totter. It's been so fun for both of us and it's a good bonding experience. She's a good partner.
I coach a dragon boat team, and as the coach I also steer. There are 20 people rowing and I stand in the back with a very long oar to keep the boat straight. During practice, I wear a front pouch and Trey just rides in there. She will often just settle in and sleep. We'll do a 500-meter course and while we're talking to the other team at the end she'll pop her head up, and people will be so surprised because they didn't know she was in there. She did a pretty good job of adapting to my lifestyle.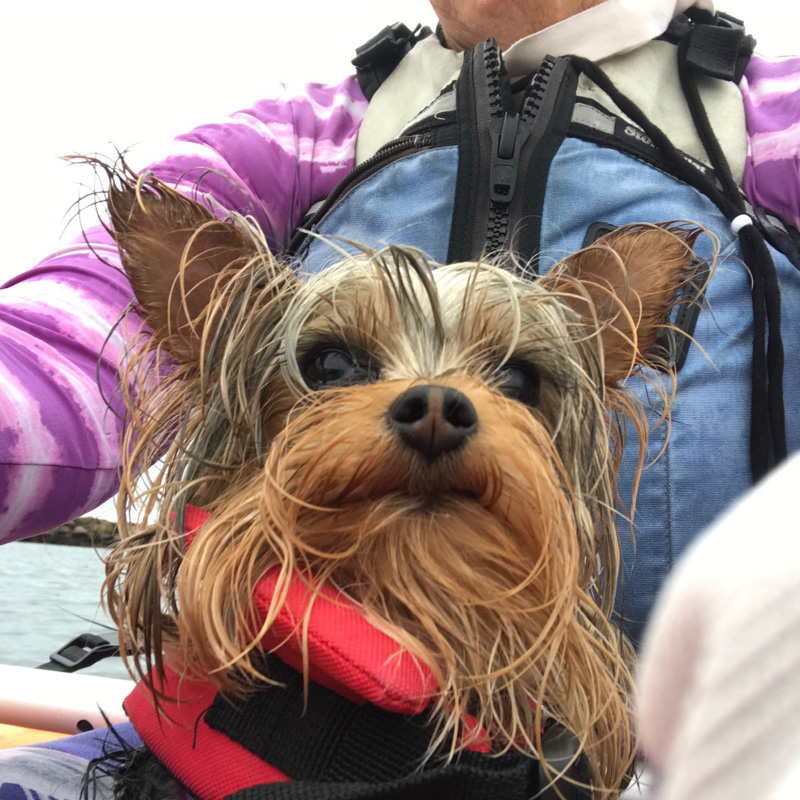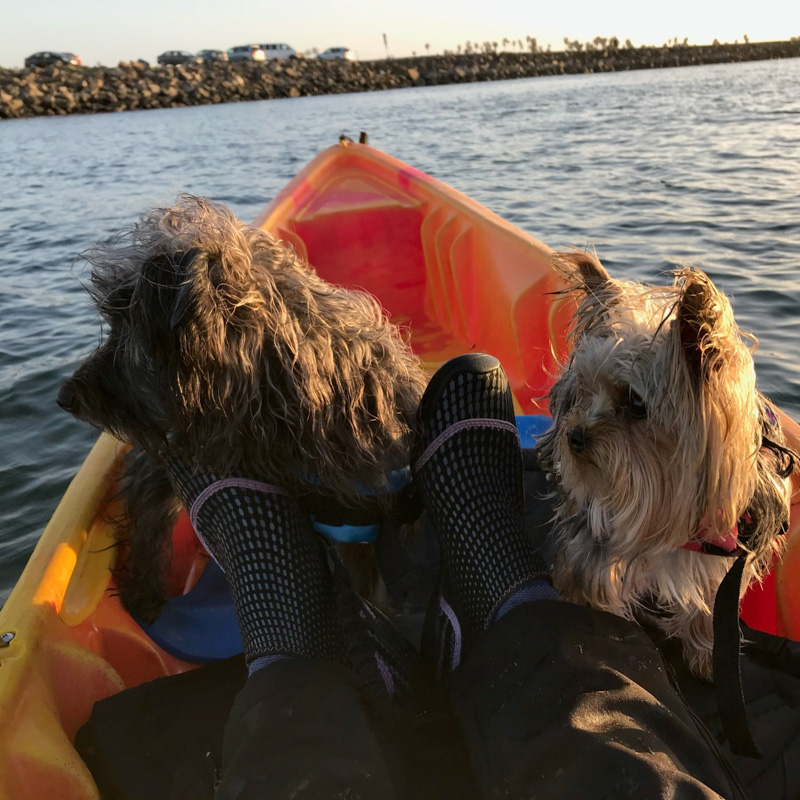 What are your biggest takeaways from your foster experiences?
I have fostered several cats and kittens from San Diego Humane Society. I found seven kittens in the canyon near where I work and I brought them to the Kitten Nursery, and they asked me to foster three of them. I've since become the "can't say no" animal rescuer. When I foster, I call up my friends and ask, "Hey, who wants a kitten?" I applaud and have a huge amount of respect for people who can continually foster, because it can be hard to give them up.
I think fostering gives you an opportunity to be part of something greater. When you're fostering a kitten, puppy or another animal, you're able to help turn around a not-so-great situation and get to a new and better life. I think there's a sense of sadness when you're with them for weeks, and I've cried when I gave them back, but you know they're moving on to a better place. Your heart is bigger for it, and you learn something about yourself and each animal. It's just a great opportunity.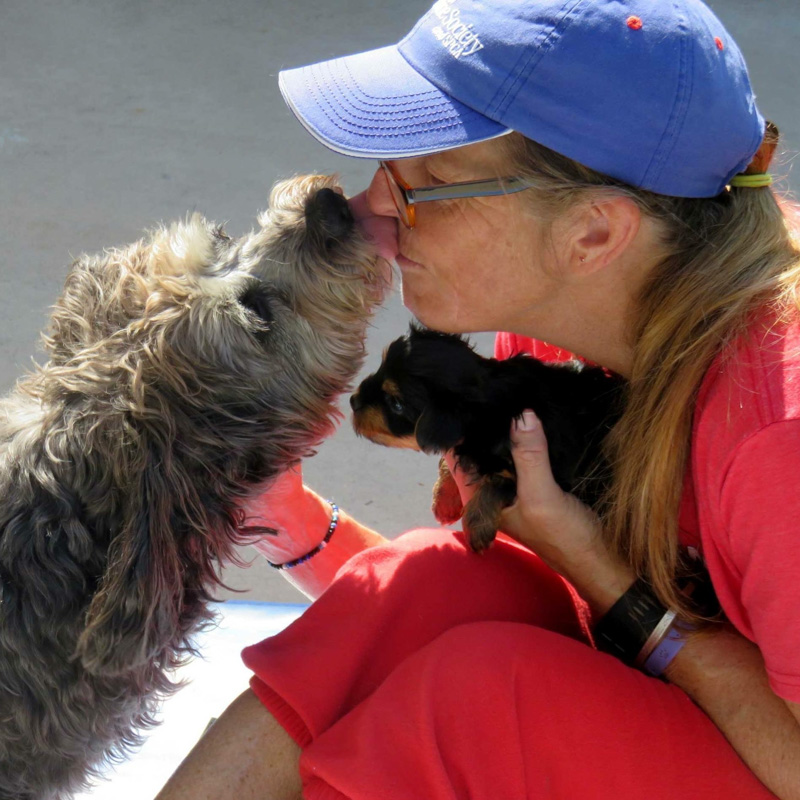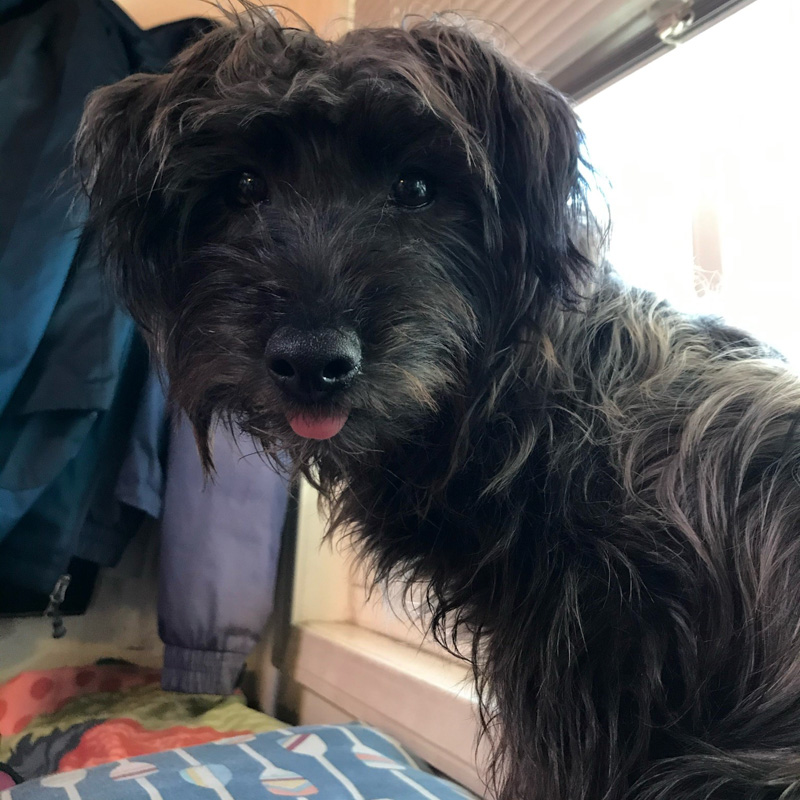 You've also made a big impact through the years during the Walk for Animals. What inspired you to start fundraising?
After adopting Mouse and Wifi, I started to participate in the Walk for Animals and started fundraising. My first year walking, it was just me and Jack. The second year, after I had fostered Lina and the puppies, I joined up with the group 92 Yorkies Happily Ever After. It's really my personality — if I see something that I'm really passionate about, I tend to not just sit by and I try to get more involved. I really pushed on that fundraising component, knowing that all of the funds we raise go toward the rescue of animals like the Yorkies. A lot of my friends know my story and they want to give. My friends are also competitive, so if we find ourselves in a place where we're not the top walk fundraisers, I let them know we don't do second place. They've also met Trey and know the passion I have for animals, so they support that as well.
What's the community with the other rescued Yorkie adopters like?
We kept the group together through a Facebook page, and we've had little meetups where we bring them together to play. We share our stories and our successes as the dogs have overcome some of the issues they suffered early on. We all support each other and even helped raise money when one of the dogs needed an operation. It's been a good opportunity for us to see how the dogs have changed and grown and become more dog-ish, not so skittish. We've all learned from each other.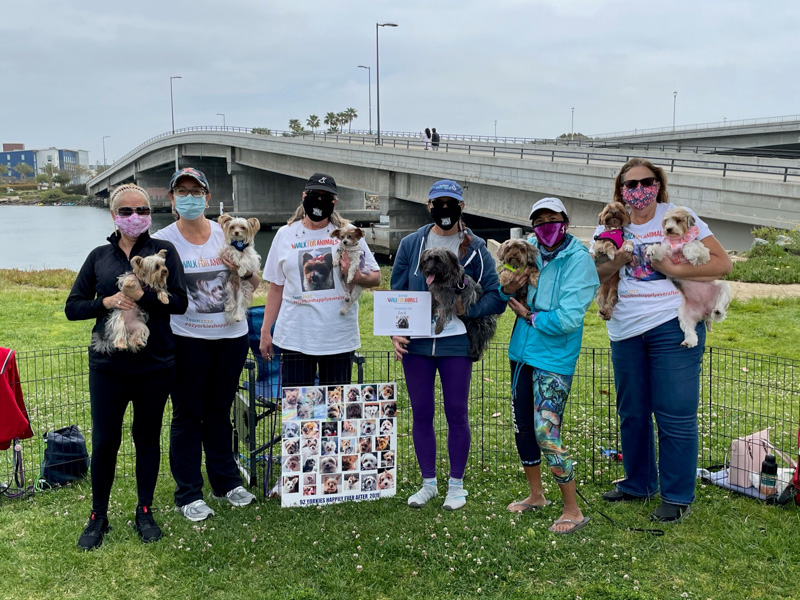 What do you recommend for others who want to help animals?
It's heart-wrenching for me to see dogs in the shelter who don't have homes yet, but that's why I try to volunteer where I can. And I think that's something people who are similar to me can do — those who think they can't go through the emotional part of walking dogs or can't give their house up to foster. All the "I can't, I can't, I can't," but there are so many other levels of "cans" that don't break your heart. You can do laundry and wash towels, and you can bag food at the pantry. You can even volunteer from home. These little opportunities add up to make a difference.
…
Learn how you can volunteer at San Diego Humane Society at sdhumane.org/volunteer.
---
Published: November 8, 2021