Animal People:
Lili Chin
Artist, Author and Illustrator
Lili Chin — Malaysia-born artist, author and illustrator — gained international recognition with her animal behavior artwork, based on her beloved Boston terrier, Boogie. Her passion blossomed into a career, inspiring and educating animal lovers. In our Animal People interview, Lili shared her journey into art and education, and introduced the special animals who have changed her life along the way.
Who is the animal who has made the biggest impact on your life?
Boogie, my Boston terrier, whom I adopted from Boston Buddies in 2007. Boogie passed away last October at the age of 16. Boogie was my best buddy and was by my side every day for 13 years. He made a big impact on my life, my art, my career and my education about animal behavior. Shortly after I adopted Boogie, he turned my life upside down when he bit someone and almost got me evicted from my apartment.
In my efforts to "fix my dog," I learned that a lot of popular information about dog behavior — especially reactivity and aggression — was wrong or out of date. I connected with dog professionals who used positive reinforcement and progressive training methods, and applied what I was learning. Boogie blossomed into a happier, more relaxed and expressive dog, and our relationship deepened. Living with Boogie and learning from him helped me become a better human being.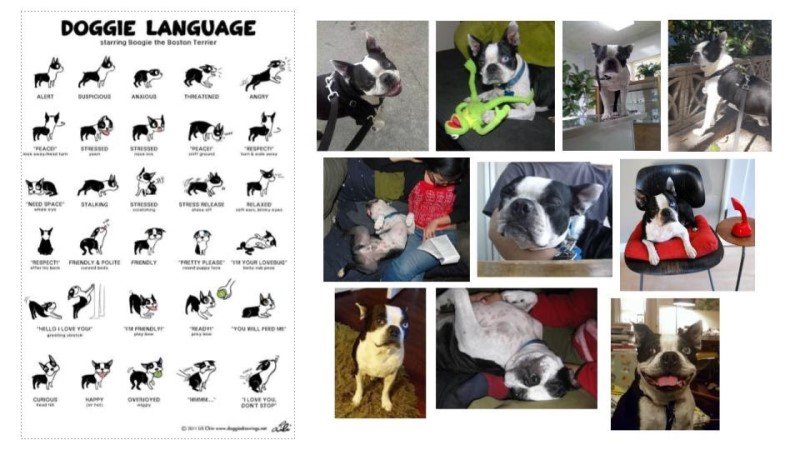 We're very sorry to hear about losing Boogie. Do you have other animals now?
My current pets are Mambo and Shimmy, 3-year-old cats adopted in Los Angeles in January of this year. Mambo is a handsome, fluffy black cat with a snaggletooth. Shimmy is a petite and pretty gray-white tuxedo cat who loves Mambo and head scritches.
What have your cats brought to your life?
The few months between the death of Boogie and our adoption of our cats, I felt like I wasn't myself anymore. My home was empty and lifeless, and my life felt like it had no meaning or structure. Boogie was like a "person" to me; not simply replaceable with another member of his species. I am so glad we adopted Mambo and Shimmy. These two cats have brought a ray of sunshine and purpose back into my home. They keep me busy, make me smile and I guess my body is producing oxytocin again!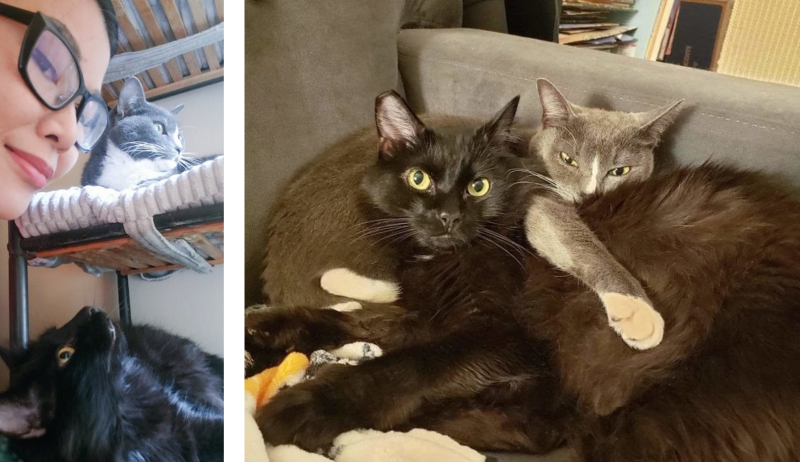 How have animals influenced the direction your life has taken?
I am still sometimes amazed that I am on my current life path. When I was a kid, I wanted to grow up and be a veterinarian because I wanted a career with animals. Instead, I worked in the animation industry, then became a self-employed illustrator. Now I work as an illustrator for animal trainers, behaviorists and veterinarians, and have published a book about dog body language. I may not be working directly with animals but animals are the subject of my artwork, and I live vicariously through people who work with animals.
What inspired you to use your artwork for animal behavior education?
I didn't set out to create educational artwork. I started illustrating my own training experiences with Boogie many years ago and simply shared what I was learning — how not to greet a dog, doggie language, etc. I found that what I was putting out there on the internet struck a chord with many people and had been helpful. The positive feedback over the years from animal behavior professionals motivates me to keep spreading the word about animal body language, humane animal training methods and behavior science. I enjoy translating important information into visuals to make it fun and accessible to more people. It means a lot to me that my art makes a difference in the world of animal welfare.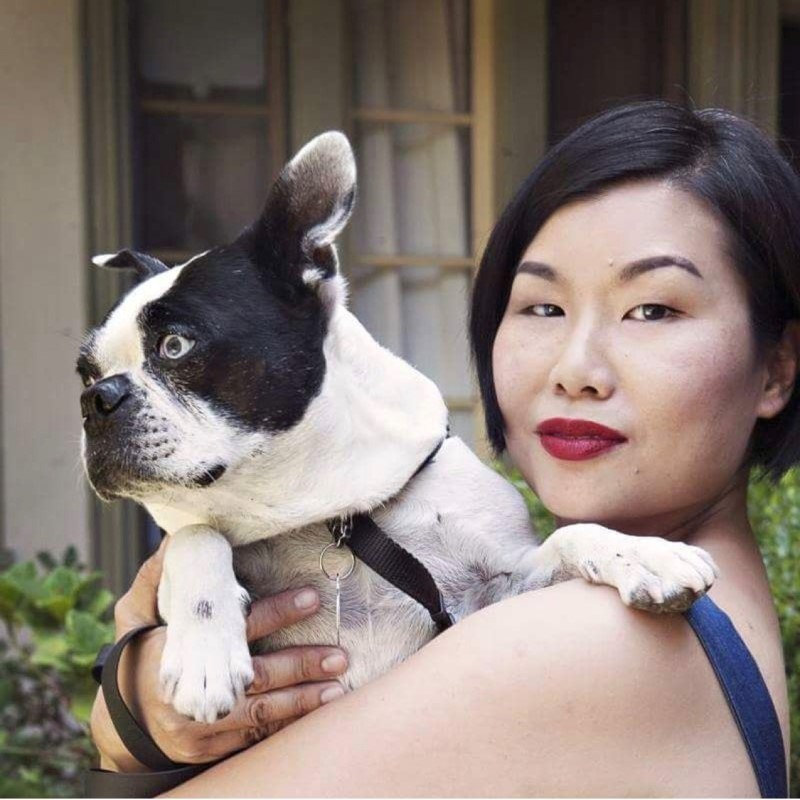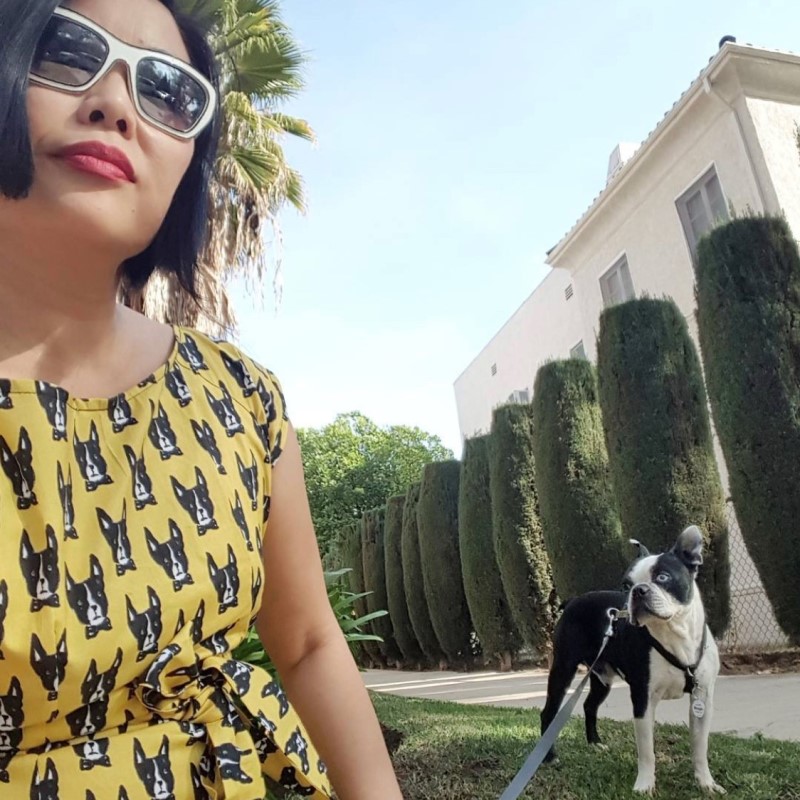 Having rescued your pets, why do you think rescue and adoption are important?
I personally can't think of any reason not to adopt. I have no need for a working animal or a sports champion who needs to look or behave a certain way. My companion doesn't need to be "perfect" physically, behaviorally or genetically for me to love them and be happy, as I have learned from experience. Sure, it can be a learning curve, but the pros outweigh the cons! I think it's important to adopt to get animals out of the shelter environment. The longer they stay in a shelter, the more stress or health issues they could develop due to limited opportunities for enrichment and social interaction. This is not a life they deserve.
What are some small, everyday steps you take to make a difference for animals?
This is a close-to-home answer. I am reminding myself to get off my butt to play with my cats every day! Just as dogs have dog things they need in their lives to be happy and healthy, cats need to hunt, and interactive play fulfills this need.
Check out Lili's artwork and educational resources: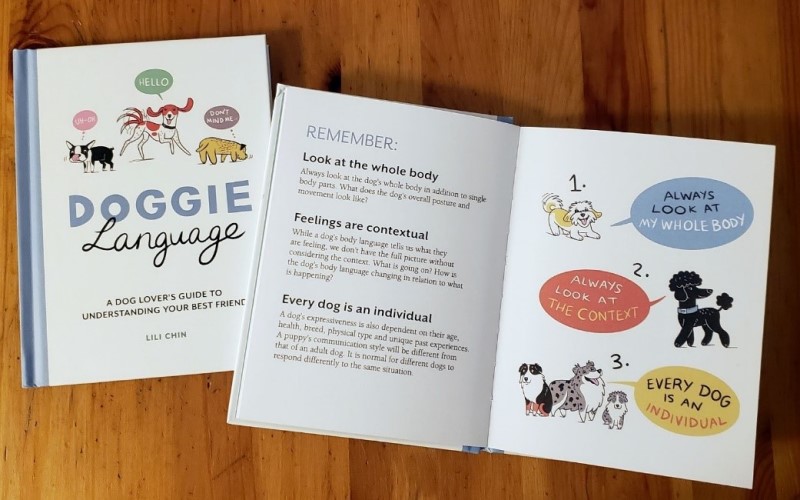 Published: June 7, 2021