Animal People:
Kelly Maronpot & Ilana Mobley
Animal lovers Kelly Maronpot and Ilana Mobley are turning "I do" into "I dog!" The lifelong friends founded Fairy Tail Pet Care to incorporate couples' beloved pets into one of the most important days of their lives. The duo also gives back a portion of their wedding proceeds to help shelter pets in need. Kelly and Ilana share the magic it takes to combine mutts and matrimony in our Animal People interview.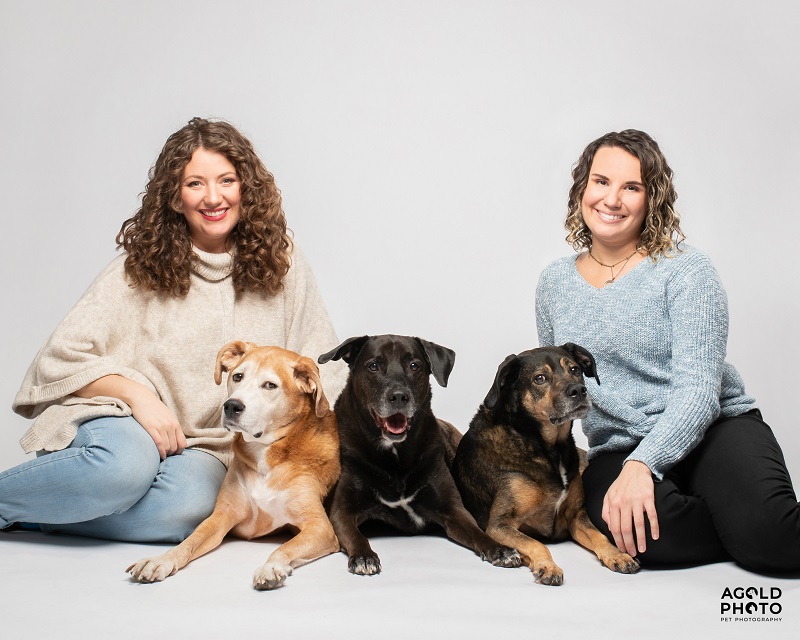 Kelly and Ilana with their dogs: Rowdie, Grizzie and Cooper
Have animals always been an important part of your lives?
Kelly: Oh yes, huge for both of us! My first pets were two cats I had growing up. Then my family got a dog who was pretty much my first love.
Ilana: Exactly the same; I always had animals growing up. We've been friends since we were 13 years old, and we've been involved in our local animal shelters and have been obsessed with animals for as long as I can remember. We ended up going to college together and while we were roommates, we rescued dogs who were brothers from the local shelter.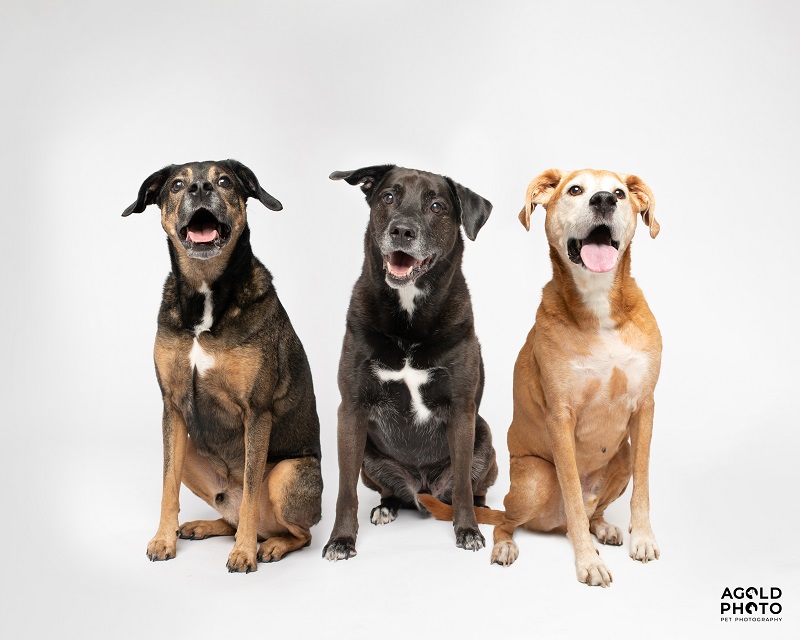 At what point did you decide to turn your shared passion for animals into a business?
I: When we came back home to Tampa, Florida, from college, we started working in hospitality at Hilton. We were working events (and were obsessed with our own dogs and animal rescue in general) and kept seeing a problem with our clients and friends who were getting married. On their wedding day, what are they going to do with their dog who they love so much? For the first time, everyone they trust is unavailable because they're attending the wedding. So we kind of jumped at the opportunity to combine our experience with hospitality and our lifelong love of animals. Within about two years, it was our full-time job. It just came from seeing the need over and over again, and being able to fill that while doing something we love so much.
While bringing pets into the wedding experience, we know you've also used this opportunity to give back to shelter animals. How did that start?
I: Giving back just naturally came with the territory, because that's a huge part of who we are.
K: We implemented a donation program with our services where we donate a portion of every single one of our weddings back to a local shelter. Each quarter, we choose a shelter or multiple shelters and donate portions of the wedding proceeds.
We also volunteer pretty frequently with our local shelters. We walk dogs and recently teamed up with a local pet photographer to take updated adoption photos for some of the harder-to-adopt dogs. Recently, we created a totally new service in partnership with our local humane society called "Yappily Ever After," where we bring adoptable puppies to weddings to help socialize them and then hopefully help them find a home!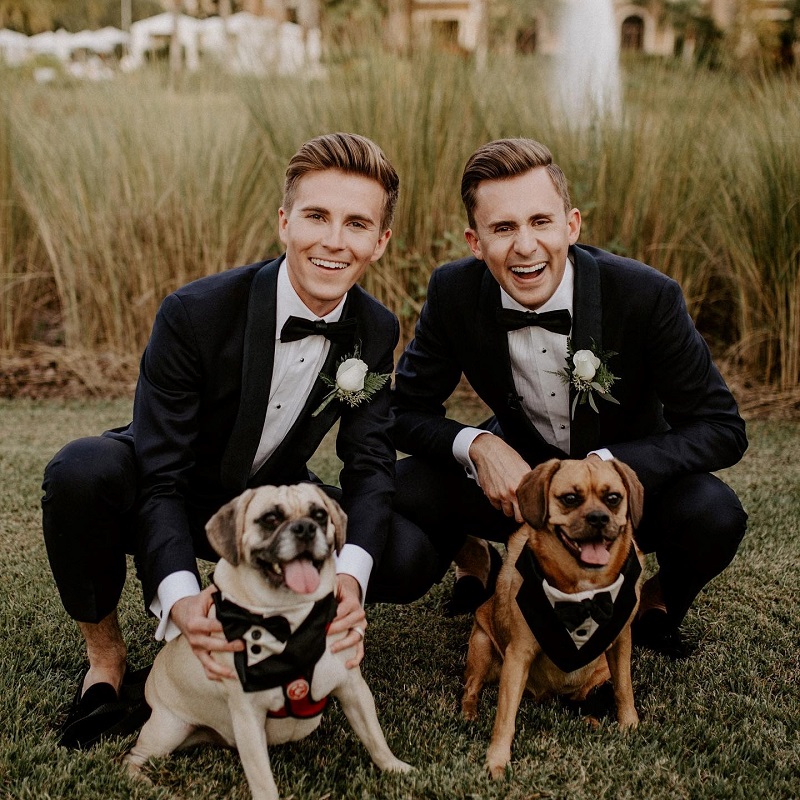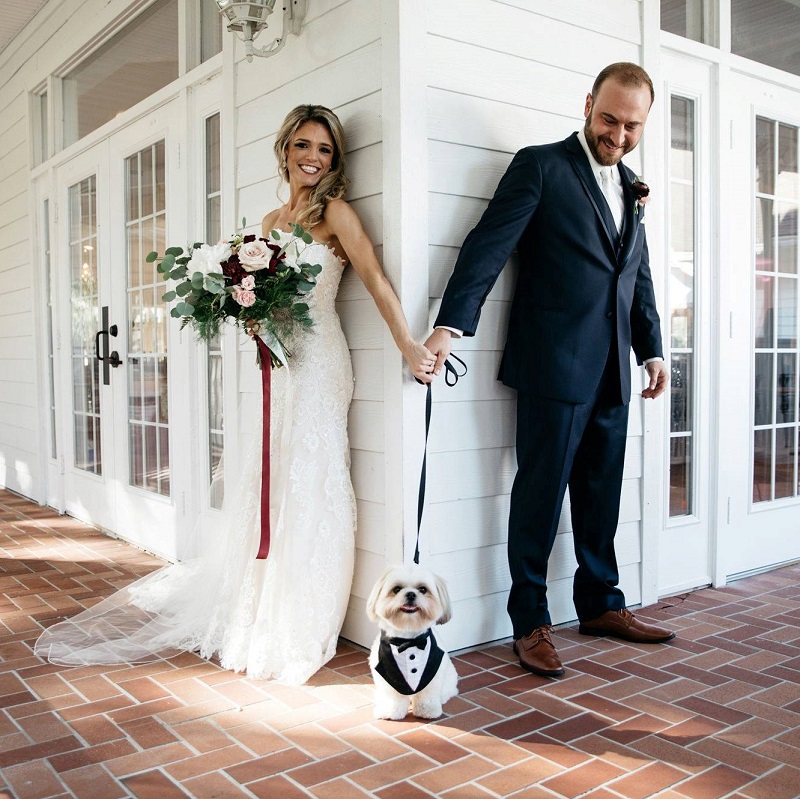 Have the adoptable puppies been a big hit at weddings?
K: It's just pure joy. It's great for the puppies, it's great for the guests, there's great photos — it's just beautiful all around.
I: At the last wedding we did, all five puppies got adopted. One of them was even adopted by the bride and groom! We helped include their dog in the wedding, so their dog got to meet one of the puppies and they got along, so the couple was like, "All right, we're doing this."
Of course, with the nature of adoption and drinking at weddings, we don't let anybody take a dog home that night. I always like to clarify that they place a hold with the shelter and have 24 hours to come back and pick up the dog after the wedding.
As animal lovers, what does it mean to you to be able to include your own pets in your work life?
K: Our three dogs — Rowdie and the brothers, Grizzie and Cooper — are actually part of our logo. We love our dogs so, so much and we kind of joke that they started it all. It means so much to be able to include them in this, and we often take Grizzie to help us out with styled shoots. We call him our marketing manager, so it's fun to be able to bring him on adventures. Vendors even know him by name, so that's really cool.
I: We keep taking these moments to reflect that as Fairy Tail grows, it means our dogs are immortalized in this amazing business and world that we've created. It's very special.
What does the big day look like for the dogs of honor?
I: Essentially we're there to take care of all the logistics. We like to say we're your dog's plus one. It's as much or as little as you need, so every wedding is totally different and planned to meet not just how they want to include their pets, but their pet's personality level. Some dogs can be a little more anxious or be higher energy, so maybe walking down the aisle isn't going to be the right fit for every dog. Some couples just want to have the peace of mind that their pet is taken care of on such a busy day and include them in some photos.
We'll pick your dog up from home, the hotel or wherever it is they might be, then maybe bring them by the getting-ready location to see their parents and get some quality time. We bring them by the venue to get exercise, explore and let them get their sniffs in. We coordinate everything, whether it's just photos or actually walking down the aisle. Often, we'll mingle at cocktail hour, because all their favorite humans are there, too. The dogs think the whole thing is about them. Typically, we head out right before the reception starts, or sometimes the dogs will have an intro as the couples comes in for the first time. Then food is served and there's loud music, so at that point we take the dog home, feed them dinner and make sure they're all settled in before we had out. We also provide pet care surrounding the weekend if it's needed. We're happy to stay until the reception ends or even overnight.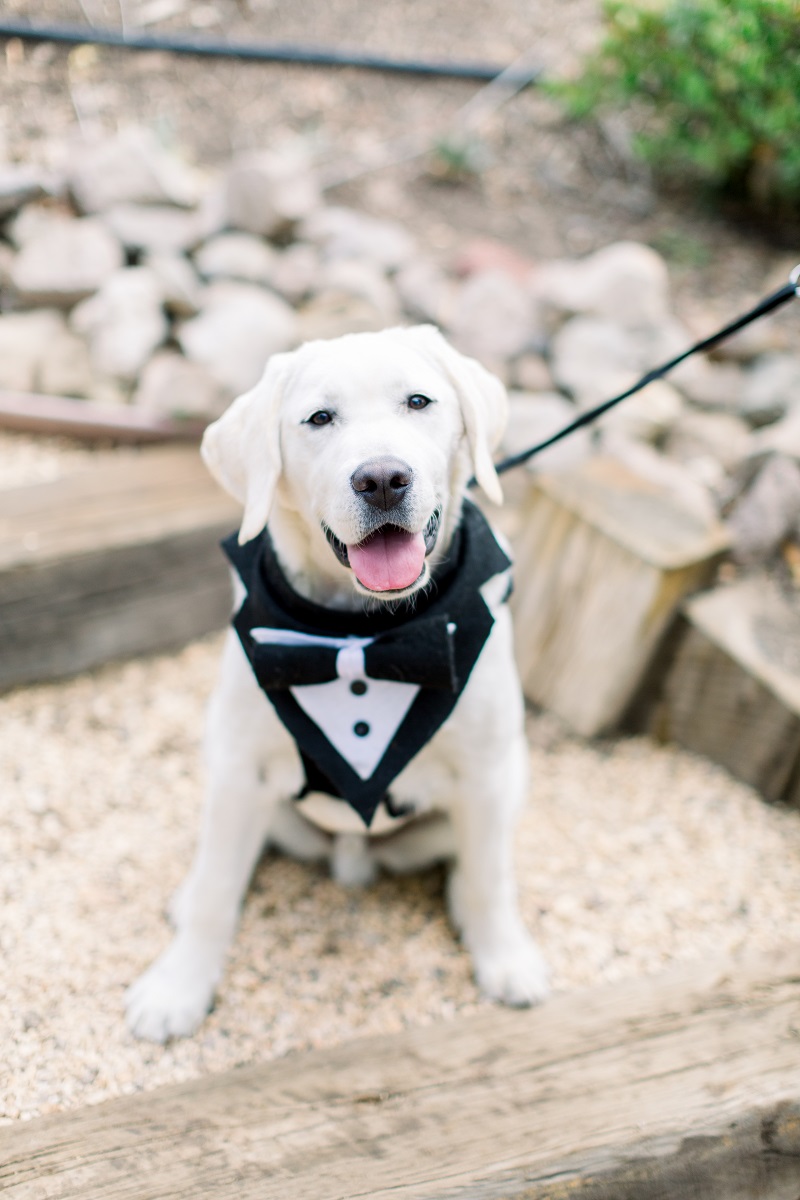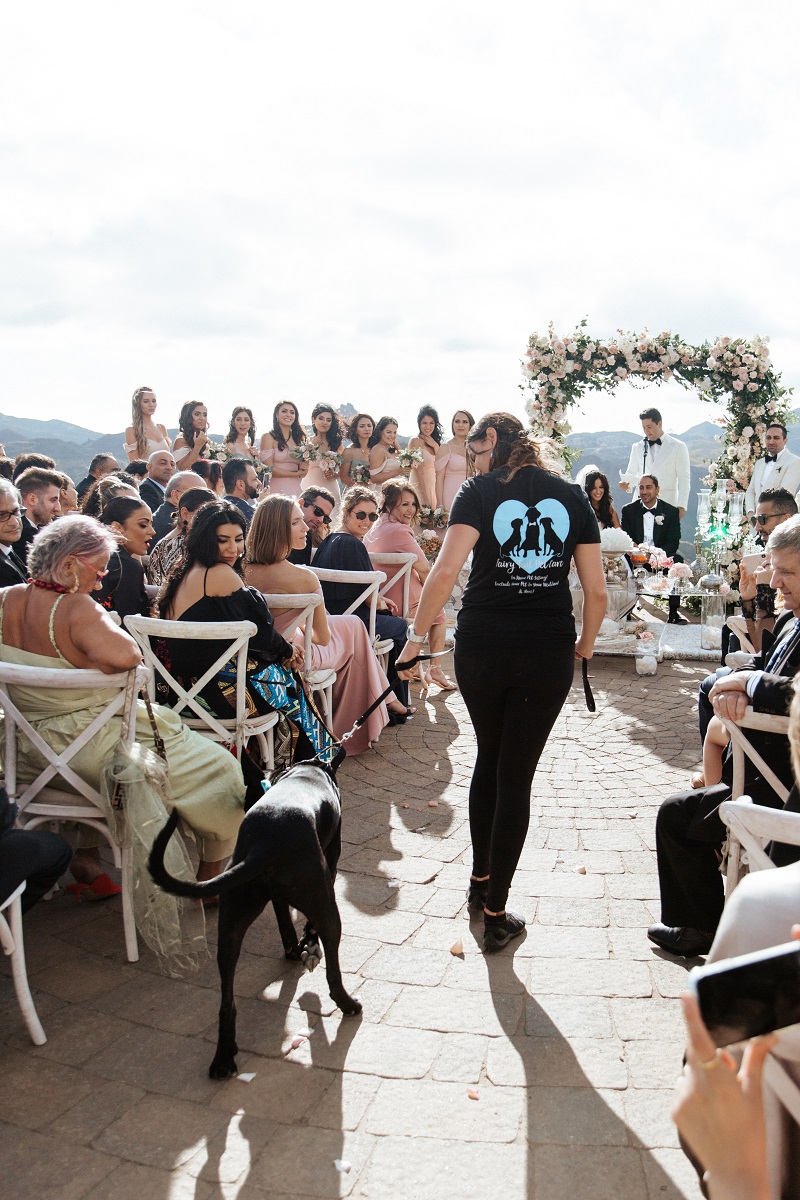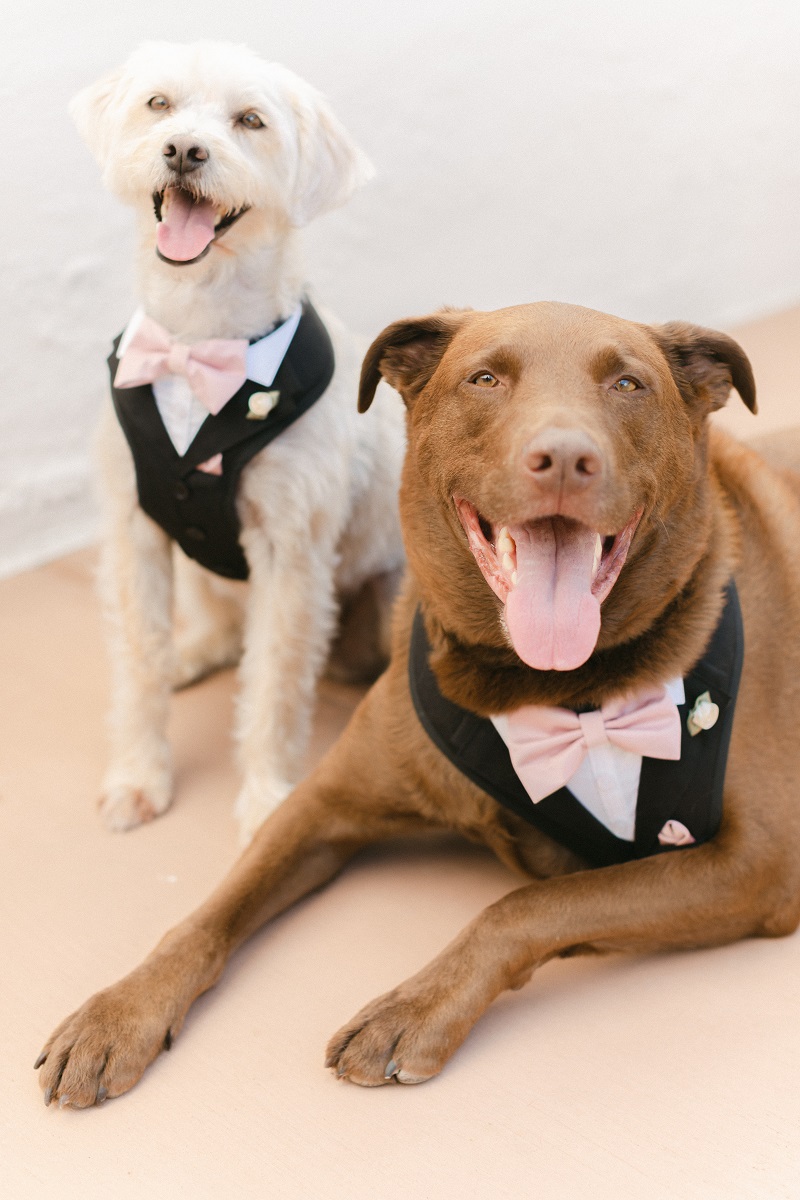 Credit (l-r): Angel Sheree Photography - Casi Cielo, Camarillo; Vivienne Tyler Photography - Malibu Rocky Estates, Malibu; Charissa Magno Photography - Tivoli, Fallbrook
Are dogs the only pets included in weddings, or have other animals joined in the celebrations?
K: It's mostly dogs. We've probably had over 600 dogs in weddings, and then six cats. Other than cats and dogs, we've worked with alpacas and we're actually in talks with a couple who wants their mini cow in their wedding. But it is mainly dogs and then a couple cats who have the right personality for an adventure like that. When the cats come, it's amazing and they have the time of their lives.
What does it mean to the couples to be able to have their pets be part of this special day?
I: It is the purest love and joy. Our thing has always been "Bringing the pawsitivity to weddings since 2015," because we truly have the best job in the world. We show up and everyone is happy because a dog is here who is so excited, and any anxiety that the couple might have about the big day instantly melts away. When the dog walks down the aisle, every single face in the crowd is just laughing and so happy.
As a wedding vendor, you are of course so intimate in this couple's day, but for us it's even more because we're now part of the family. We're with your dog, who's your baby, so we're just kind of inserted into your family moments. It is the most special thing ever; it means so much.
K: And we often hear from our couples that their dog had the best day ever or that they love us and we're their new best friend! That is the greatest thing to hear.
What are your tips and tricks for including pets in a wedding?
K: First, check with your venue to make sure that it's even possible to include your pet in the way that you're imagining. Even if the venue is not pet-friendly, there are still other options. We can plan a different location for photos or something to that effect. We like to think about all the logistics of it. The next thing is to consider your pet's personality. We always customize the day based on their personality and energy levels. We want to make sure that the dogs are happy, comfortable and well taken care of. If we have an anxious pup that's nervous in crowds, then we're going to want to avoid the ceremony and the cocktail hour and do something a little more private. We think about what's best for them and take it from there.
I: We also give dogs plenty of time to explore the venue, go for nice long walks and get comfortable with a new environment. And then treats absolutely help as well.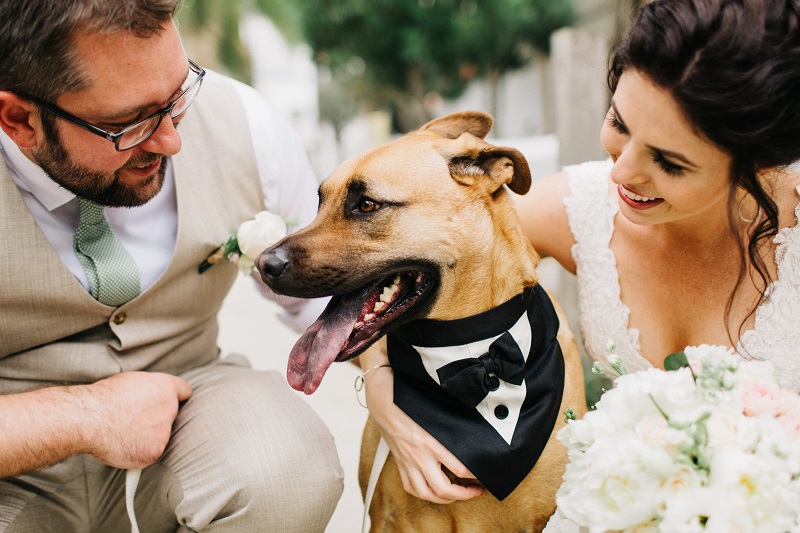 Of all the "I do's," are there moments that stand out in your minds?
I: There are so many, but one wedding comes to mind as the most unique one we've done and I will never forget. We had a hairless Sphynx cat named Bam Bam who was a PTSD cat, so he was a certified therapy animal. He walked on a leash, he loved people — he was a part of everything. He had a custom tuxedo that they made him with his name on it. He was just the most unique little cat and it was an honor to be with him that day. It was the best day of his life; it was his day.
K: One that comes to my mind is a wedding I actually attended as a guest, but they hired Fairy Tail to include their dog. We had a handler there taking care of their pup and they also hired us for the Yappily Ever After program, so Ilana was there with a couple of our handlers to bring adoptables to the wedding. It was really, really cool to see it from the point of view of a guest. Getting to see the dog walk down the aisle, to see their faces as they took photos and to see how excited all the guests were that the puppies are there — then being able to think, "Yeah, that's my company," was really special.
I: My heart melts into a puddle. Every single wedding. Every time.
How have the Fairy Tail weddings expanded since you started in Tampa?
K: When we started back in 2015, there was no other wedding pet care company, so we kind of created an industry of wedding pet care. Since it's such a unique service, people started reaching out to us from all over. We grew throughout the state of Florida initially and then into Georgia, and then we started receiving inquiries from all over. If couples are willing and able to pay for our travel to go out, we do travel nationwide.
We'd even go worldwide if the opportunity presented itself, but we offer our services nationwide for now.
I: California is one of the most popular spots we have gone. We go at least a couple times each year for couples that fly us out to include their dogs and their weddings.
K: We have some exciting new growth opportunities coming all over the United States very soon, so stay tuned!
I: We want Fairy Tail to be all over so that no matter where you are, you can include your dog in your wedding.
---
Learn more about Fairy Tail Pet Care and how you can include your beloved pet in your special day at fairytailpet.com.
Published: September 13, 2021