Animal People:
Gabriel Feitosa
Internationally Awarded Dog Groomer
Since learning to wash dogs in a small shop in Brazil when he was just 11 years old, Gabriel Feitosa has gained international renown for his dog grooming artistry. Gabriel pours passion and care into every pooch he styles, whether at his San Diego shop or on the set of ABC's "Pooch Perfect." In our Animal People interview, Gabriel tells us how the dogs of his youth shaped who he is today and inspired him to dream bigger.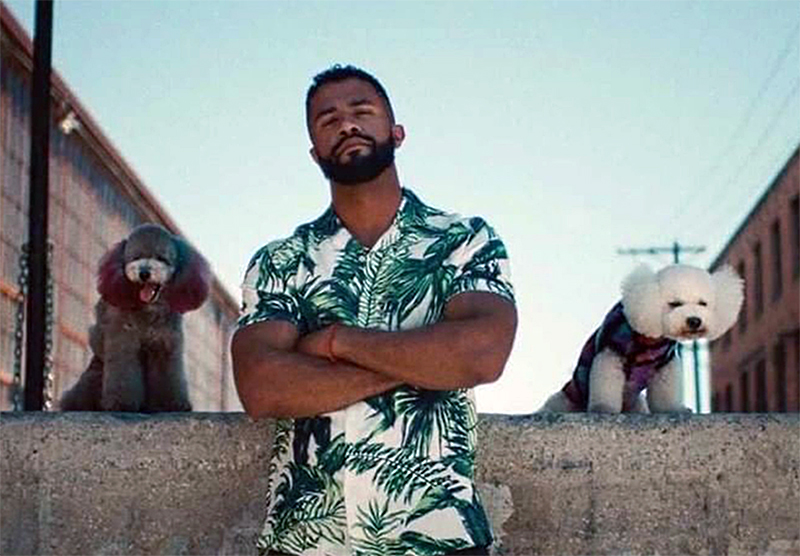 Were animals a significant part of your early life?
Growing up, I always wanted a cat and I was actually scared of dogs. My mom had two German shepherds and they loved me, but they were really big and always running up to me. My mom got me a fish at first, but eventually she gave me a cat. When I was 9 or 10 years old, my sister got a toy poodle and that changed everything, because that was the first time we had the dog inside the house. His name was Ícaro, and he was so cute, white and fluffy. He's the one who got me into dog grooming.
Since then, dogs have shaped my life and kept me from getting into trouble growing up in Brazil. My parents got divorced when I was about 8 years old, and I started working when I was 11. The focus on dogs kept me from doing anything else — I was always obsessed with them. I was trying to learn everything about dogs, and they brought me here to the U.S.
Is there a particular animal who inspired your future career?
When I was about 15, I had a Lhasa apso named Loren who was a show dog. She was the dog you never forget. You can have many dogs, but there's that one dog you feel like you connect so much with that you think they understand you without even speaking. She was wonderful and she's the one who got me into dog shows. I feel like the dogs I've had or met through my life all contributed to who I am today. They taught me so much and I learned so much from their hair and from showing. My whole career has revolved around them and I keep learning as I meet them.
How did Loren come into your life?
It was actually a very funny story. When I first started working with dogs at 11 years old, there was this dog news magazine at the pet shop I was working at, and they would feature the five number one dogs of the previous year. I remember looking at the top five dogs of Brazil, and it was so rare to see a dog with hair that long, all the way to the floor. The second-place dog was a silver Lhasa apso named Yuha; absolutely gorgeous, and I kept staring at him. Every day I would get that magazine and stare at him because I was obsessed. I took the magazine home and cropped that page and put it in my room. I had never seen or touched a dog like that. I was working in a very poor neighborhood in Brazil.
At 15 years old, I was working in a much bigger store, but still on the outskirts in the middle of nowhere. A lady came into the shop with two Lhasa apsos and told me that the younger one wasn't getting along with her son and she wanted me to have her. I told her I couldn't take her, because I couldn't afford her and had nowhere to keep a dog, living with my mom and sister. The lady said I could give her monthly payments and pay her in grooming. So I took the dog (and of course was obsessed with her) and paid for her in seven monthly payments.
When I finished paying her, her previous owner gave me the pedigree and I learned she was the daughter of the show dog I kept looking at in the magazine. It was insane! It was one of the biggest lessons I learned, that I can do anything. When you set your intentions strong enough toward anything, it can happen.
Did you have a mentor to guide your career from a young age?
I think I had several mentors; naming one wouldn't be fair. At 11, I took my sister's dog to the groomer and I thought it was amazing what she did. I asked her if she would teach me how to bathe my dog if I paid her. Of course, she showed me how to wash and dry, and one day when she was sick she paid me to bathe some big dogs. I started going every day after school, and I kept shifting from one mentor to another to keep learning.
My most recent mentor, when I came to the United States for work, was a famous bichon frisé handler and groomer. I feel like I had several familial figures, either a mom figure or a dad figure, who helped me learn how to groom, gave me a career and taught me to do everything I do today.
Where do your grooming design inspirations come from?
When it comes to the creative designs, my inspirations can literally come from anywhere. They can be from an emoji, a conversation that I have, a stop sign — it can be anything. Sometimes I'm walking down the street and look at something and think how amazing a dog would look. I keep drawings and then when I when I'm looking to do something creative I just look back at my ideas. It's always good to focus on a theme. I have to make the dogs look very cute and fun. It also gets the dogs a lot of attention, because everyone on the street wants to pet them and kids want to say hi. I can draw inspiration from anywhere.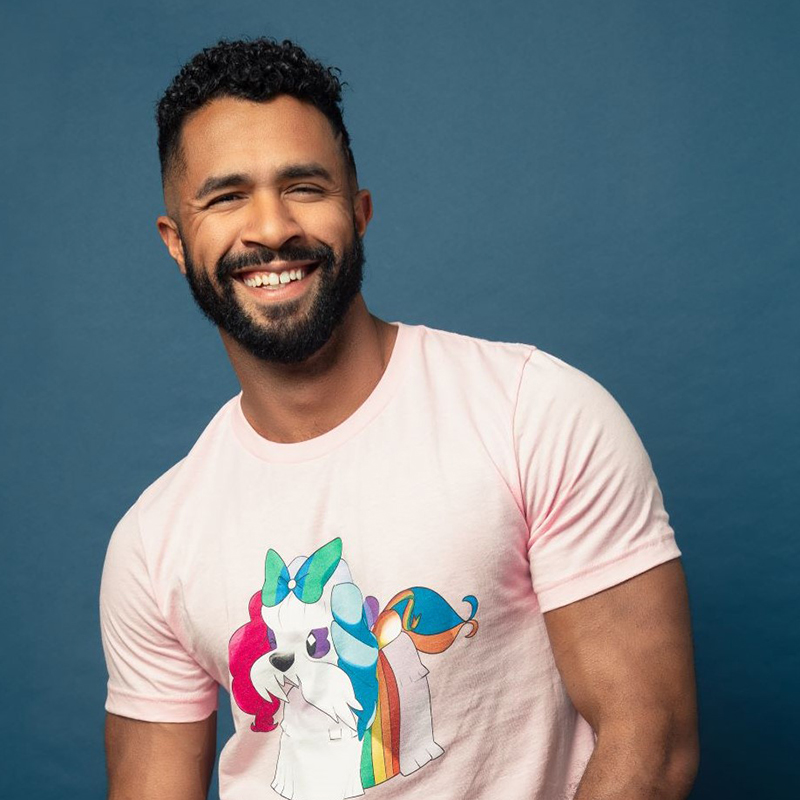 What did it meant to you to be able to compete on "Pooch Perfect"?
It was a huge milestone in my life. I never imagined, coming from the background that I came from, that I'd make it all the way to national television and prime time. And making it all the way to the end! The experience itself was very stressful. We were working long days, starting early in the morning to very late at night. The designs were challenging because we didn't know what dog we would get until the night before. We didn't have all white dogs, which makes it harder when you're doing color. The whole production and staff was amazing through COVID, though. It was very intense and it's a memory I'll never forget.
Do you have a favorite breed to work with?
I would have to say that my favorite are poodles. They have this human-like intelligence. The first dog I fell in love with was a poodle, my sister's dog. Through my career, I've worked with many dogs, but I feel like poodles are my favorite to interact with. I also have a toy poodle, Kameron, at home, and he is like the second Loren in my life. He seems like he looks at me and knows everything without me saying anything. I also have a bichon frisé named Kronos.
If you look at my social media, my gray dog Kronos has had every hairstyle you can imagine. He had a peach butt and a Pokémon-inspired trim. He's the dog who's actually taught me so much and the carving creative style that I did on "Pooch Perfect." It's intimidating to offer a new service to a client, but your dog is just happy to be there on the table with you for hours having all this attention. He's so sweet. He'll sit there and let me try anything on his hair. I also learned Asian fusion from him, which is the technique people know me for now. All of my creative training has been with Kronos. He loves the time on the table. He's even fallen asleep.
Do dogs generally enjoy their grooming time?
Oh, yes definitely. In the first few minutes, dogs can be a little shy, but after 15 or 20 minutes of interaction they all start to relax, especially when the owner is not there. They start allowing themselves to connect with you, and I feel like that's the nicest part of grooming because you actually build relationships. When the dogs come in, they get to know you and get excited to see you every time. We actually build relationships with the dogs more than we do the people. That's why, if you can, you should have one groomer for your dog for life. You build a relationship with a dog, and they learn to trust you. You learn what a dog likes and doesn't like and what you can do to make them feel more comfortable.
If you have a nervous dog who's shy or scared, you should find a groomer you trust. It's like meeting a new friend or boyfriend. You need to connect with the person and develop a sense of trust, because you're leaving your pet with that person for a few hours. Once you trust that person, you should keep going to them because dogs learn to trust over time. Shy dogs may not trust someone the first time, but over time they can build a relationship. I've had very shy dogs come in and have shown them that it's not a bad experience. Maintaining that relationship with your groomer is so vital.
What have dogs brought to your life?
My life is built around animals. I'm incredibly grateful animals came into my life the way they did because otherwise I don't know what I would be right now. They bring me everything — they are my business, my passion, my art form, my inspiration. I don't have enough words to describe everything they bring to my life. I wake up thinking about dogs and art and go to sleep thinking about the same things. Now that I recently got divorced, my dogs are my company because I live in my own apartment and both dogs go to work with me every day, so we're always together. Dogs have shaped who I am today and gave me so many opportunities. I'm incredibly grateful to have dogs in my life and in this way and with this intensity.
…
To learn more about Gabriel Feitosa, visit gabrielfeitosagroomer.com.
---
Published: October 4, 2021