Animal People:
Jolene Figueroa
Volunteer with Ambassador and Therapy Dogs
Jolene Figueroa is dispelling the "scary pit bull" myth with her two velvet hippos, Fiona and Hercules, who are often adorned in tutus and bright costumes. As a San Diego Humane Society volunteer and breed advocate, Jolene brings her dogs to events and into the community to help inspire compassion for other shelter dogs. In our Animal People interview, she shares the sense of purpose and passion she's found with her rescue dogs.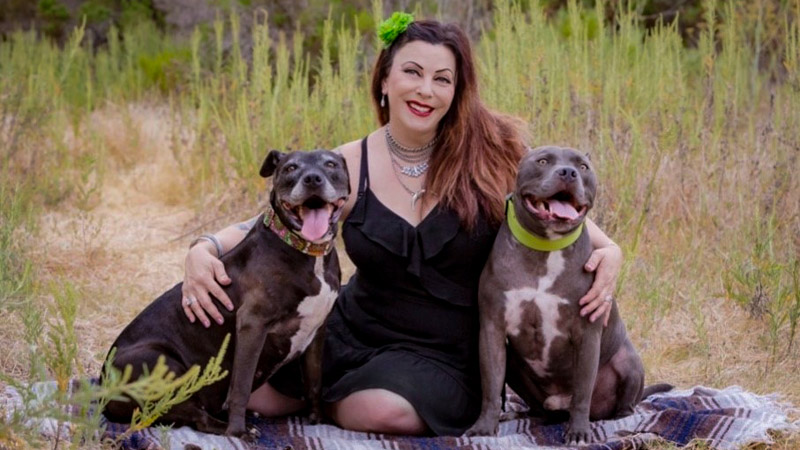 How did Fiona and Hercules come into your life?
Hercules had been at a shelter in Northern California and I fostered him for six months for a pit bull rescue here in San Diego called It's the Pits Dog Rescue, where I was a volunteer at the time. I adopted on Valentine's Day in 2015 and made him my forever valentine. Fiona came to us in January of 2020 from San Diego Humane Society. She's got quite the story.
Fiona was living on the streets with a homeless person and was very, very ill. A good Samaritan knew the people who had her and noticed she didn't look well. He walked her to a VCA 24-hour hospital at 2 a.m. and San Diego Humane Society did emergency surgery on her right away and found out that she'd actually ingested her leash and had a major blockage. Fiona would have died on the sidewalk had she not been helped. She was 35 pounds, severely underweight, dehydrated, malnourished and very sick. It took her a little while to get all her levels up and get strong and healthy. I adopted her about two weeks after that whole incident and now she's a big butterball and happy as ever. She's part of our family now.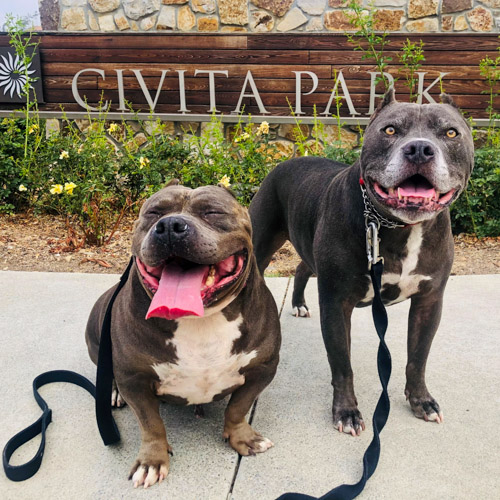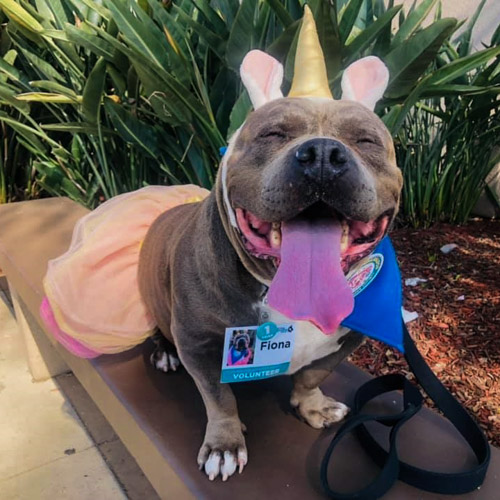 Have you always loved pit bulls?
Yes, pit bulls are my babies. I had tons of cats and dogs growing up, and we actually had a lot of Dobermans. My first pit bull was a staffy I got when I was about 14 years old and my love for the breed started at that point. Petey was a brindle rescued by a relative who saw him getting abused in a garage. He had been treated so poorly but he was a great dog, especially with kids. He actually lived to be 16! He had a very long, very happy life.
What inspired you to volunteer with your dogs as breed ambassadors?
I was volunteering with pit bull rescues, and I saw the lack of education that was out there and the lack of resources for a pit bull type dog and also a shelter dog. A lot of times people just assume, no matter the breed, that a shelter dog is damaged or broken. I felt like I had the tools and I had the type of dogs with the personalities that could really go out there and change minds.
When I first got Hercules, he was young and very, very untrained. At that point I did not think Hercules could do therapy work, or even the canine ambassador work that he does now, but I had taken him to an event that was full of all different people, children and other dogs and he was in his element. He just shined and loved all the attention. I knew right then and there that he was going to be a therapy dog, and we've been volunteering going on six years with San Diego Humane Society.
It started like wildfire after that — it was just very inspiring and heartwarming. I love hearing different stories about people's dogs or their experiences. I'm such an advocate for the breed. I love educating and giving people who have misconceptions about the breed a chance to meet a pit bull. It just fills my heart up with lots of love.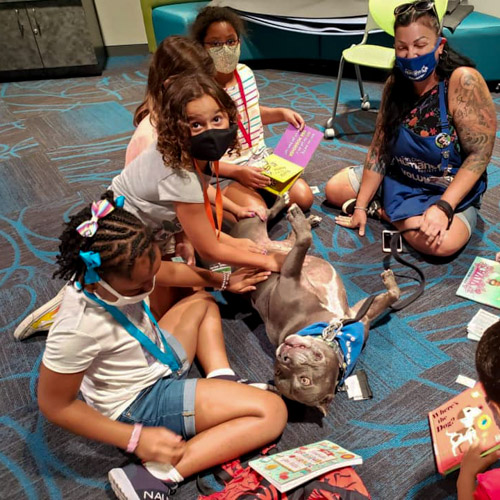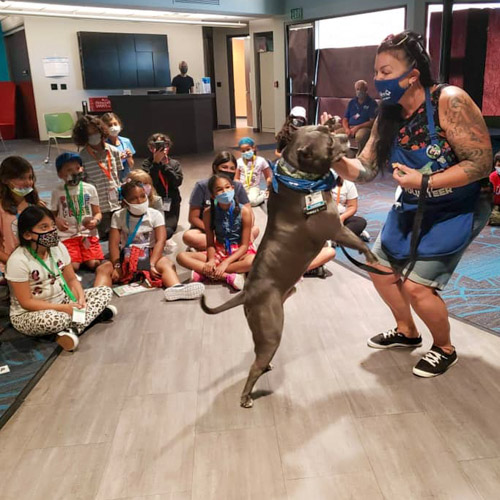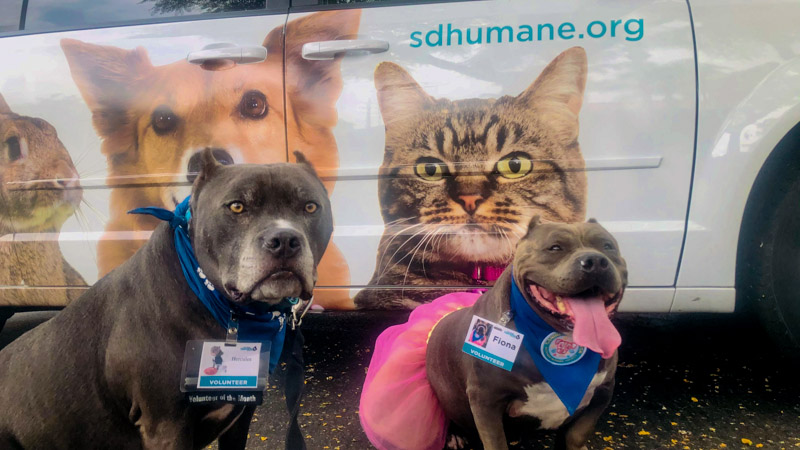 What does it mean to you when you're able to dispel pit bull myths?
With Hercules it's funny, because he looks kind of big and scary — he looks intimidating. But sometimes people can see right away that he's actually just a big softie and people are drawn to him. When they come up, they either want to pet him or to love all over him. For the people who are a little hesitant, he intrigues them because he has these gorgeous, very mystic eyes. Then people start asking me about his story and if he was a fighting dog. So we kind of open up with whatever questions they want to know.
I try to let people know you have to look at each dog on an individual basis and not judge them by their breed. It almost brings tears to your eyes, because you can see that some people are so fearful because they've either been bitten, had a bad experience or have just heard how the media has portrayed these dogs. You can't just throw them in a group and judge them all, because that's not fair and they're all very different. Once they see Hercules rolling on his back, moving around, doing tricks, they realize this is a sweet dog. And he loves the attention! It's nice seeing that transition from fear to learning how to interact with a dog they might have been fearful of. It's amazing seeing people falling in love with his personality.
And Fiona just draws attention. She's so little and she's got some mobility issues, so people tend to think of her as this little hippo. I've been stopped before by people thinking I was walking a potbellied pig on a leash — no joke! Even though she's got cropped ears and is just a miniature version of Hercules, people are drawn to her because of her small size. There's really never been an issue with people being fearful of her.
Pit bulls have a very special place in my heart. I always want to help them out and protect them as best I can. I always encourage fellow pit bull owners — and really all dog owners — to be responsible owners and to have their dog on good behavior, because what one is doing is going to reflect on the breed. Having ambassadors out in public, even in an unofficial way, gives people something good to see and starts to change minds. You can start a positive dialogue instead of a misguided one that labels them as scary. I feel like pit bull owners have to elevate to a higher level because of what the media puts out.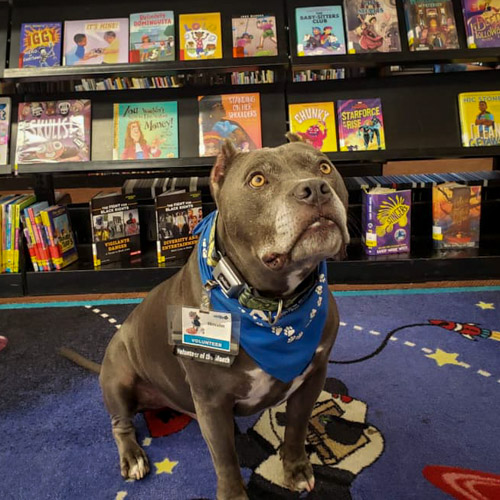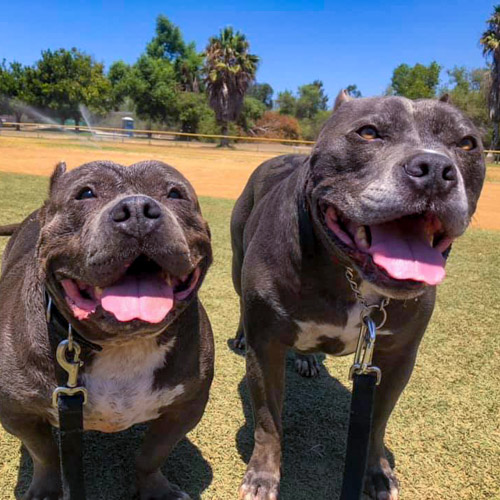 What is the most memorable work you've done with your dogs as ambassadors?
We've done so many events! One of the biggest pre-COVID things for Hercules was volunteering at the juvenile detention center. Those visits are very special because the kids are away from home and they can be as young as 9 years old and up to 18 or 19. To see them just kind of lay with him or sit with him, and just seeing the joy and comfort that brings is really special for me. They start talking about their dogs at home, and it's just something unique that we can bring a little bit of positivity to these kids that are facing hard times in their lives.
We also love the reading program (Paws and Paperbacks) and do that quite often. Those are always fun because the kids are supposed to be reading to the dogs, but they end up petting and talking to the dog or about dogs they've had. Working with kids has been so wonderful.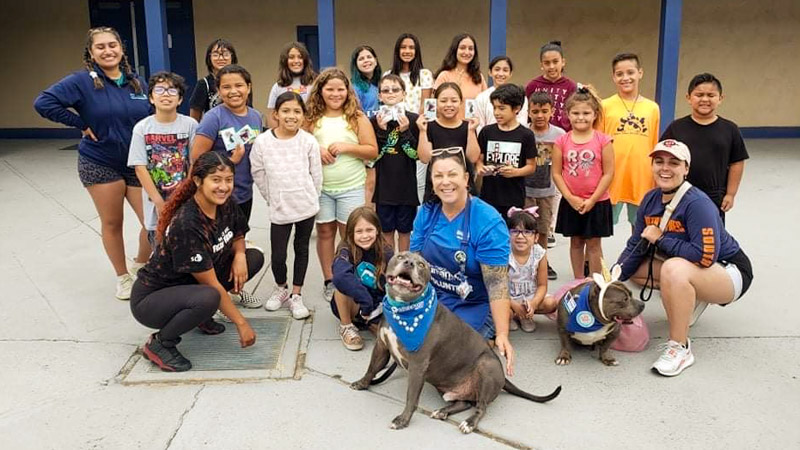 Before Fiona and Hercules, you cultivated an internet following with your dogs Rocky and Manders. What inspired you to share their stories?
Both Rocky and Manders were rescue dogs. I always wanted to do volunteer work but my dogs were either too shy or just weren't really good candidates. Manders was extremely shy — she was a "throwaway" mama dog, and she just liked to be home. Rocky had a lot of anxiety around other dogs, so I couldn't do the volunteer work in person. We kind of started an ambassadorship online and we fell into this wonderful dog-loving community and their page just literally blew up overnight. Each of them had their own story that involved either abuse or neglect, and it was amazing because we were able to educate and reach people through social media. We were collecting donations of items here locally in San Diego at different pet stores to give back to the shelters. Using their images and their personalities, we were doing advocacy work and educating. People were able to peek into the personal lives of rescue dogs and the things they went on to do. I like being able to build from their page — Rocky and Manders — but I just didn't have the heart to change the page name once they passed away.
What have your dogs brought to your life?
They are loyal and loving. At the end of every busy day, I can count on them to be right there for me. They never leave my side. It's like an unconditional love that you just can't get anywhere else. I had suffered a really bad breakup when I had Rocky and Manders and they helped me through some pretty difficult times. If I didn't have my dogs through this pandemic, I don't know what I would have done. They give me purpose and keep me grounded and focused on what I need to do every day, and they're the reason I get up and do what I do. Fiona and Hercules are great. Fiona constantly smiles! Despite her background, she's never not smiling or wagging her tail. She's just always happy and it kind of puts me in check every day. If I find myself in a crabby mood, I just look at her and think how much she's been through, and then I brush it off and keep going.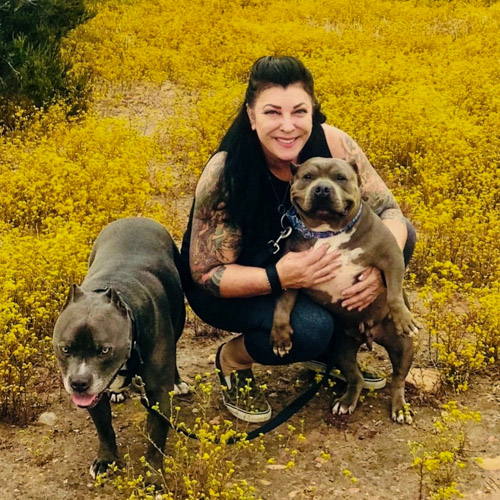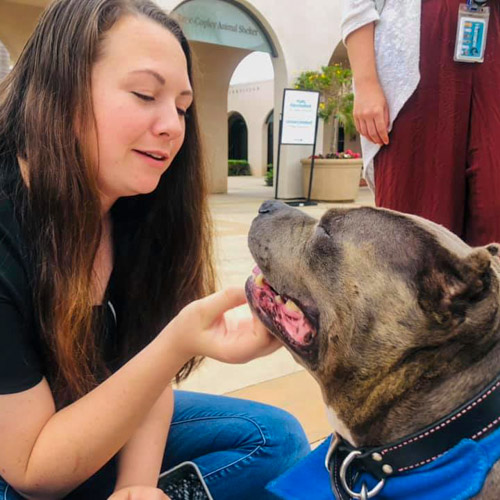 What advice would you like to share with potential adopters?
I always say to look at each dog. When you're looking at shelter dogs, regardless of the breed, don't just look at what you initially see, which might be a shy or fearful dog. You're not seeing their true personality right there. I try to educate people on the decompression period it takes when you come home with a new dog, and how consistency is key. Give a dog a routine and time to decompress without crazy expectations right away. Some people think that a dog is supposed to be potty trained or know what to do and what not to do, so I try to give people the tools that can set them up for success, rather than just taking a dog home and hoping for the best.
I do get asked a lot, based on my dogs' behavior and manners, how I get them to act like this. I tell the stories of my pit bulls so people can get a picture in their head of what a shelter dog can become. I advocate for training, patience, and love. When you give them love and consistency, any dog can be a great dog. I've personally poured a lot into my dogs, giving them every opportunity I could to blossom. If I see that they're not into something, I won't force them into it. Just give a dog a chance, because they all deserve that chance.
---
Published: October 18, 2021