Animal People:
Kelly Gerth
Foster & Rescue Specialist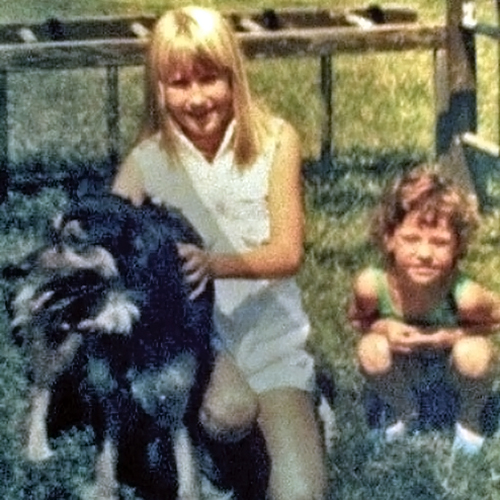 Kelly and sister with their dog, Fred.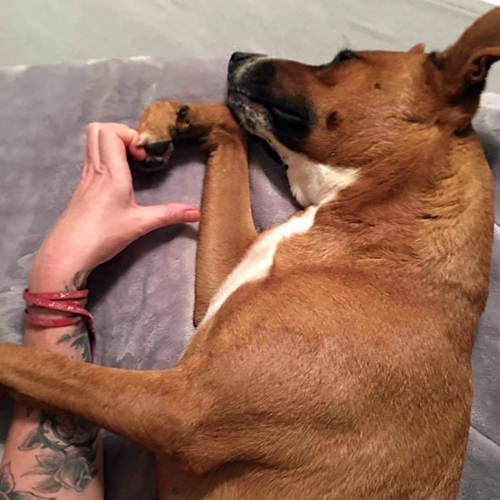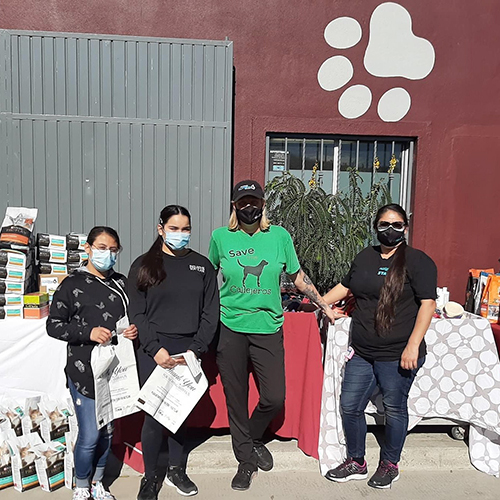 Kelly at a Spay/Neuter Clinic in Baja.
Find something you love, and you'll never work a day in your life. Kelly Gerth's passion for animals doesn't stop at the end of each work day. She's a Foster & Rescue Specialist at San Diego Humane Society, but she spends her free time helping the street dogs of Mexico – callejeros – find a second chance at life. We took time to chat with her before her recent rescue trip to Tijuana to learn more about the work that inspires her.
Kelly, have animals always been part of your life?
I've had animals my entire life. I grew up in Ohio and we rescued our first dog and cat. I moved across the country with my cat when I was in college. He lived out his life with me and was an old man when my daughter was born. Animals have always been part of my life and I'm so thankful for that.
My dad rescued my first dog, Fred (short for Frederica), and brought her home as a present for me when I was about 5. My parents have said they remember me talking to her in the backyard and playing with her like she was another neighborhood friend. She was my first best friend for life.
Your days are filled with animals at work, but do you have any pets at home?
We actually have 5 dogs, and my daughter foster failed a kitten last year. I have two children and they've both grown up surrounded by loving animals.
I'm never without my animals, which brings me so much happiness. My dog Vaquita – it means "little cow" – is from Mexico and she comes to work with me every day. Sometimes, if I'm typing away and stressed out I'll just hear a little snore to my left and it makes me stop and say "aww"... She is an instant stress relief. Spending my work day with Vaquita brings me so much joy.
You've always loved animals, but how did you start rescuing animals in Mexico?
About 10 years ago, I adopted a dog from the Baja Animal Sanctuary, and I was pretty worried about what I was getting myself into. I thought, "Oh gosh, this dog is going to be like adopting a coyote."
I had all these ignorant thoughts about dogs from Mexico, just remembering my college days when I would go down there and see all the stray dogs just roaming.
I get this dog home and I can tell she'd never walked on carpet, been inside or been loved – she was just a mess. She's still with me, and she turned out to be the most amazing, loyal, intelligent soul I've ever encountered. My daughter named her Rosa, short for Rosarito, where she was from. I slowly started sending down donations to Baja Animal Sanctuary and just getting involved in little ways … Once you start, it's like a landslide. This is what started my passion for saving the callejeros.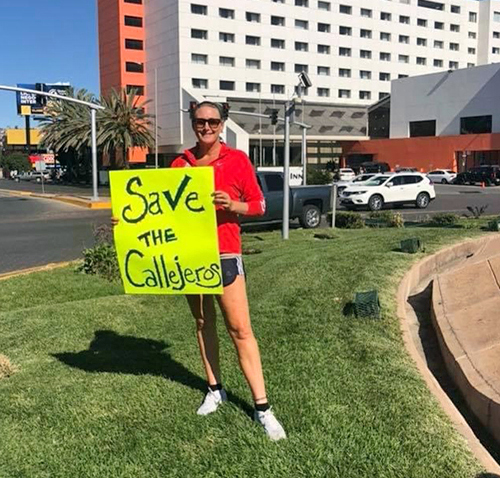 Save the Callejeros
And what does a trip to Baja entail for you?
I used to go down at least twice a week, and it's just a 45 minute drive. With work and two kids, I can now usually go down about once a month. Each time I visit, I cross supplies such as food, blankets and bowls – all basic items that are desperately needed. San Diego Humane Society allows me to take items that we no longer need and I'm so grateful for the help. I try to distribute whatever supplies I gather to different rescuers I know in Tijuana.
There's a lot of strays roaming the streets in Tijuana, so I will literally just pick up dogs off the street and nurse them back to health. They're everywhere – it's sad. I rescue anywhere from 1-2 dogs at a time, because it takes a lot of time and money to rehab. It usually takes them a couple of months to recuperate. On some visits, I go to see my "pension," which is what paid fosters down there are called. I'll take supplies down to my pension, visit my veterinarian and take my current rescues to appointments. Sometimes, I'll just go feed the callejeros in the street. We give vaccines to street dogs with mange that we can't help now, at least starting their treatment. We also spay and neuter them and return them until we can find rescue or help for them.
I will sometimes visit the HIV Orphanage, Eunime Por Tijuana. It's the only HIV/AIDS orphanage in the state of Baja, and the state of Baja is huge! I take them supplies they need, such as Pedialyte, fruit and vegetables. The kids rescued their own dogs and cat, so I'll take them pet supplies and just visit. A lot of the callejeros in the area will come to the fence at the orphanage because they know the kids will feed them and give them water. The children, all orphans and HIV positive, really enjoy attention, affection and visitors. The kids have 5 resident pets that they've rescued and my veterinarian was kind enough to donate services for them.
For the next clinic in Baja [the event took place on January 31, 2021], I've managed to raise enough money to have 70 animals spay and neutered. The older kids from the orphanage are also going to come volunteer and help. In preparation for this, my friend hosted a children's education class about animal compassion and welfare, and the kid-friendly basics of spay and neuter. They absolutely loved it!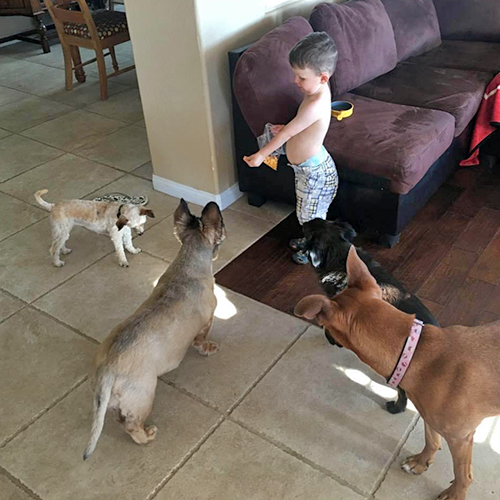 Kelly's son with their rescue dogs.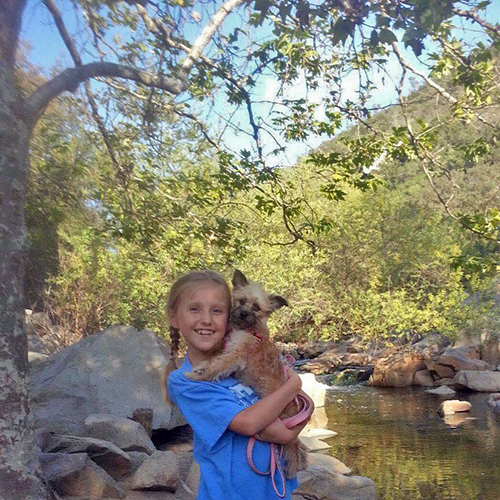 Kelly's daughter with a rescue dog.
Why do you think rescue is important, and how can others get involved?
There are so many animals out there who need homes. Just because an animal is not a purebred, it doesn't mean that they are any less loving or deserving of love. They won't give you any less happiness and, in my opinion, they'll bring you more joy because they know what they've endured and the happy life you're giving them now.
I started a Facebook group, with over 24,000 members in it now. The group is comprised of US and Mexico rescuers and supporters that unite to help rescue the callejeros responsibly. If you go to the Facebook group and just say "Hello, I'm new, I want to help", you'll find many kind people that will suggest different ways to get involved.
Something else that I do is collect donations in my garage as a North County supply pick up and drop off point. Each week, friends of mine crossing to and from Tijuana will take the donations to those in need. It's an extremely simple and important way to help. Posting and sharing on social media is another way to make a big impact and help the callejeros.
Education about spay and neuter and supporting the "adopt don't shop" movement is very important to me. I know a lot of first time pet owners don't know where to begin and turn to breeders. Bringing information about shelter animals and pet overpopulation is necessary and helps bring positive change.
Published: February 15, 2021