Animal People:
Danny Gorman
Rescue & Breed Advocate
When an abused pit bull puppy unexpectedly entered his life, Danny Gorman discovered a piece of himself that had been missing — along with a mission to help more dogs. Danny and his sidekick Blue are helping pit bulls find second chances at life, while working to dispel myths and stigmas that surround the breed. Now working with San Diego Humane Society, he uses his social media to help the blocky-headed dogs he loves find homes where they'll be properly cherished and spoiled. In our Animal People interview, Danny shares the life lessons he's learned from beautiful and misunderstood creatures.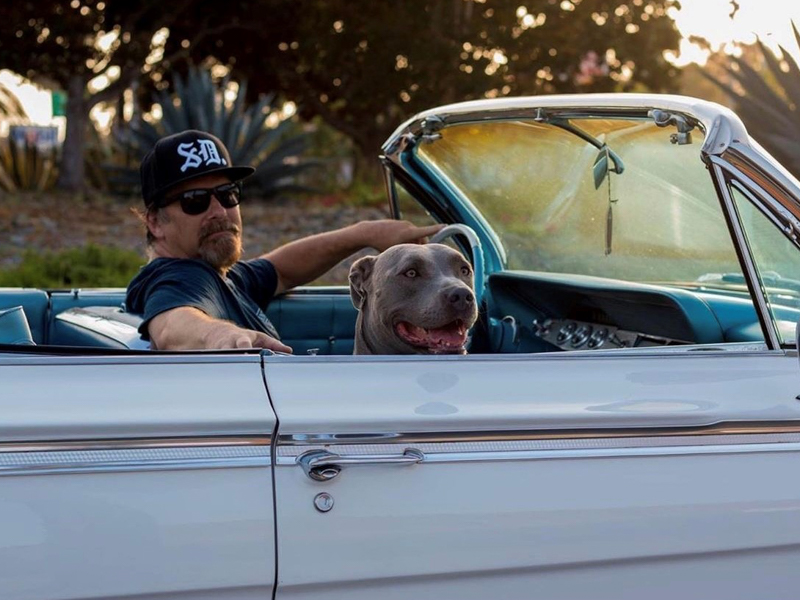 What first drew you to pit bulls?
A pit bull to me is any big, blocky-headed, muscly dog that people tend to be afraid of or discriminate against. Growing up in Florida, these dogs were popular for the wrong reasons, and the second I first saw pit bulls I knew these beautiful animals were misunderstood. This was around the time the Michael Vick case happened, and that brought my awareness to them. I had always been so focused on my career and never had a dog, but every time I saw a dog (any dog!), you couldn't stop me from showing them love. And pit bulls just pulled at my heart —their big blocky heads, the goofy look they have when they tilt their head and their heightened intelligence. As I got older, and paid more attention to the breed and the bad rap they get, I felt more and more that I wanted to help. I feel like they're misunderstood.
How did you start advocating for these dogs?
I went through a super harsh breakup, and it's not like I was dealing with anything different than what everybody goes through, but when it's happening to you, everything just takes so much effort. While I was dealing with depression and being a homebody, my friends got sick of it and told me I had to get out of the house and do something — anything. I had the idea to go to my local shelter in Phoenix and check out some of the dogs. I found a pit bull who was in the back of his cage, growling as people walked by, and clearly unhappy. It was like a spotlight shined on him, and I sat down in front of his cage and just started talking to him. Within half an hour, he was pushing against his cage so I could scratch his butt better. I just wanted to give him love, and I walked back to my car feeling good. I went back the next day and did it again with another dog, and I started keeping up with all of the dogs in the shelter.
I had the idea to use my Instagram following to help look for homes for these dogs. I had over 15,000 followers at the time and I figured someone would like one of these dogs. I talked to the shelter and offered to pay for the adoption and throw in a little care package. All I asked in return is that whoever scoops this dog up isn't a "normal" dog owner — I needed them to be completely obsessed with this dog. Two days later, someone came to adopt the first dog I paid the adoption fee for, and I was hooked. I wanted to know how many times I could do this. I wanted to clear the shelter!
Over the last four or so years of doing this, no one has ever let me down or returned a dog. These dogs are living the most spoiled, ridiculous lives and I love being able to see them on Instagram. I've even made some new friends through the adoptions, because the people are as grateful as I am for bringing them to their dogs. It makes me very happy because that's the way all dogs deserve to live. I don't know how anybody can abuse, neglect or give up these animals. I'd rather live in a cardboard box with my dog than live without him.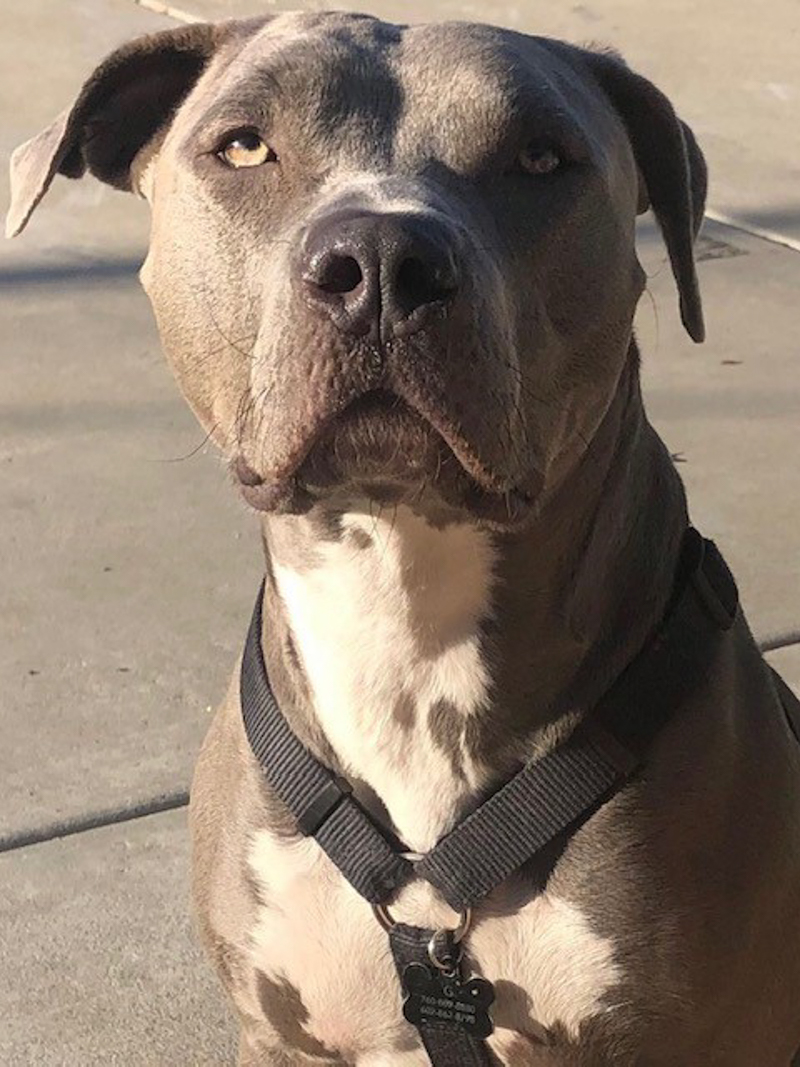 How did you get involved with San Diego Humane Society?
Oceanside is my home, even though I'm always traveling for work. I helped find a home for a blind pit bull at the Oceanside Campus who was pretty rambunctious and wild. It took about three months to find a home, but two friends of mine grabbed him and that dog changed their lives. The way they treat him is pure insanity. If they take him out for a walk and it's under 70 degrees, they'll put him in a sweater. They fuss over him so much it's laughable!
That's how I met Donna, an adoption counselor at SDHS. I told her about what I had been doing to help pit bulls get adopted, and she took me out to the yard to take more photos and videos with dogs. Donna has been my partner in this for a couple years now, and I love helping these dogs. I appreciate the way San Diego Humane Society honestly, truly cares about these animals, gets them healthy and gives them the best home possible. If a dog has to stay there for some extra time, then they have to stay some extra time and they're going to find a home.
Is there a particular dog who has changed your life?
My dog, Blue, came to me at a time when I needed him just as much as he needed me. It was kind of a low point, and now I literally wake up every day so excited to see what we're going to do that day. Our lives completely turned around within 48 hours of meeting each other. I was going to work every day, but socially I just didn't really want to be around anybody. Suddenly, I was this social butterfly, walking downtown with Blue. Everyone who sees him (pit bull lover or not) wants to stop and pet him, and I tell people about how I got him and what a great dog he is. I went from the dude who couldn't say two words to somebody who wouldn't shut up about their dog.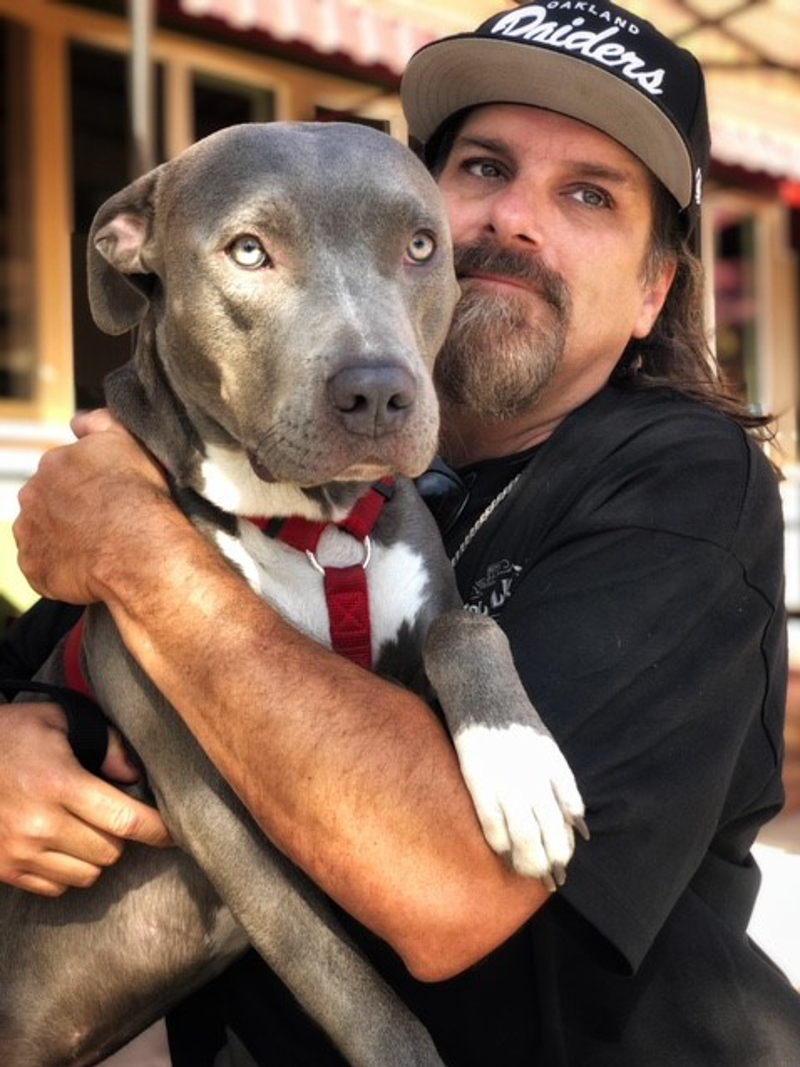 How did Blue come into your life?
I actually intercepted Blue on the way to the humane society in Sunnyslope, Arizona — he was extremely abused it didn't look good. The person who found him lived in an apartment that overlooked Blue's old backyard. He could see Blue being abused and tried to ignore what was going on, but this guy just couldn't take it anymore. He told me he woke up one morning, went down there with some of his buddies, knocked on the door and said, "I'm taking that dog. I'm tired of seeing what's going on back here." The owner didn't put up any fight, but said, "Fine, take him. I hate him anyway."
I happened to be at the humane society, and was standing outside on a call with my assistant when I saw this guy coming in with this dog. Even though the dog was super skinny and clearly in bad shape, I saw his eyes and told my assistant to hold on. I told the guy, "That's a beautiful pit bull, man." And he says, "You think so? You want him?" He told me he was just bringing the dog to the humane society hoping somebody would appreciate him and give him love. This guy would be evicted from his apartment if he tried to keep him because of breed discrimination. He told me about the situation he found the dog in, and told me that even though he can't have a dog, he wanted him to live a better life.
I showed him my Instagram and told him about the dogs I feature. I knew I could help get this beautiful dog healthy and find him a home. I walked in with them, and the shelter was full — they couldn't take him. They wanted to send him to a shelter two hours away, but his rescuer wasn't able to get him there and needed to go to work. I'd never fostered dogs, and this dog did not like men (for obvious reasons). Finally though, I decided to just keep him and figure it out. If it didn't work out, I'd take him to the other shelter.
At what point did you decide that Blue was going to stay with you?
I put him in the back of my truck, and even though he was a puppy, I was a little nervous having him back there. Even puppies can do some damage. I immediately start talking to him and watching him pace back and forth in the back seat. I told him, "Everything's going be OK, dude. The bad days are over and I'm going to find you the best home ever. Things are going to be amazing. You're going to be OK." As I pulled out onto the street, I feel this like 50 pound head on my shoulder. I looked in my rearview mirror and I could see in his eyes that he just looked so relaxed. It was as if he knew and understood what I was saying. I knew at this point that this was going to be my dog. I think about the moment I met him all the time, and I think, at a point, you can't ignore that some things are just meant to happen. I couldn't even tell you who rescued who.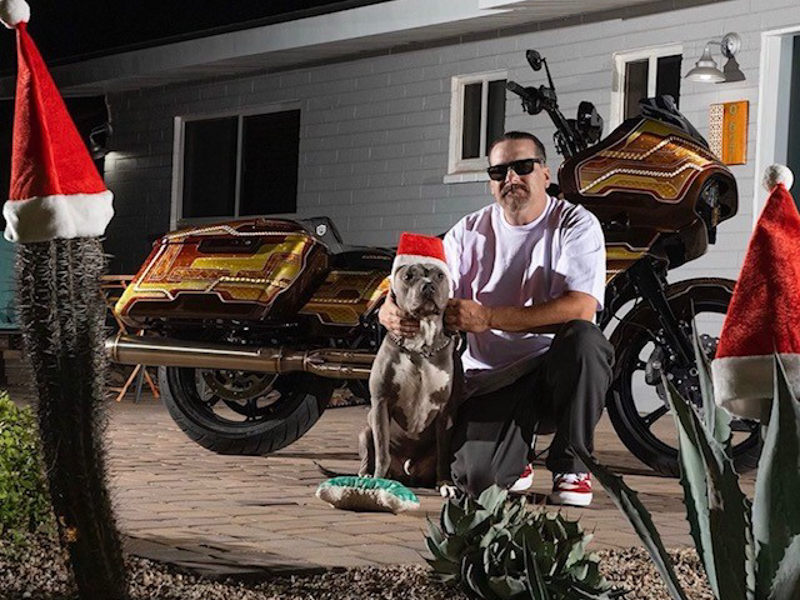 How did you help Blue go from an abused puppy to the social butterfly you know today?
I knew it was going to be a tough road and the training aspect wasn't easy. He had a little bit of dog aggression, but I believe the only way to train a dog is with love. I feel that pit bulls have to be trained 100% with love. I never yell at him and I've taught him that hands are only for petting. If he's ever a bad boy, I show him that I'm disappointed in him and his whole world crumbles and he'll give me those sad eyes. As soon as I showed him love and fed him, I saw him relax, and I'd never seen a recovery like this before. After about a month and a half, he started to gain weight and you couldn't see his ribs anymore. I taught him how to play fetch and he was able to just run around and have fun!
What is daily life with Blue like?
I thought I couldn't have a dog because I work for Vans and they keep me on the road constantly. I'm all over the place, and it just didn't occur to me that I could take a dog almost everywhere if I trained them, and gave them a lot of love and confidence. Now, I take him places that I never dreamed you could take a dog. Blue comes to the bank with me, we go shopping together and I won't go to a restaurant that isn't dog friendly. I only go places where he's welcome, and the crazy thing is, in Arizona, he's welcome at 99.9% of the places that I want to go. Everybody I work with at Vans is obsessed with him — the shops are more excited to see him than me.
Blue has a special relationship with Steve Van Doren, who is son of the founder of Vans. Steve can't go anywhere without get mobbed by people because Vans has such a fan base and he's known as the godfather of skateboarding. When we go visit stores, Steve will have a huge line of people waiting to meet him, and he enjoys that Blue hangs out with him and acts as his bodyguard. Blue loves this and once sat on the autograph table for hours just getting kisses and love from people. I don't think he knows how much love he really gets and that this isn't "normal" life.
All Blue cares about is that we share a pillow at night, because being in the bed isn't enough for Blue. I gave him his own pillow next to me, but that's useless to him. I wake up every morning with his wet nose touching my nose, and him snoring in my face. It's Blue's world and I'm just living in it. As I take him around for work or to the bank, I think he thinks we're just going on a tour of people waiting to see him and give him love, and that's his job.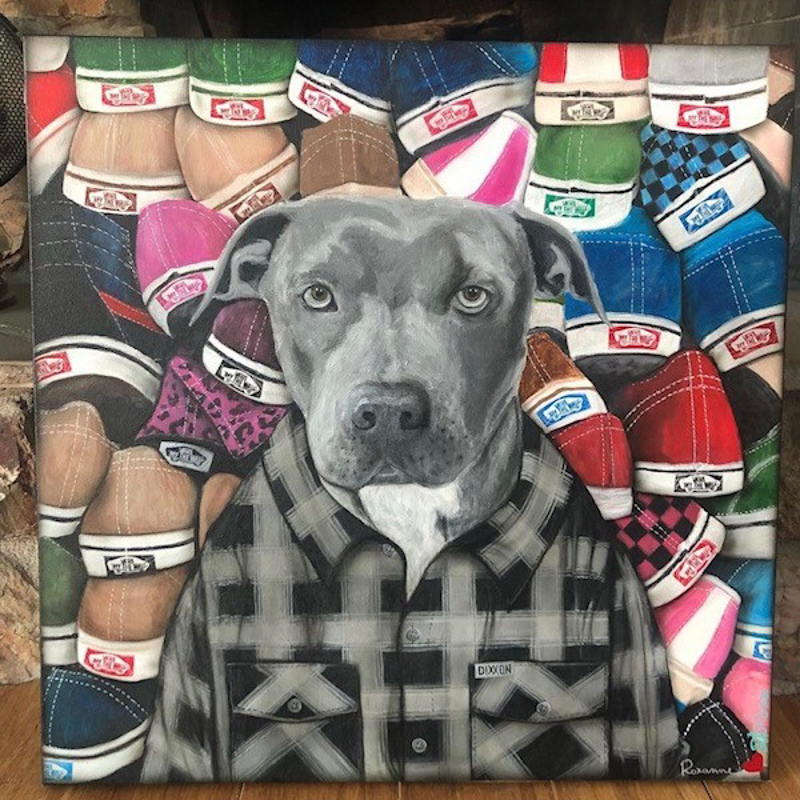 What do you think we can learn from dogs?
Dogs will teach you that life is short, because we only get to have these beautiful creatures for 12 to 14 years max. Since the day I got Blue, I feel grateful that I've noticed this about life and about dog's lives: You have to appreciate every single day. I get up and I'm excited every day, and I go to bed that night thankful for the time I've spend with Blue. I'm a very happy person — I'm a skateboarder and I've never worked a day in my life because I love what I do for a living. I've been very blessed, but before Blue, I'd wake up in the morning and it was just another day. A good day, but just another day. When you have a dog, life's so much more intense, rad and fun, and you laugh and exercise more. I think you're more aware of the good times. Everything just gets better and you appreciate the love and loyalty of these dogs, of being loved so unconditionally. Time is short, so you have to take every day and make the absolute most of it. There's something about seeing a happy dog, that's almost involuntary, that makes you smile as well. That's where dogs separate themselves from anything else in the world. They force you to smile no matter what.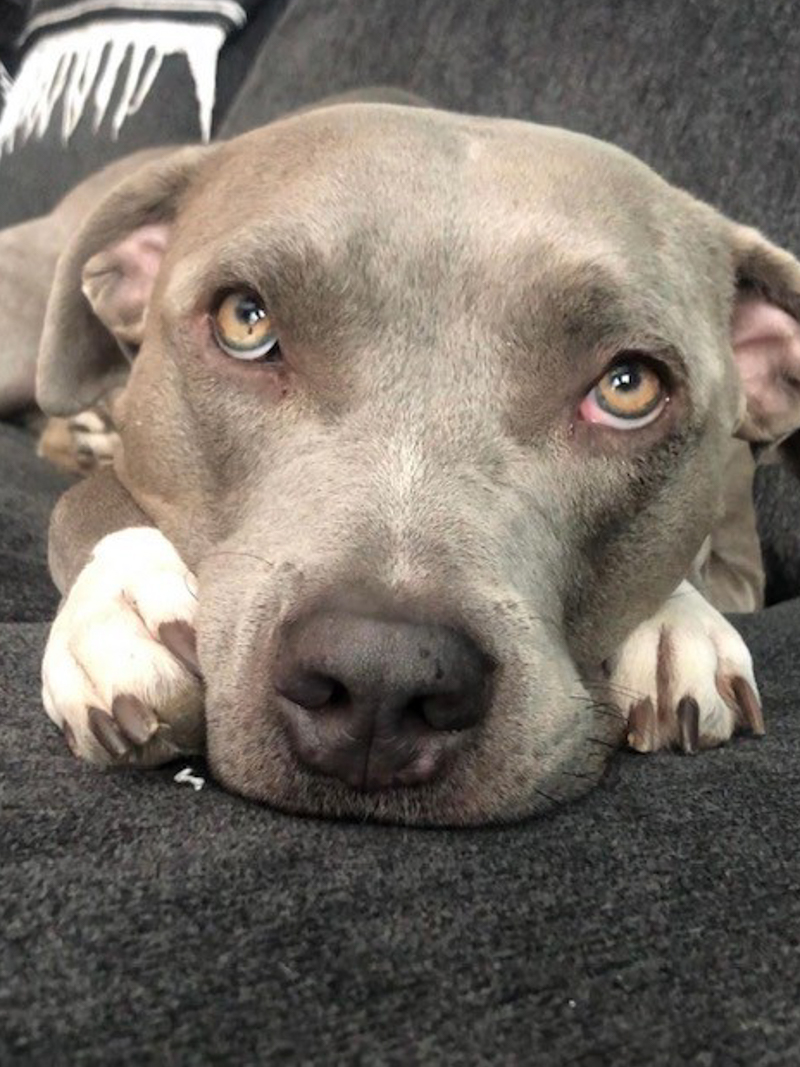 Where do you see your journey with dogs taking you in the future?
I haven't had time yet to do more than what I'm already doing for pit bulls, but I have some ideas and would really like to start a nonprofit. I want to help even more pitties find V.I.P. homes, raise awareness and show these dogs some love. I take Blue everywhere, and at least four or five times a week somebody will tell me, "I'm normally afraid of pit bulls, but Blue is so kind looking and such a sweet boy. He's obviously a good dog if you're walking him into the bank with you." People will pet him and kiss him on the face and they walk away loving pit bulls now. It's a big win, and they might not go adopt, but I bet you they'll vote for anti-breed discrimination laws. The shelters get so full of these dogs when people can't find a house or apartment that will allow pit bulls, and they have to give them up. I'd love to start an organization that fights against this and changes the rules, because it's not fair. At the end of the day, it's the dog who loses and it's sad for the owner.
…
Check our Danny's Instagram page to see adoptable dogs and more of his adventures with Blue at instagram.com/danny_______g/.
---
Published: April 4, 2022