Animal People:
Jenny Milkowski
Media Personality and Host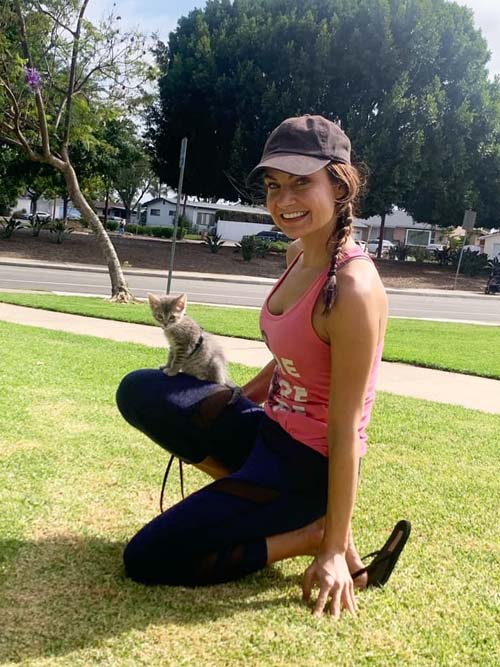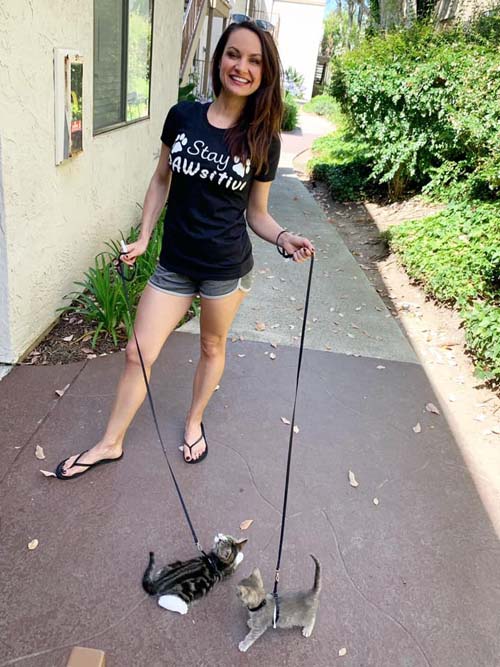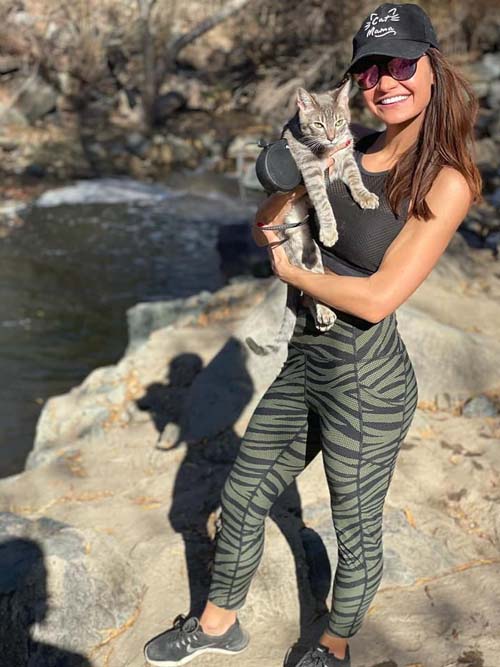 Jenny Milkowski is redefining feline quality time by getting outside with her cats. The television personality and morning host on CBS News 8 has a passion for rescuing pets, and uses her platform to promote adoption and fostering! In our Animal People interview, Jenny shares the joy her adventurous harness-trained kitties bring to her life and how she is inspired to make a difference for rescue animals.
How did you train your cat to go outside with you?
Right when I adopted Pickle as a kitten in May of 2020, I started training her on a leash and harness, and taking her on trips so she would be used to traveling, people and sounds. My boyfriend has a cat named Potato who he adopted a week before I adopted Pickle. So now we have two girl cats who are best friends and love to walk on a leash, go "hiking" at Mission Trails Recreational Park, take trips to the lake and even know how to "sit and give paw" for food. Both Pickle and Potato LOVE to snuggle and spend time with us.
Did you decide to adopt because of the pandemic?
During quarantine, I was fostering and thought of a way to get more people involved in helping animals. I knew we all had to STAY PAWSITIVE during this tough time and that animals were a huge help to us, as we are to them. I reached out to a local apparel company, we designed a T-shirt and the #StayPawsitive campaign was born. We started selling T-shirts to raise money for local shelters The Cat Lounge and Second Chance Dog Rescue. I reached out to the TV station I work at and they loved the idea, so we filmed a commercial to help advertise the shirts and fundraise.
As luck would have it, as we were filming the PSA, a little one-eyed kitten jumped on my boyfriend's shoulder and wouldn't leave him. Needless to say, he adopted Potato the next day. I adopted Pickle from The Cat Lounge in La Jolla. She was a kitten rescued off the streets. When I took her in my hands, it was love at first sight. So, there you have it, Pickle and Potato: the two leash-walking cats.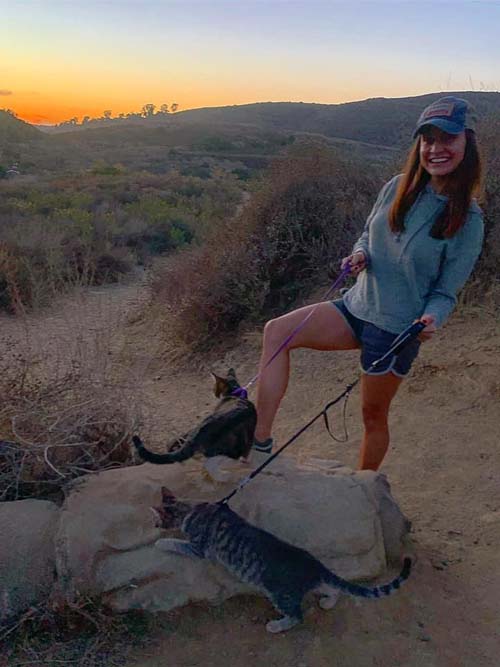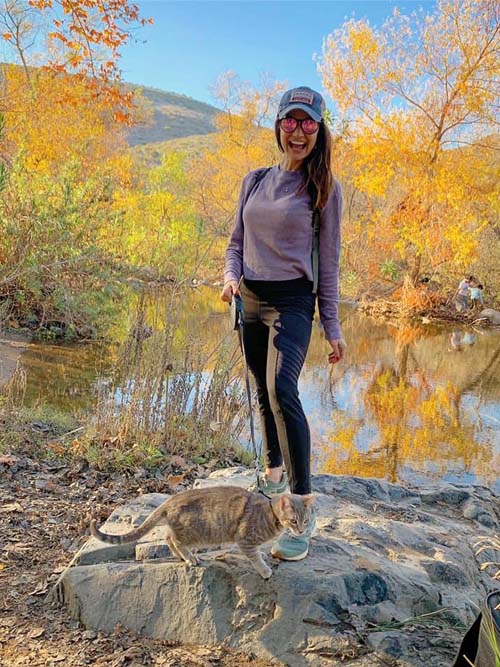 How did you choose the name Pickle for your adopted kitty?
Well, I love pickles and, being Polish, we eat pickle soup. So, I figured it would be a nod to my Polish heritage as well as something I love! It warms my heart to see this animal — who could have died on the streets — have such a loving home.
You don't see too many cats on leashes! Do you get a lot of attention when you're out with Pickle and Potato?
I do get a lot of people coming up to us saying, "Wow, are those cats?!" Lots of little kids scream, "a kitten!" and run up wanting to pet them or hug them. To me, this is everything. To be able to show people that hey, cats love being outside too, and honestly the joy it brings to people's faces makes my heart happy.
Have you always preferred cats, or have you had other pets?
The first animal who had an impact on my life was my dog Russel. He was a Jack Russell terrier who ended up in our yard one day.
Here's the story: I was about 13 years old and went outside to take out the garbage. My neighbor asked if we had gotten a dog. I said, "No," and proceeded with the garbage, then the neighbor told me there was a dog in my yard. I ran back there as fast as I could and, sure enough, there was a young dog. I immediately ran to get him some food from the fridge. He tried to scurry off down the street, but I chased him down and brought him back. He had no collar or anything. My mom — who is a huge clean freak and never allowed us to have a dog — took one look at this pup and fell in love.
Neighbors had called animal control because they saw the dog running around the neighborhood, but when they showed up at our door, my mom said, "What dog?" We had Russel for 14 years. He was the love of my mom's life and really opened up another side of her. He was a shy dog, afraid of loud noises and sudden movements. We think he may have been abused. I love that dog with all of my heart. I came back from college when we knew he was dying. Russel brought my family so much joy, we can never truly repay him.
Why is adoption and animal rescue so important to you?
I've always been a huge proponent of "Adopt, Don't Shop." Ever since I found my first dog on the street, I have adopted all of my animals. During the pandemic, while I was working from home and before I adopted my own cat, I decided to help local shelters by fostering kittens. It was around-the-clock work to care for a batch of kittens and their needy momma — but it made my heart full. I continue to follow some of my former foster kittens in their new homes on social media. It's amazing to watch them grow.
Pickle is the love of my life. I cannot imagine my life without the love of a rescue pet. I hope everyone gets to experience the same sort of selfless love.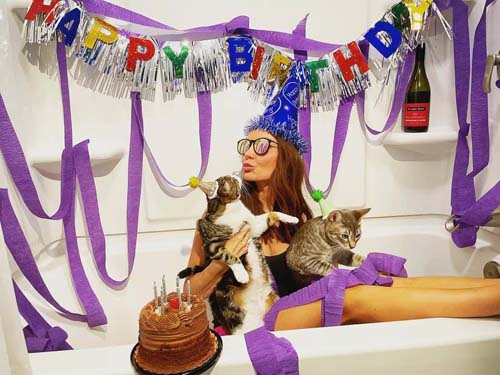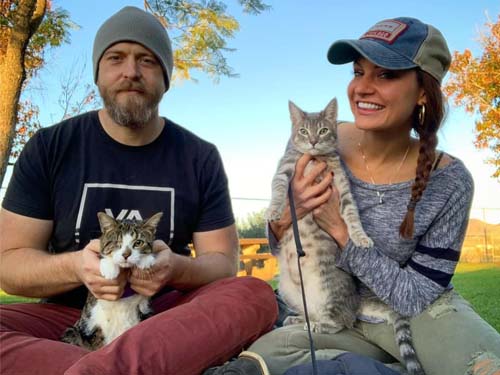 Published: April 26, 2021