Animal People:
Rocky Kanaka
Entrepreneur and Pet Rescue Advocate
When Rocky Kanaka found his love for dogs, he knew he couldn't just have one, or two or three. Rocky's home has been a revolving door for the last 15 years, caring for foster dogs until they're ready for their next chapter in life. In our Animal People interview, Rocky takes us on a journey with miraculous mutts and tasty homemade dog cakes.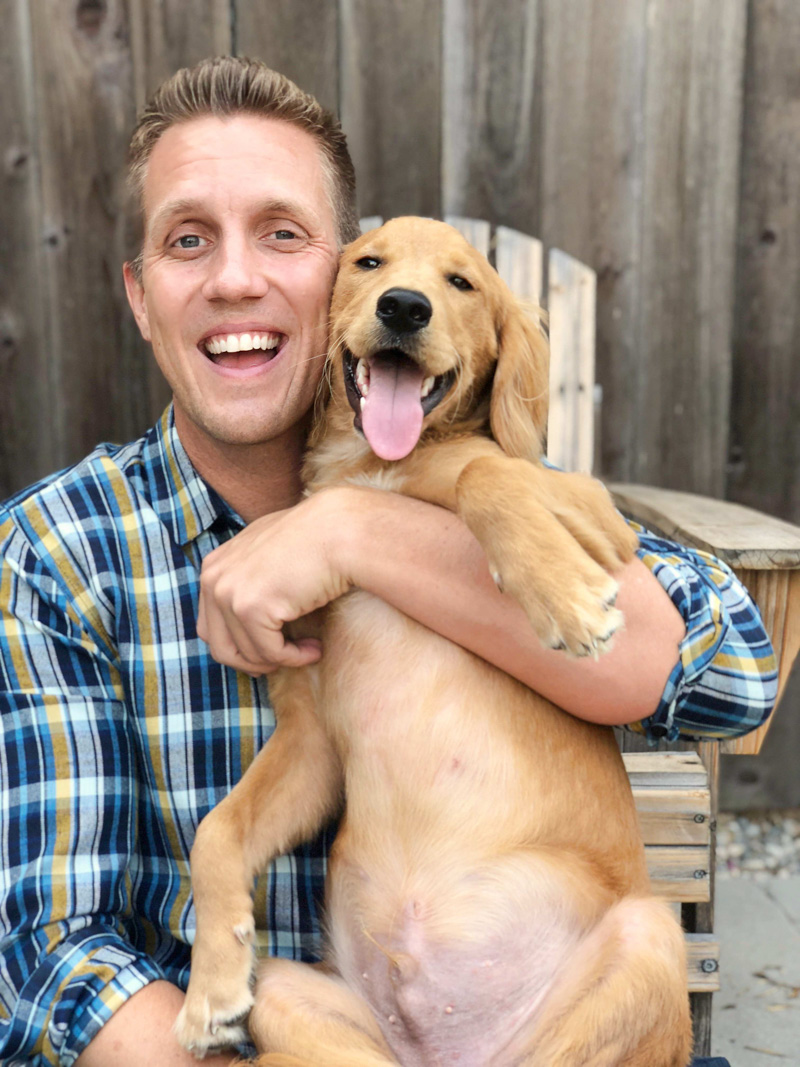 Were animals a big part of your life growing up?
I was lucky enough when I was a kid to always grow up with animals. I grew up poor and we didn't have a lot. Whether we were doing this because we couldn't afford to buy a dog or because my mom was just a bleeding heart from the get-go, we have always taken in stray dogs and gone to shelters to get rescue dogs. It's something that was instilled in me by my mom at a very early age — compassion for animals — and I was just lucky enough to grow up with it. I still really hold that near and dear to my heart. I've just always been around animals. I went a year or two without a dog and it was not a good period of my life.
How has your love for animals shaped your life's path?
Back in 2005, I started baking for dogs — I just I knew I loved food and I love dogs. It worked out and other people really loved it as well. It grew into a really awesome community of people who love giving their dogs better treats than what you can get in most big box stores. That was the first business I've started — The Dog Bakery.
We now have four stores, but what we're better at nowadays is online, because people from all over the United States want dog cakes. The best gift to give anyone who has a dog is something for their dog, because you can't go wrong. The dogs are always going to love it and it makes everybody happy. This time of year, we have our ovens running 24/7. We can't bake enough.
Have you found that dogs have a favorite flavor or type of treat?
Well, the good thing is most dogs aren't too picky. But we've found that picky dogs really love things like peanut butter (that's always a big win) and the right kind of cheese (we have a special process to make a cheese flavor that doesn't have dairy in it). And carob! Carob is something unique and special that we use that doesn't have theobromine in it, like chocolate does. We've got a small family farm where we grow carob and it's something that even picky dogs really love.
Do your dogs help taste test all the treats?
They're a little more than spoiled. They've come to expect the decadent desserts I bake for them. They just think that's pretty normal and they would be really shocked and aghast if they didn't get their fresh dog croissants.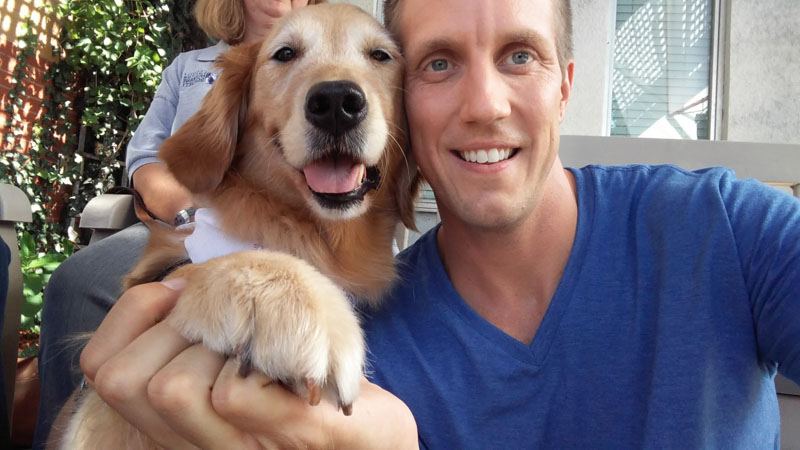 Who do you have at home now?
I have three dogs right now, and our newest addition is Kobe. We were fostering him for a while and then ended up adopting him. We foster a lot of dogs, and we just have a hard-and-fast rule: No adoption because we've got to have room to foster. But Kobe made the cut.
The adoption was 100% for Kobe, but don't get me wrong, we are so blessed to have him. Only half of Kobe's heart works and he needed an emergency surgery. The veterinarian really didn't want to attempt this surgery, but we had fundraised for Kobe and I said I would match the funds, so we had to try. Kobe wasn't going to make it. It was a lifesaving surgery and it worked, even somewhat to the vet's surprise. We thought that would extend his life for three to six months. I'm happy to say now that it's been a year and a half and, while Kobe has a lot of challenges, he is still a happy dog and healthy for all intents and purposes. He's in no pain and he's living his best life. We don't know if he'll live another day or another month or another year, but we just kind of celebrate every day with him.
I've also got a rescue dog, Flip, who we got from Marley's Mutts. He was in a bad breeder situation where his tail was botched and they couldn't sell them, so they just left him in a cage and his paws atrophied. At 6 months old, he couldn't walk, so he had to learn. It was saddest and cutest thing all at the same time, because he's a boxer and they're so fun-loving and goofy. Whenever he would fall, he thought it was funny and he had a good time with the recovery. And over time, we conditioned his paws and went on walks and then runs, and he's lived a happy healthy life ever since. He also lived through distemper, which we keep a close eye on in his senior years. He's one of those miracle dogs.
Then we have Zoey, and she is the boss. She's a little 8-pound mutt mix of something. She's been around the longest and just hangs out all day and bosses everyone around.
How long have you been fostering?
We started doing adoption days at The Dog Bakery 15 years ago. I'd get so excited when we got a dog adopted, and then we'd go back to the shelter and there would be another 20 or 100 dogs, and it was disheartening. I knew I had to do more, and that's when we started fostering dogs and working to show others that they can foster dogs. I think a lot of people hear these stories about others fostering and they don't realize they can do it, too. There's really nothing special that we do. We know a lot more about fostering and we're a lot better at it now, but we didn't start out that way. Fostering is messy and you learn along the way, and there are other people out there doing the same thing to get advice from. There are shelters and rescues that have the information you need and provide help and support. Now we're really trying to show others they can do the same thing.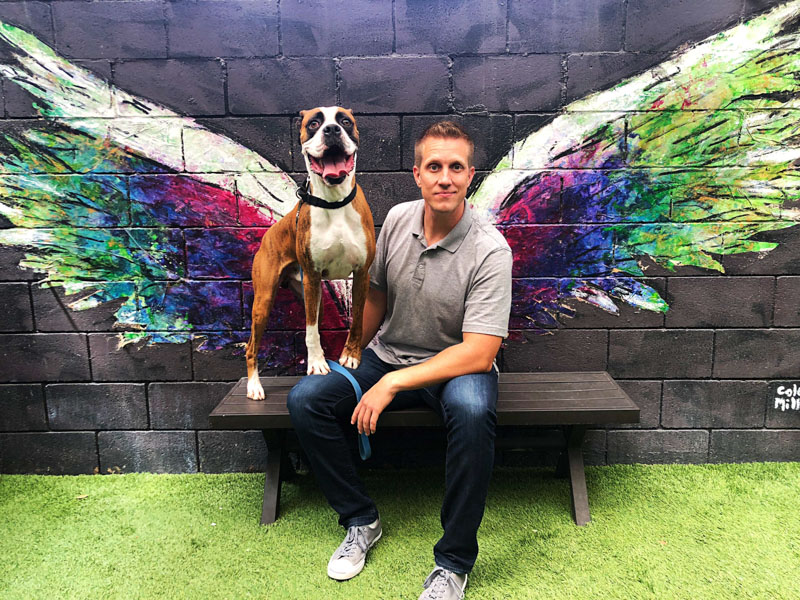 Is there a foster dog who made a lasting change in your life?
I couldn't pick just one, but I can definitely pick the first one who comes to mind, and that's Herschel. Herschel is a giant German shepherd of a dog — the biggest one I've ever seen in my life. He was chained up for five years in a backyard, and when I got him I thought he was going to have a very long rehabilitation process. The group I was working with, Michelson Found Animals, was willing to help and do this with me. Within 24 hours, I quickly identified that there was nothing I needed to do with this dog. He was willing to forgive and love and move on. He saw life as fun and exciting, and wanted to explore and to meet other dogs and people. It was amazing and we immediately started going on trips. We went to the beach and when he first saw the ocean, he screamed with joy — it was unbelievable, I've never seen anything like it. This dog had lost half of his life, and it didn't even matter to him. He was ready to start living that day. I think about him often and I wish he was still with me, but I'm happy I was a chapter in his life. He's with a great family now and lives on a farm in the Pacific Northwest with other German shepherd brothers and sisters, and he's living his best life. He's just one dog who popped into my mind, because there's like a Rolodex of family members who have moved on and we miss them every day. My wife, Kelly, and I learn from every journey we go on with foster dogs.
How important is sharing your foster journeys online?
When I started turning on the camera and posting things, I was like, "I'll bet there's some other people out there who want to do what we're doing." I thought we'd put together a really cool YouTube or Facebook group of a couple hundred people. I had no idea that millions and millions of people wanted to do this, were doing this and supported this. It's just been encouraging and humbling and exciting to have millions of people join our community. I'm blown away at the response.
What's the biggest impact dogs have had on your life?
They help me live in the moment. I am always working toward a goal and I love to take on a lot of projects. Dogs always help me be in the moment, and I'm not even talking about just going on a walk or spending a special moment with a dog. I'm talking about waking up early in the morning, ready to get your day started, and your foster dog pooped three times in your house. You are in that moment now with them, cleaning that up, and you have to let go and not be upset with that dog because it's not their fault. It really helps you just be present and be on that journey. Dogs have given me the ability to live my life in the now. Whether they're seeing the ocean for the first time or pooping in their crate, we're in that moment.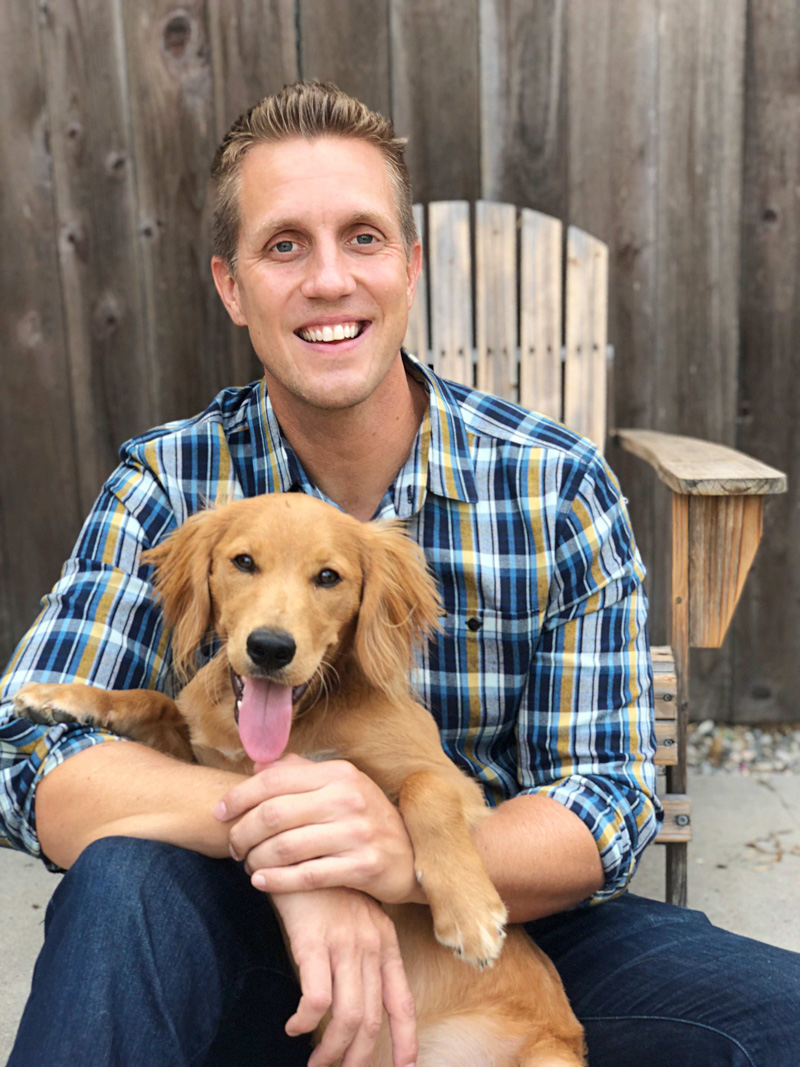 What advice would you give someone interested in fostering or adopting?
Just get started. The biggest thing people say is, "I'm going to one day" or "When I win the lottery, I'm going to." Even if you live in an apartment where you can't adopt a dog, you better believe you can go volunteer at the shelter. So just get started, however that may be. It's important to know that I'm here now, but I started like anyone else. Pick something you want to do in the animal space where you might be able to help, and don't get discouraged because it's not easy.
…
To learn more about fostering for San Diego Humane Society, please visit sdhumane.org/foster, or check out sdhumane.org/volunteer for other opportunities. Our work would not be possible without the amazing support of volunteers!
Published: November 1, 2021