Animal People:
Kioni "Kentucky" Russell Gallahue
Kioni Russell Gallahue, better known as Kentucky, found a partner for life's ups and downs with his dog, Derby. The duo, always sporting matching blue mohawks, have gone on incredible adventures that Kentucky could not have imagined, including joining the Amazon adventure series "The Pack." Kentucky tells us how Derby helped him out of a dark time and opened up many opportunities in our Animal People interview.
How did Derby come into your life?
I decided to get a doodle, and all I knew about doodles in 2012 was that they don't shed. That's about it! A buddy's family in Tennessee had gotten Derby, but after four or five months they realized they just didn't have time for him, and they needed to rehome him. They were a loving family, but they had two kids and one on the way. They found out about me and I got Derby right on the spot.
Derby needed a little guidance. All he knew was his backyard, the kennel and the family. When I took him in at a year and a few months, he was very skittish and didn't realize there were other dogs or people in the world. I decided I wanted to take him on adventures. I worked at a nightclub and bar, so I would take him there and to dog parks and baseball games, and he started to gain confidence. After a while, we started doing tricks. He didn't like to swim, so I had to get in the pool with him, and by the end of the day he was jumping off the diving board.
How did things change for you when Derby came along?
We were in Atlanta for about two or three years, and at that time I was in kind of a low place in my life. I feel like I saved Derby and Derby saved my life. Being a bartender and in nightlife for almost 20 years, drugs and alcohol were always present, and I realized I needed to get out of that life. If it wasn't for Derby, I probably wouldn't be here today. He kind of brought me purpose when I was lost in the world and didn't know what I wanted to do.
That was a hard time in my life, but I started over in San Diego. My sister gave me an opportunity to live in San Diego, to try something new. Derby was with me on that three-day journey across the country with just my clothes and my construction tools. If something didn't fit on my truck, it didn't go with us.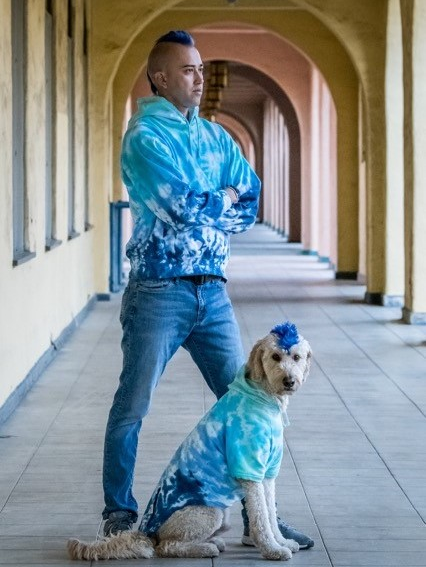 What new adventures did San Diego hold for you and Derby?
The first thing you do when you move here is you want to learn how to surf. So I took my first Costco Wavestorm board and went to O.B. dog beach with Derby. I was going to learn how to surf and I thought Derby would play on the beach. He did not — he wanted to come out with me. He kept following me out in the water and finally I just put him on a board and pushed him into a wave. He rode this wave all the way to the beach, and I thought, "Are you kidding me right now?" He turned around gave me this look like, "Is this what you're trying to do, because this is pretty easy."
So we just kept doing it, and a couple weeks later some guy walked up to me and told me they have surf competitions for dogs. I had never been to a human surf competition, let alone a dog surf competition, but I just signed us up. I had to learn to surf a little better and now we surf tandem in competitions. We've been doing about four surf competitions every year, up and down the coast from Imperial all the way up to San Francisco. Derby has his own style — sometimes he stands, sometimes he squats and sometimes he just wants to just hang out. He's all about wanting to have fun in the water.
One thing people first notice is your signature matching mohawks. How did that start?
At first, I didn't realize that doodles need grooming, because he was the first dog I ever had to take to a groomer. I let him get really puffy before it was too much. I had a mohawk at the time and asked the groomer if they could give him a mohawk. They gave him a mohawk all the way down his back.
Then in San Diego, I found this girl who was just handing out her card in the dog beach parking lot. She said she could do his mohawk and actually dye it. I didn't know that was a thing! The only color she had was blue, so I thought let's do it! It came out awesome and she still does his hair today. I was never planning on us being who we are now, but I noticed that us just doing us and looking crazy puts a smile on people's faces, and that's something that makes me happy and makes Derby happy.
You don't see a lot of surfing dogs with blue mohawks! Has Derby's look gotten him noticed?
I started an Instagram for Derby just to show him off to my friends back home and show the fun stuff we were doing. We got a DM message last year from a guy who said I should try out for this show if I like to travel and do fun things with my dog. We get a lot of stuff in our DMs and you don't know what's real and what's fake, so I actually deleted it. Another surf dog friend of ours got the same message and told us we should apply. When they flew us up to L.A. I realized it was a big deal and I almost passed up this awesome opportunity. That's how we got contacted to be on a show called "The Pack" on Amazon, and it was amazing!
How was your experience on "The Pack"?
We traveled the world! Derby and I were just there to have fun. Being competitive was probably third or fourth on our list, and we just wanted to go to every country, win or lose. In each country, we got to see all the cool things and all the cool people. One thing I realized traveling the world is that if I didn't speak the language or if they didn't speak English, dogs were just this international language of happiness. We watched people's faces light up when they saw Derby and the other dogs.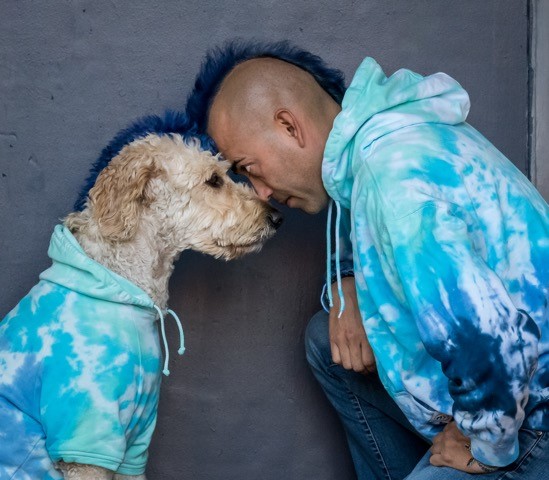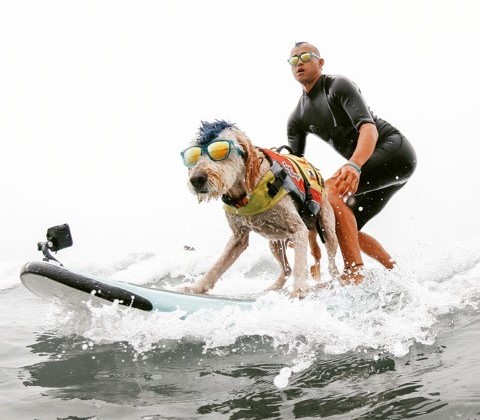 Did Derby have a favorite part of your adventures?
Derby loved Switzerland because he had never seen deep snow before. He loved it and he was running in snow deeper than him! He also got a little girlfriend, Snow, on "The Pack." The fans wanted to know if they were still together, so earlier this year we had them get engaged. Joshua, Snow's owner, and I are good friends and we decided to give the people what they want. Derby and Snow actually got married at the Little White Wedding Chapel in Las Vegas with an Elvis impersonator.
Has the show sparked other opportunities for you and Derby?
Derby and I became really good friends with some of the cast mates and we still stay in touch. We actually just got back from an RV trip across the country with some of them — seven people, seven dogs, one RV, 10 states and 3,400 miles in eight days. The trip was sponsored by DOGTV and the episodes are coming out later in August. We noticed on the RV trip that we're all different people, and we all realized that if it wasn't for our dogs none of us would be friends. It's just awesome how dogs can bring people together.
After "The Pack," the mayor of San Diego gave us our own Kentucky and Derby Day. And when I went back home to Kentucky, the governor's wife invited us to their mansion to meet the whole family and their doodle! The governor actually awarded us the highest honor that a civilian from Kentucky can get, and that's an honorary colonel.
What's next for you and your doodle doppelganger?
This past summer, Derby and I became a certified therapy dog team, which is something I always wanted to do. We did some of our training at the Convention Center, where he could comfort young kids who came here as refugees. It was awesome to see Derby go up and help these kids who were lost and didn't know what their futures held. They didn't speak English, but they would just hug and pet Derby. Seeing those moments brought me joy, so now we're going to start doing more hospital visits.
During the pandemic, kids weren't going on field trips anymore but they were doing virtual field trips, so one of my teacher friends asked us to come on video for the kids. I love that because I'm kind of a kid at heart and relate to the kids. They'd ask crazy questions, like what's Derby's favorite cartoon. Well, I know that — "Teen Titans"!
Derby and I also started working on a children's book about our lives and adventures. The main goal is to be able to go around to schools and hospitals across the United States to read our book to people. In the future, I want to write books about our travels in the U.S. and around the world. We just want to put smiles on people's faces, and any day you get to hang out with your best friend is a good day.
How can someone get a piece of the Derby signature look?
Derby and I wear matching sunglasses — it's our thing, and we probably have 100 pairs total. We started our own Derby California brand with merchandise at derbycalifornia.com, and we sell T-shirts and matching tie-dye hoodies for you and your dog. For every item we sell, we donate $1 back to Helen Woodward Animal Center. The cool thing is it's out of my living room, and it looks like tie-dye just threw up everywhere. My fiancée is the CEO and keeps us in line. I've shipped to Canada, the U.K. and Mexico, so it's just awesome to know that Derby has fans all over the world. Having Derby around makes like happier and easier, and has opened up so many opportunities.
Published: August 9, 2021