Animal People:
Chad Michaels
Drag Queen — Winner of "RuPaul's Drag Race All Stars"
Chad Michaels is known for glitzy, larger-than-life performances, most notably as the iconic Cher. Since winning "RuPaul's Drag Race All Stars," the San Diego native has toured nationally and internationally, and produces and performs locally with The Dreamgirls Revue at Urban MO's Bar & Grill. Behind the glamour, Chad cherishes the time spent at home with his partner, Adam, and their adopted Chihuahuas. In our Animal People interview, the lifelong animal lover told us about the many creatures who've influenced his life.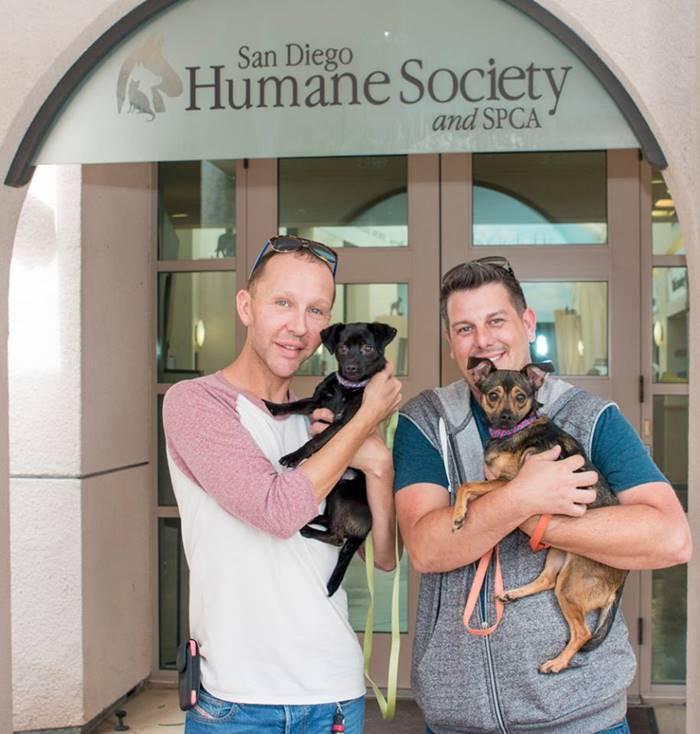 What kinds of animals have been a part of your life?
I've always had pets. My first dog was a little black collie named Tigger, then came Snickers, a little miniature pinscher. And we always had cats — Tinkerbell, a little white fluffy cat, and a short-haired tabby named Cody. I also raised mini Holland Lop rabbits.
My mom was on San Diego Search and Rescue on horseback for five or seven years, so we had a horse on our property. Back in the '70s and '80s living in Olivenhain, which is on the backside of Encinitas, there were lots of animals and livestock, so I always had animals around.
How important have pets been in your life?
I've always loved having fur babies. It's a connection, kind of a familiar thing — a counterpart to my being, really. There's something that comes from the companionship of an animal and the relationship that you build over time. It is just magical and it's irreplaceable, and it's very, very special. And it makes it really hard at the end. My mom says that getting pets always ends in heartbreak — it really does, but it is worth it.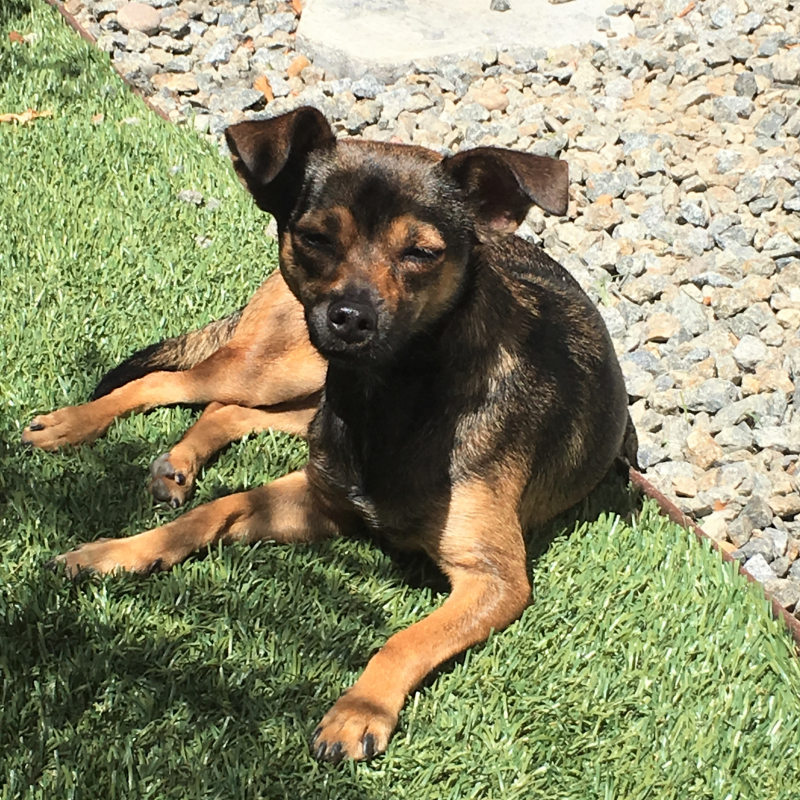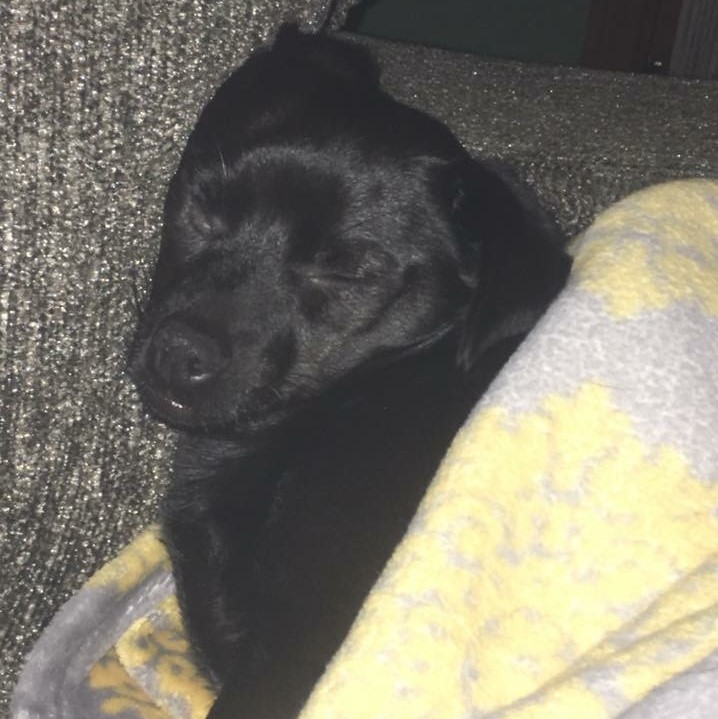 Who was the first animal to make a lasting impact in your life?
I had my tabby cat, Taylor, for 24 years. I got him in 1993 and we had to let him go a couple years ago. He was my buddy and, let me tell you, he really stuck by me. He loved me and he loved being with me, but he loved my partner, Adam, too. When Adam came along, it gave him a little bit of a rebirth. He just wanted to be with us, and I think that's why he hung around as long as he could. He was just my longtime companion.
Twenty-four years is a very long life for a cat! What are some of your most memorable moments with Taylor?
I'll tell you, I took that cat with me everywhere. I got him when I was 21, living in Hillcrest. He was with me in all my little one bedroom apartments. He lived with my drag mother, Hunter, for a while, then came to Vegas with me while I lived and worked there.
He got out of my apartment once and I thought he was gone or dead. Three months later, in the middle of the night, he showed up on the doorstep dirty and matted. He just meowed. And I thought, "Oh, I got rid of your cat box, sorry, but come on in!"
He moved to North County with us, and he lived out the rest of his life with a nice, spacious yard. It's hard for me to think about getting another cat and investing that much of my heart. He was an amazing cat that loved us, and it was really evident up to the very end.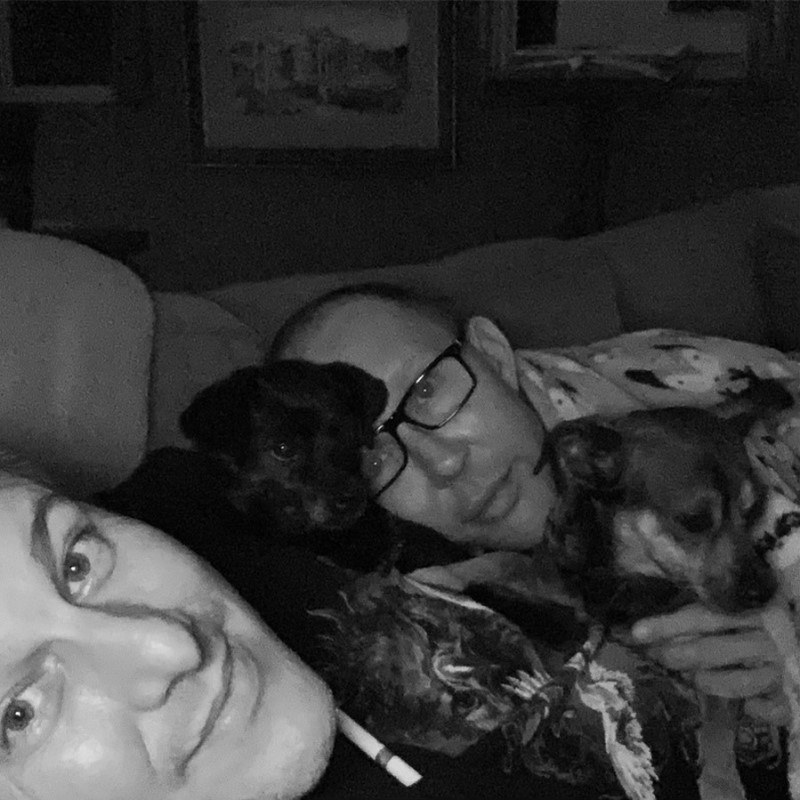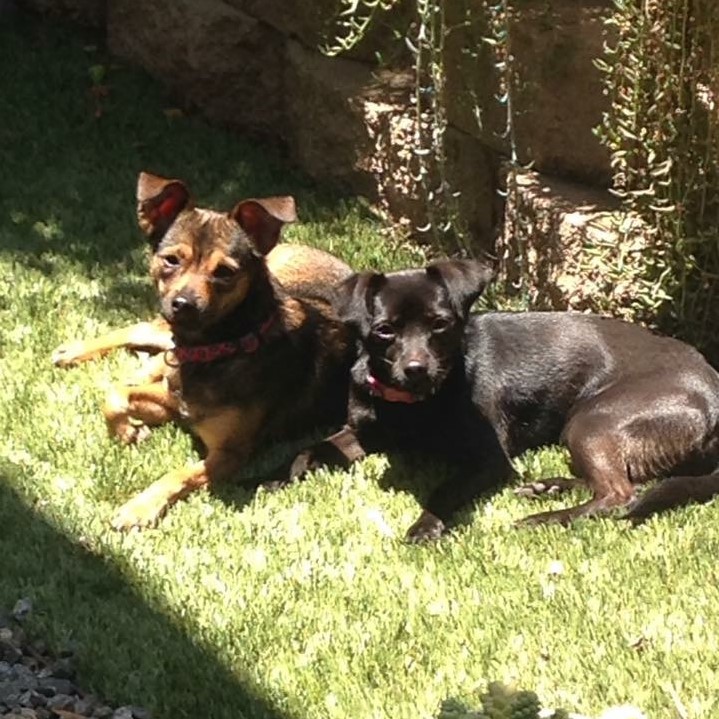 When did you decide to get a dog as an adult?
Adam and I actually went to Kobey's Swap Meet one day to get some hanging plants and came home with this little caramel and brown Chihuahua named Carmela. We called her "Rattie" for short; she was kind of like a little rat. I fell in love with her, and that love was the kind of thing that you don't know that you need until you get it, and then you can't live without it.
At the time, we were living with my drag mentor, Hunter, and he had just moved into the house we were renting. We came home with Carmela, who fit in the palm of our hands, and he said, "What is that? I did not move in this house to live with a rat!" That's how she got her nickname and we thought it was so funny, but Hunter didn't think it was funny.
I've kind of been converted from a cat person into a dog person.
And you adopted a pair of pups from our San Diego Campus a few years back!
Lyra and Luna: They're doing fantastic! We got them a week after we had to put our little Carmela down; she had bladder cancer. I wasn't really ready yet, but I was traveling a lot and Adam wanted the companionship while I was gone. I kind of dragged my feet down to Gaines Street but, in the end, it's been for the best.
When we adopted them, we were told we could take them both or we could split them up. I really believe that they could not have been split up. Their bond is too tight and if they had been split up, it would have been really hard on them.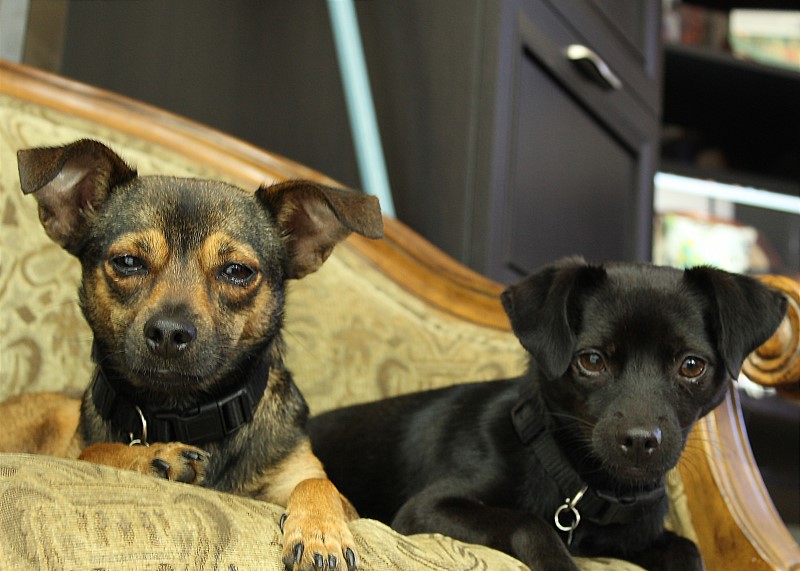 Thank you for adopting these sisters! What are their personalities like?
Lyra is so funny. Out of the two of them, we call her the police officer, because she is always on duty. We've got a really big yard and first thing in the morning she goes out and does a perimeter check. She's a really good watchdog.
Luna is the submissive one and she's sweeter than Lyra, but she's also very much a manipulator. She knows how cute she is and she uses it to get by easy in life without a doubt. The funniest thing Luna does — and I know a lot of dogs probably have picked up this habit — is she will come and knock my phone out of the way with her head. She almost says, "Hey, no, I'm way more interesting." I will always put the phone down for her and focus on her and whatever she needs.
They definitely have two different personalities and it's so funny to see them coexist.
You've given this pair of pups such a wonderful life. What would you say they've brought to your life?
It's not just one thing they brought to our lives; it's a multitude of wonderful things. They're the spirits of our home and they're just so rewarding in so many ways. They just are irreplaceable.
When we lost our previous two pets, there was a profound emptiness in the home, and anybody who has lost a pet knows exactly what I'm talking about. It's really hard. These two swept in here and filled it back up with love, energy and enthusiasm, and they're so much fun. They brought focus to our lives and a large degree of meaning to our lives.
They've given us diversion and an excuse to do things that we wouldn't normally do, like going hiking or going to the beach. You know, just those little pleasures in life to get away from you, and when things get going too fast, they kind of remind you to slow down a little bit.
Has having that extra companionship helped during the pandemic?
Having them during isolation and quarantine was everything and very comforting. They were a big part of filling up our time. It's been an intense year and several months, and we've been through some stuff together.
I'm not the most active person. When I'm not working, I'm pretty exhausted. Having that downtime, it's been nice to get out with them. In quarantine, we started to go on hikes — needing to get out and get some fresh air — and Luna and Lyra love the hikes.
Having rescued your pets, why would you say animal rescue and adoption are so important?
You can find the most amazing, deserving, loving animals at a shelter, and you don't need to go and spend money at a traditional pet shop. For me, going to a shelter is like recycling. We want to take care of the earth, so why not take care of these animals whose hearts are just there for the taking? It's helping them and honestly they're going to help you, too. It's truly such a cliché, but who rescued who?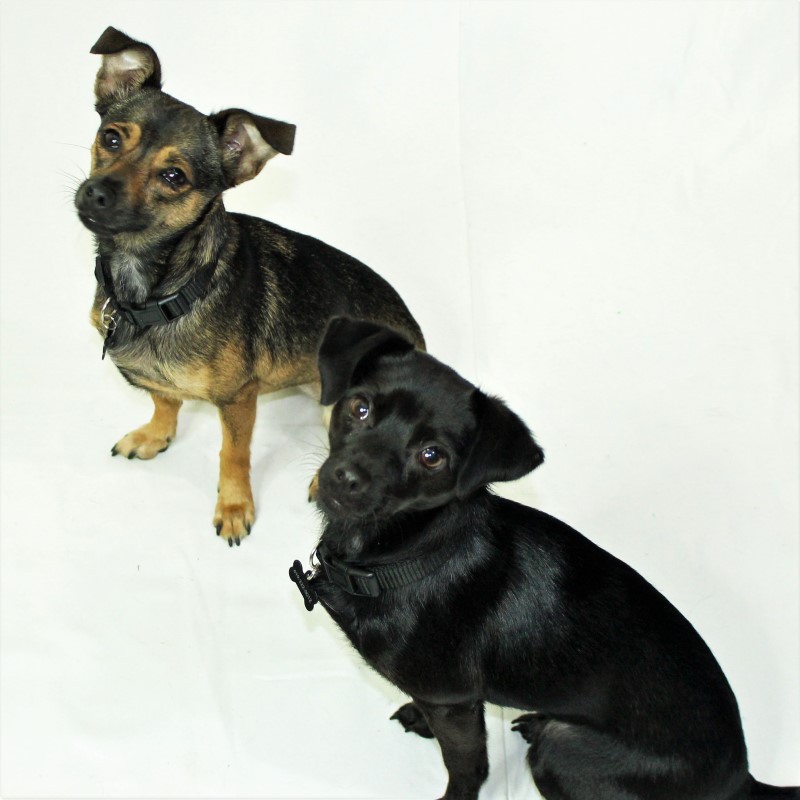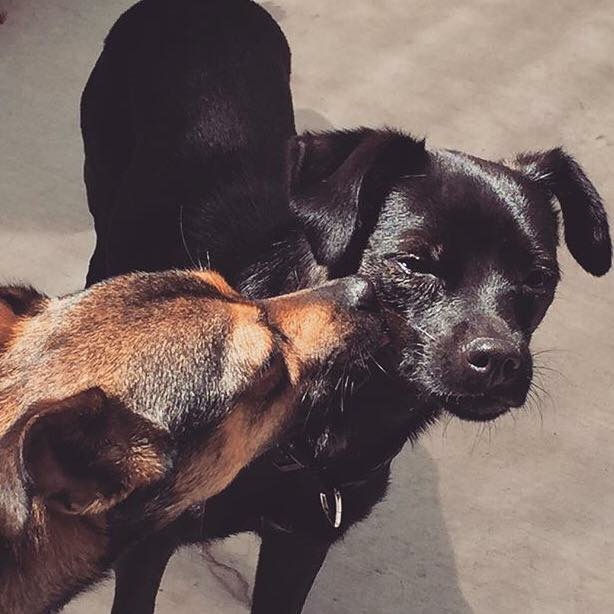 What would you say to someone considering adopting a pet?
Make sure you have enough time to devote to an animal. We rearrange our lives around them now. Not everybody's willing to do that, but you know if you're an animal person, that's what you do. I encourage everyone to make a really educated decision and go to a shelter first and you're going to get a great experience. There's a million stories and a million personalities at these shelters. I promise you you're going to fall in love with somebody who's there.
More than anything, I think the last year has shown us we need to take care of the vulnerable, and there's all kinds of vulnerable beings on this earth. I still remember Lyra and Luna sitting inside their room at Gaines Street. Lyra was standing and barking at us through the window, and Luna just crawled up by her side, just letting her protect her. They were just two little urchins that didn't have a home and Lyra was being the protector. And I knew these two needed a home.
Published: May 31, 2021