Animal People: Diana Moore
San Diego Humane Society Volunteer, Animal Rescuer and Trap, Neuter, Return Advocate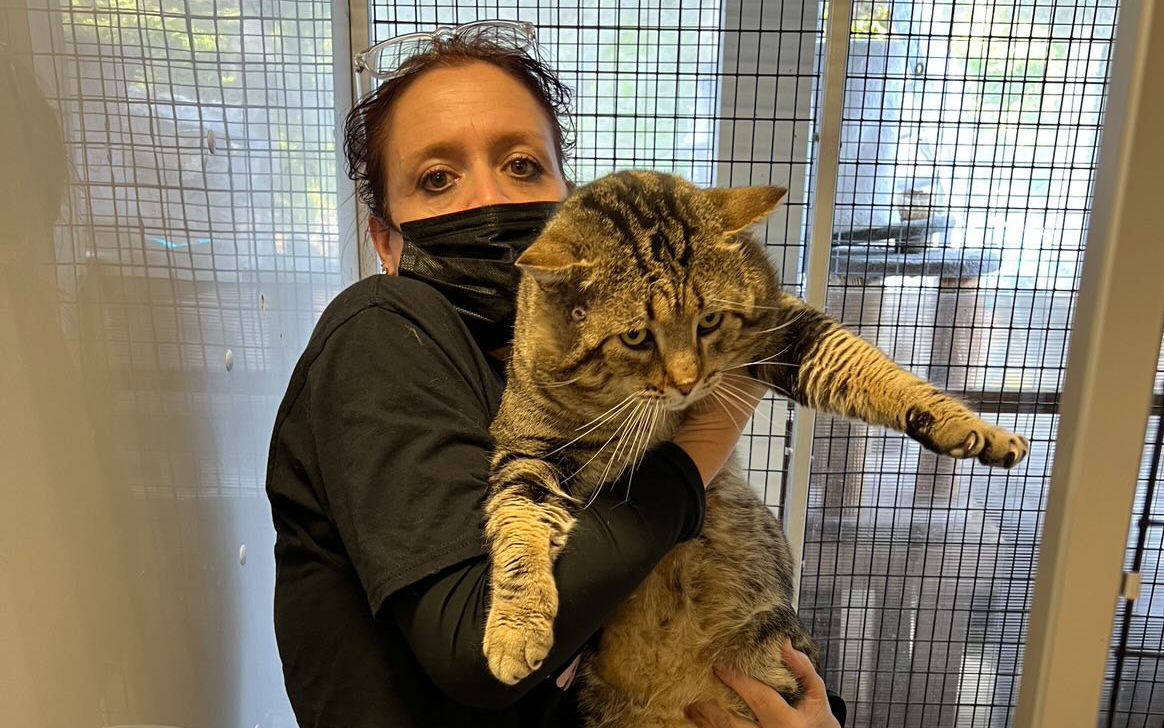 Up well before the sun rises, Diana Moore makes her rounds across San Diego to check on the community cat colonies she lovingly monitors. A longtime volunteer with San Diego Humane Society and other local organizations, Diana has helped thousands of cats and kittens through Trap, Neuter, Return (TNR) work, rescue and fostering — and she shares her knowledge about making an impact with anyone willing to learn! In our Animal People interview, Diana shares how a passion for felines has charted her path in life.
Who was the first animal to make an impact on your life?
I was 6 or 7 years old when my family and I began caring for a feral cat who had a litter of kittens in our garage. We brought in the last kitten after the mother passed away, not knowing he was feral. We were able to bring him indoors and named him Wild One, and we had him for 20 years. I discovered a passion for helping animals while caring for him, and began going around the neighborhood with my sister to bring home other stray animals.
When did you start working with community cats?
Seven years ago while scrolling on Instagram, I came across a video of an 11-year-old girl from Texas who wowed me with the amazing work she was doing to help community cats. After watching her videos, I researched community cats and rescues in San Diego, which brought me to my first volunteer experience at Feral Cat Coalition. I then came across East County Animal Rescue, where I have been volunteering ever since. In 2018, I become a volunteer with San Diego Humane Society, working in the cat morning routine, Community Support Services team (formerly PAWS) and Community Cat Program.
How does working with animals impact your life?
It's very rewarding to know that I am saving lives and speaking up for those who have no voice to ask for help. It's fulfilling knowing that I am responsible for giving animals a chance at a forever home or a second chance at life. I care for eight colonies around San Diego, feeding 80-100 cats on my own each day. I am very humbled and blessed to say that I have helped almost 4,000 cats and kittens to date by fostering, rescuing and providing TNR services!
And I'd like to thank everyone who has helped me out along the way.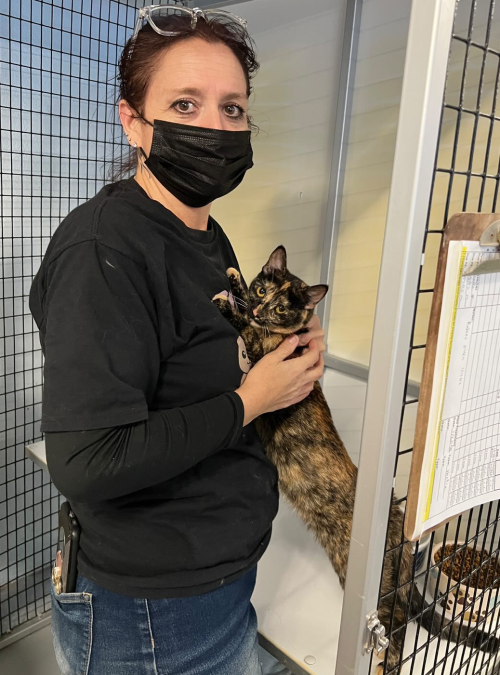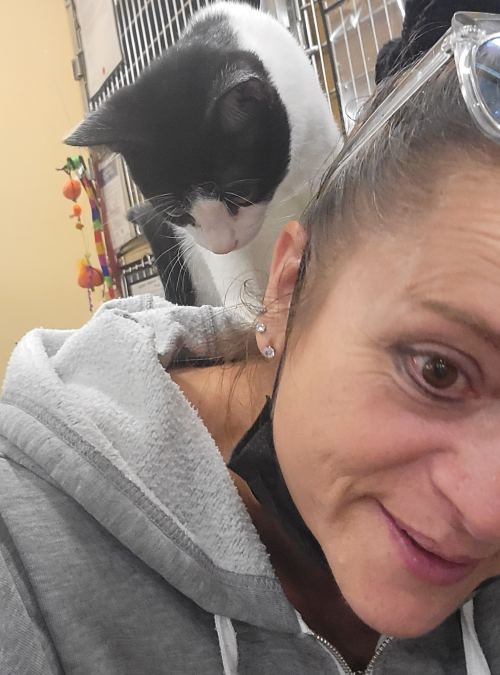 When it comes to helping cats, what are your goals?
Working with animals has driven me to want to do more and get more people in the community involved. It has given me the opportunity to start the process of getting my own nonprofit up and running, called Urban Cat Squad. My nonprofit will be geared towards educating others about community cats and how they can get involved.
I care about rescuing and spaying/neutering cats, and I am also all for educating those around me who would like to learn about TNR. I enjoy teaching anyone who is willing to learn because this volunteer work helps save cats' lives and prevents overpopulation. I would love to bring more focus on the importance of spaying and neutering your pets, as well as providing more low-cost resources to underserved communities and the people who need it most. I have a passion for helping homeless pet families by connecting them to the proper resources and by providing pet food supplies. I want people to know there are resources out there for them, and there are many ways people can get involved and help out — even if it's just one animal or cat at a time!
While you touch hundreds of feline lives each day, do you have any cats of your own at home?
I currently have 3 cats at home — Boots, Minush and Malibu. Boots is my 6-year-old, 16-pound, well-loved tuxedo cat who loves belly rubs and butt scratches. I befriended her in the alley behind my house, I started to feed her every morning at 6 a.m. and every evening at 6 p.m. Months later, she became pregnant, so I continued to look out for her and care for her. One spring day in April, she had four babies and I brought the whole family inside. Once the babies were old enough to be away from mom, I helped get them adopted to loving homes. While caring for her, my family and I fell in love with her and she has been with us ever since.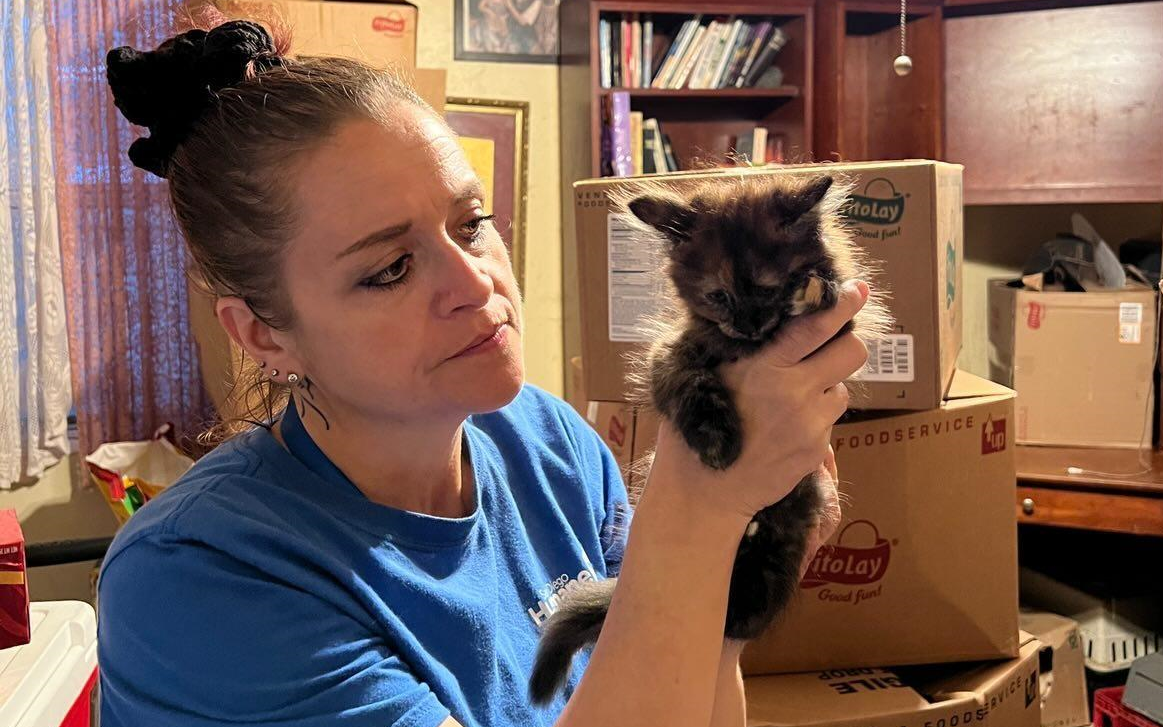 Minush, our 12-year-old Maine coon, is a love bug with the sweetest temperament. I took initially her in to temporarily foster her while my sister was moving, but we ended up loving her and have had her for six years. Last but not least is Malibu, who we rescued in December 2019 after he found was stuck in a Chevy Malibu — hence his name. My niece was driving when she heard a kitten meowing. She immediately called me and I attempted to help her rescue the kitten, however we weren't able to do it alone. We called San Diego Humane Society's Humane Law Enforcement, and Officers Amm and Anderson came to help. After three hours, we successfully rescued the kitten! We fostered little Malibu for a month and my daughter really grew attached to him, so we've had him ever since!
My animals keep me on my toes and give me something to look forward to at the end of the day. Whenever I am having a bad day, I know they will instantly cheer me up. My big girl Boots likes to sleep with me (and on me) every night.
---
Learn more about Diana's non-profit and follow Urban Cat Squad on Instagram.
Published: October 3, 2022