Animal People:
Laura Oliver
Founder of Lionel's Legacy Senior Dog Rescue
Though a dog's fur may start to gray and their brisk walk may slow down, Laura Oliver knows there can still be a bright new chapter of life ahead. Laura founded Lionel's Legacy Senior Dog Rescue in honor of a special silver pit bull who defied all odds and showed her a new way of looking at life. In our Animal People interview, she tells us about the unconditional love of senior dogs and how the community has joined her movement to provide even more second chances.
Have animals always been a big part of your life?
We had dogs, cats and sometimes other animals in our home growing up. My parents ran a rescue called ARFF (now PPF), which overtime became a collaboration between the city of San Clemente and Dana Point Animal Control, sharing the same facility. It's an unusual arrangement, but it's pretty cool. There were so many animals coming in and out of our home over the years, and I often participated in adoption events and fundraisers. Today they run an organization called Promise for Paws. I had an amazing upbringing, probably one that only a handful of people get to have and I feel really fortunate that I got the crazy experiences I had growing up. It taught me to be a jack of all trades.
Did you always know you wanted to go into animal rescue?
By day, I'm a teacher. Growing up, my pets were always my best companions. I would spend hours setting up a mock classroom in my yard or living room, and my pets were my students. I think that led me to where I am today. Now, I've blended my two passions and I'm a teacher and a rescuer.
What (or should we say, who) inspired you to found Lionel's Legacy?
I was working with It's the Pits Dog Rescue doing event coordinating, fundraising, transporting and fostering — a little bit of everything. I was tasked with picking up a dog named Lionel from a shelter in Los Angeles. The goal was to bring him back and set him up with a foster family where he would essentially be living out the rest of his life. When we got him back, we realized that he didn't like other dogs, and the foster who had been lined up had a dog who was also iffy with other dogs. We immediately realized it wasn't going to be a good fit, and it would have been challenging to make it work. At the time, I only had one dog and one cat. Lionel was so old and we learned he had abdominal cancer, so I thought, "How long is this guy going to live?" I thought I'd just set him up in a quiet corner of our home and give him everything he needed to be comfortable. I thought he'd live maybe six to eight weeks and it wouldn't be a problem. Lionel ended up living for eight more months, and that was probably the biggest blessing that our family could have ever asked for.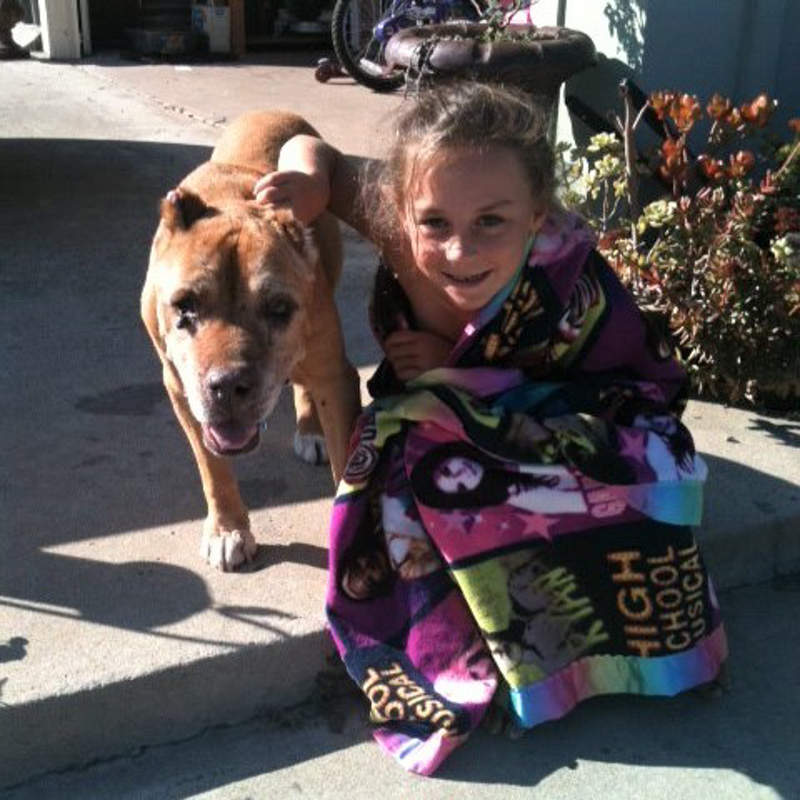 What was life like with Lionel?
At the time, my daughters were 4 and 1, and I was on leave from work. We were just trying to keep up with life, all the events and activities, the places you need to go and the things you need to do. This old dog named Lionel came into our lives and he forced us to completely reevaluate and slow down. Where we used to do everything at this really fast pace, we suddenly had to take a step back. Getting an older dog in and out to the bathroom can take 15 minutes, rather than just five; a walk down to the stop sign could take up to an hour.
While Lionel didn't like other dogs, he was great with cats. A couple times a day, my daughters and I would take him out for a walk and our cat started wanting to walk behind us, too. Our neighbors would also come out to visit and ask questions about Lionel, like, "Is he OK? Is he going to make it?" He kind of opened the door to everything we wanted to do with senior dogs. It truly was an accident that Lionel ended up at our house and that we have Lionel's Legacy today. He was the greatest blessing.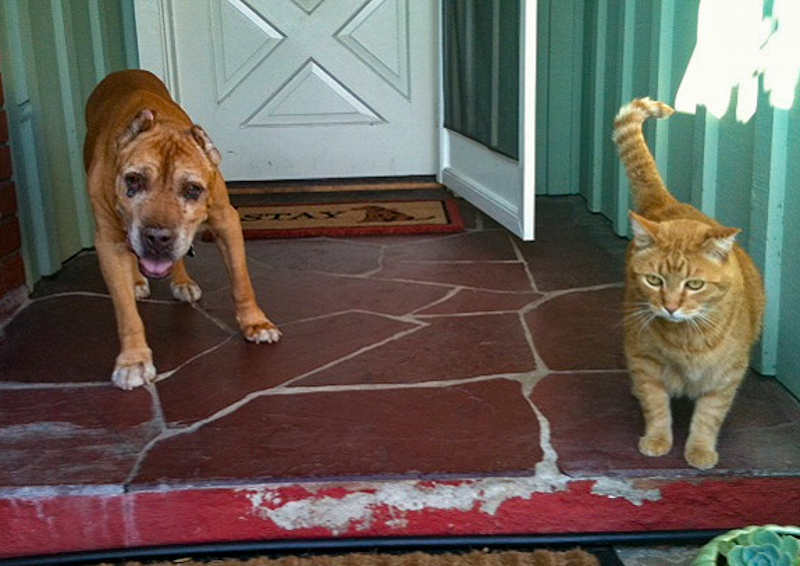 What was your goal when you founded Lionel's Legacy?
It's been such a journey, and we're still going. When we first started, we were just taking senior dogs into our home one at a time. I never imaged we'd have such a following and that people would want to participate, because this work can be really hard sometimes, both emotionally and physically. I wasn't sure if other people would be up for this journey with us, but we've collected many senior dog lovers along the way. Now, we have up to 65 senior dogs in our care at any given time. We have our forever fosters, who care for dogs with chronic and terminal ailments, and we cover their medical care and whatever else they could need. We also have adoptable dogs in foster who maybe just need simple things, like dental work or a second chance. These dogs will be in foster homes temporarily before going to new families.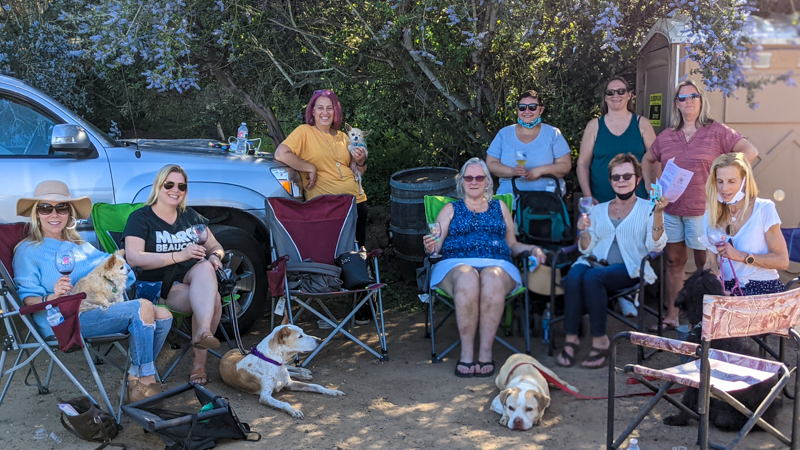 How has your work rescuing senior dogs grown?
One of the things we've learned is that dogs, and senior dogs in particular, don't end up in shelters just because they have bad owners. People love their pets, and some people have to make very hard decisions, taking into consideration what they feel is best for their pets. It's not about someone just being "done" with their old pet; it has a lot more to do with access to resources, living arrangements and changes in family. We decided very quickly that we needed to find avenues to help people keep their pets, and we started our Keeping Pets HOME program, which provides pet owners with financial assistance for medical care. Whether they need help with medication or surgery, we've learned this type of help is of huge value by giving people the opportunity to keep their pets, versus having to make the hard decision to surrender them. Over the last couple years, our Keeping Pets HOME program has really grown, thanks to support from grants and donations like from the J.R. Peterson Foundation. We're looking forward to expanding it to make it more accessible and dynamic to those who need it.
We also have our Always HOME Program, where we accept senior pets from seniors or people with chronic and/or terminal conditions who have no next of kin to take their pets. We wanted to have a prevention model in place so senior dogs don't have to go to the shelter. We try to help pet families before they get to the point where they feel like they have no other options. It's been hugely successful, making it less stressful on the animals, the families who need to give up their pet and our local shelters.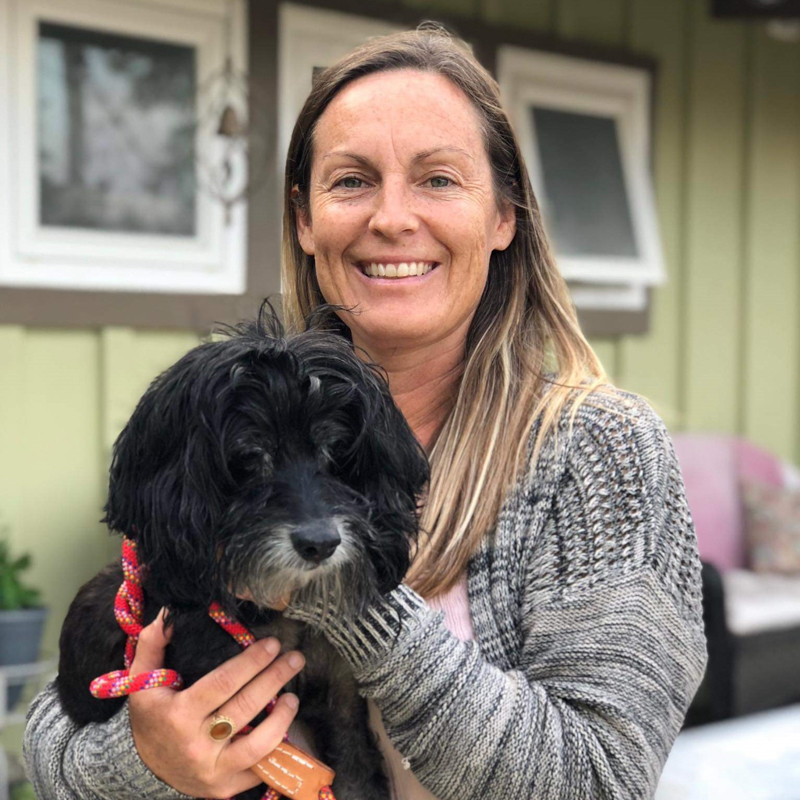 How do you work with other rescues?
Over the years, we've been part of a rescue coalition, because we want to make the most of what we're doing to support our community. It's a group of more than 20 rescues, and we will collaborate as a whole and in mini groups. Through this partnership, we've been able to host free microchip clinics across the county and have microchipped 1,000 or more animals. It's all about people coming together and not just having one person making changes. By collaborating and joining forces, we've been able to do so much. San Diego Humane Society has also been wonderful to collaborate with. We're just very appreciative of having this great community.
When we share resources and ideas, it unravels some of the fears around trying something new. I feel like this takes some of the heavy lifting off us, and it's fabulous to see different organizations taking on this work. Now, there are other groups who aren't as hesitant to take on a couple senior dogs at a time. When we all come together, it's so much more impactful for the community.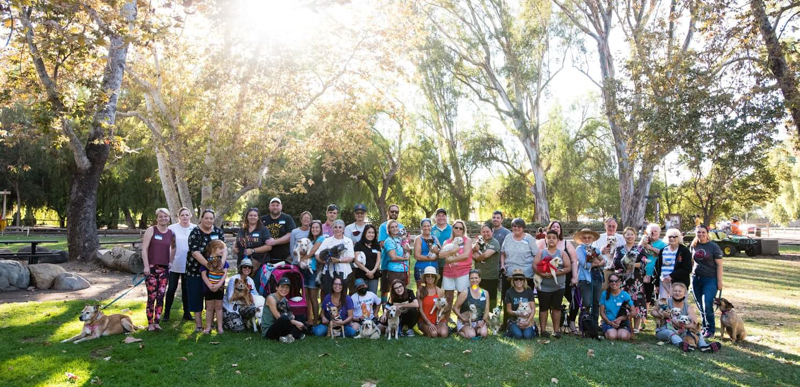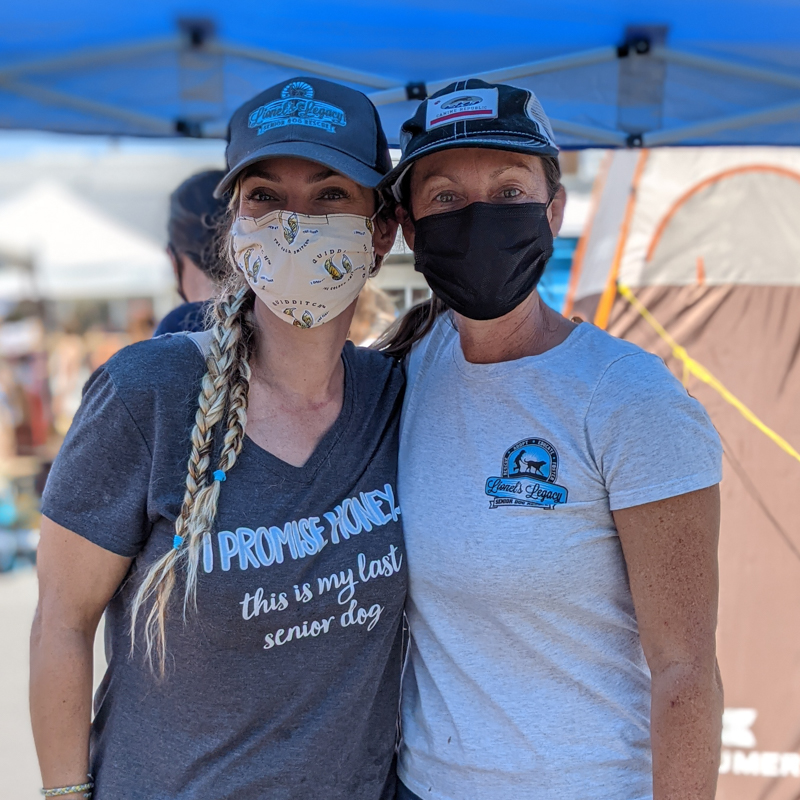 How many animals do you currently have at home?
Our newest dog is Max, a Great Dane, and he's not even 2 yet. I recently learned that a lot of Great Danes get surrendered to shelters because of their sheer size. I never thought we'd have a Dane, but I bring so many animals into our home that when my family wanted to adopt Max, I couldn't say no. We're a big dog family, anyway. We are actually at max capacity with five dogs. Along with Max, we have Roxy (a 16-year-old black and white pittie), Sunny (a 14-year-old beagle mix from It's the Pits Dog Rescue), Lily (a 13-year-old also from It's the Pits) and Christian (a 12-year-old who came from my parent's rescue years ago).
What makes senior dogs so special to you?
Senior dogs force you to kind of slow down and appreciate the simple things in life. Puppies are crazy, and you have to go so fast to keep up with them. Before we started Lionel's Legacy, my daughters and I were delivering meals to clients of Meals on Wheels, and I think there's a little bit of a relation between older dogs and older people. When we delivered meals (although the clients appreciated the meals), it was primarily about the companionship. They wanted to invite you in to tell you about their family and, most importantly, tell you about their pets. There's no doubt, whether it's a senior pet or a younger pet, our lives are so much more fulfilled with pets by our side. We love senior dogs and ended up advocating for them because no one else in San Diego was at the time. We knew it was something that needed to be addressed and we are happy to know that there are many of us senior dog rescuers now!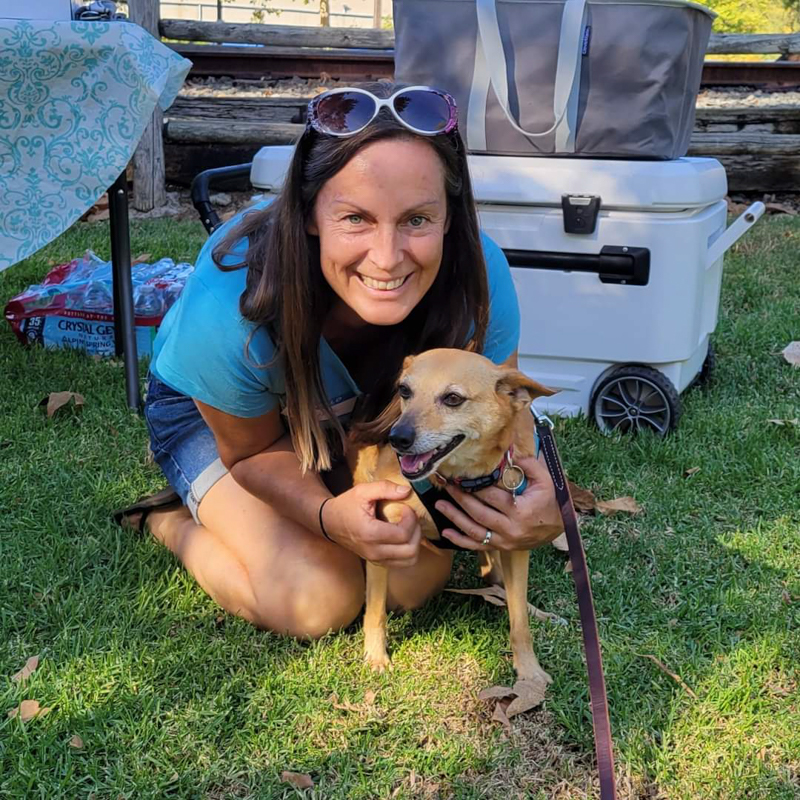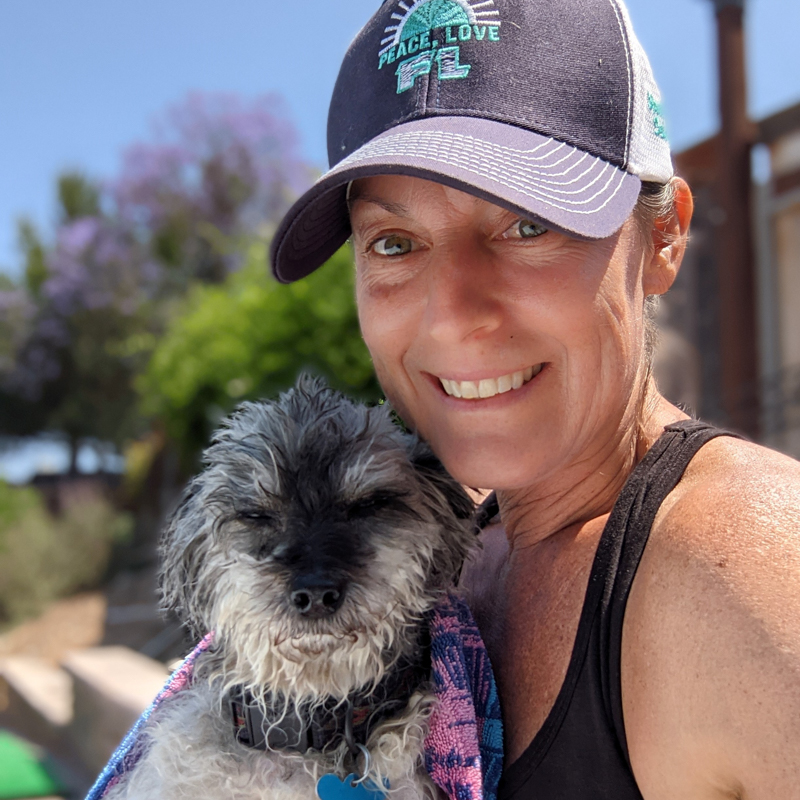 How has sharing your work with animals changed your life?
I can't imagine my life without dogs. Even though we've had dogs who are incontinent or have cognitive issues, it doesn't matter — they're still amazing companions and they make our lives so much better. They provide unconditional love, so we owe it to them to take care of them up until the end. Yes, they want their meals, but who doesn't? There are so many senior sweeties who have come to us from stressful situations — whether they had an elderly owner who couldn't provide them with the care they needed or maybe they were a backyard dog all their lives. I kind of equate this to some of my second- and third-grade students who are immigrants or deal with a lot of stress in their home lives. When we rescue dogs, there's this moment when they take their first deep breath and let it all go; they know you've offered them a safe place to land. Being able to provide safety to any living being, that they know and can feel, is super fulfilling. It means a lot, whether I'm there for my students in the classroom or able to be there for dogs, even just for a meal they can count on.
It sounds simple, but I think that's all anyone is looking for — safety and someone to be there for them. I think dogs give that back to me, too. When they come into my life, they offer me safety, just in a different sense. They love unconditionally and that makes me feel safe. Getting to do what I love never feels like work. After 22 years in teaching and many years in rescue, I still love doing it every day.
…
Learn more about Lionel's Legacy at lionelslegacy.org.
---
Published: January 31, 2022