Animal People:
Joy Ollinger
Humane Law Enforcement
Joy Ollinger is a Humane Officer with San Diego Humane Society. Since joining the Humane Law Enforcement team in 2018, her days have been dedicated to helping animals in need — from cats and dogs, to roosters and foxes. No matter what her days hold, Joy can always count on being greeted by her six rescue pets when she gets home! In honor of Humane Officer Appreciation Week, we talked with Joy for this special edition of Animal People about what her career in animal welfare means to her and how the animals she's encountered over the years have changed her life.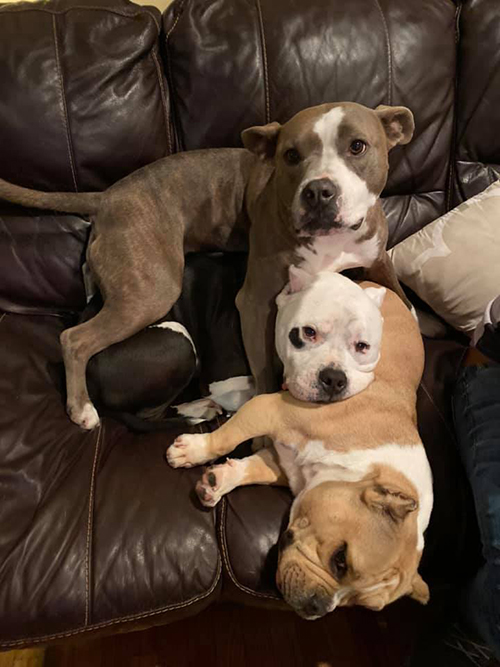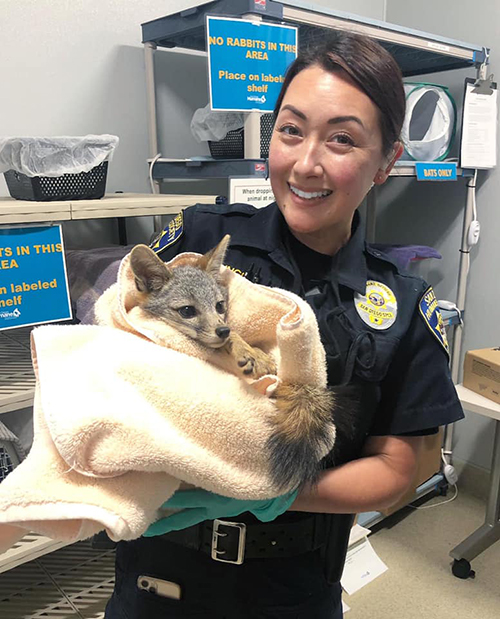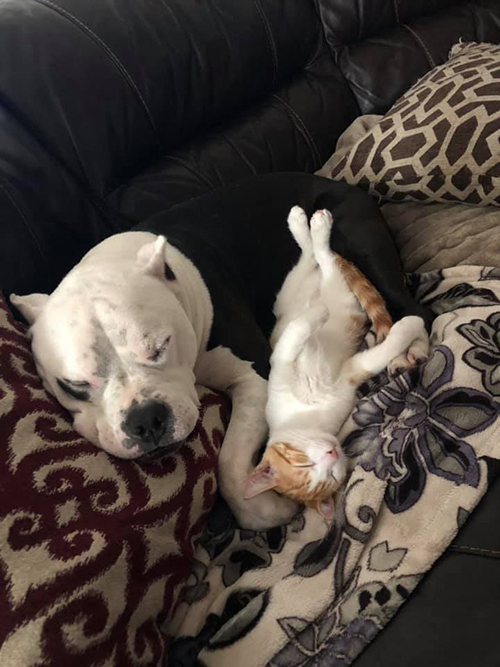 What inspired you to become a Humane Officer?
I have always been passionate about saving animals and it's something my parents encouraged. After my mother passed away, I decided to take a chance and leave the corporate sales world to do something that I felt would make a difference.
What have been some more memorable moments since joining Humane Law Enforcement?
There are so many! Getting tased and pepper sprayed, rescuing a fawn, representing SDHS at the Pride Parade, rescuing a fox out of a canyon and the cockfighting rescue in San Bernardino in 114-degree heat. I am especially drawn to animal hoarder cases. I enjoy working with the owners and building trust, so they understand that I'm there to help. Another memorable time would be working the fires. There's nothing like a high-pressure situation to bond you with your co-workers.
Your job comes with so many difficult days. How do you handle them?
I learned that a positive attitude and compassion can make all the difference.
Your life is run by animals now, but have you always had animals in your life?
Yes, my childhood dog, Pepper. She was a Dalmatian who loved all people and animals … EXCEPT other dogs. She did get along with our ducks, cats, guinea pigs and rabbits.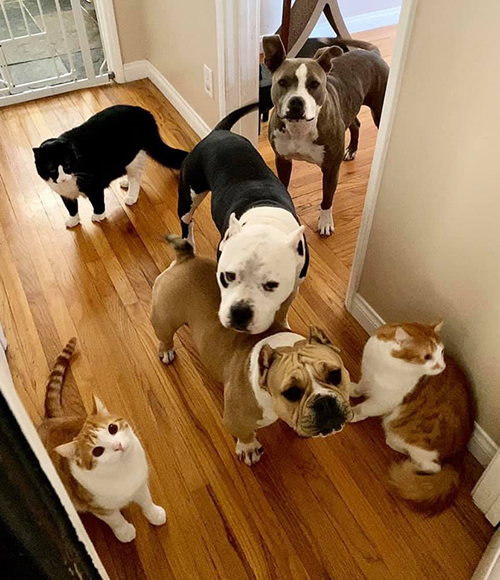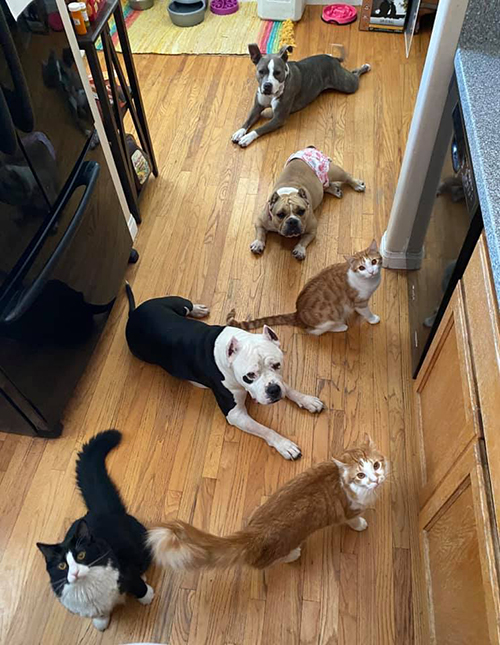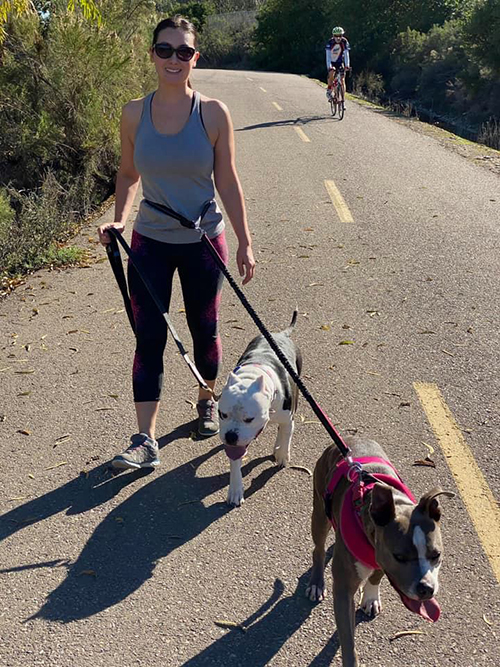 Who are your furry friends at home now?
I have three pitties and three kitties — all of them are adopted from shelters: Frank (my dramatic, emotional pit bull), Tipsy (the nonstop happiness-exuding pit bull), Sweet Potato (some sort of squishy bulldog, Staffy and potato mix), Rocket (a big cat who yells at me all the time) and Cheddar and Cheeto (my cheesy orange twin kitties).
I often hear people say in regards to pit bulls, "It's how you raise them," but I got all three of my dogs as adults from shelters and they are incredible with each other, people of all ages, including small children, as well as every other animal I've fostered. Give adult shelter pit bulls a chance!
What does this fun bunch of animals bring to your life?
My animals make me laugh every single day. They are a constant source of entertainment and happiness. They keep me active and in a good mindset. It's hard to be lazy or depressed when you have animals who want to play fetch or give you kisses. I love how they all follow me around the house. It's like leading the world's most disorganized parade.
Have any of your animals in particular made a lasting impact on your life?
I fell in love with Frank at first sight when I saw him at the shelter. He's been with me through the worst times of my life and now the best. He's shown me what true loyalty and devotion are. He is clingy and sensitive, which forces me to focus on his needs and not just my own. I am a better person because of him.
And we heard that one of your pups was a special rescue from San Diego Humane Society!
Sweet Potato, or Sweet P, was adopted from SDHS a few months ago. She came in with severe pyometra (a uterine infection), and was obese and swollen to the point that we thought she was in late-stage pregnancy. She had the grossest toes you've ever seen. She was treated by SDHS's medical team and received two lifesaving surgeries. She had to wear a diaper for two months, and we weren't sure if that would be a lifelong thing because she leaked urine, but that's all fixed now. She used to drag her stiff back legs and was unwilling or unable to walk anywhere. She had to be carried. Now, she runs around and plays with the other dogs. She's able to get on the couch by herself. She still uses stairs to get on the bed but that's because she's a short stack. I am so incredibly grateful to SDHS's medical team for saving her.
How do you think people can help make a difference in the lives of animals?
I think it is so important to see each animal as an individual. I make sure to spend time one on one with all of mine and learn what they enjoy and what makes each one happy.
Foster! Spay and neuter your animals! Those are easy ways to save lives!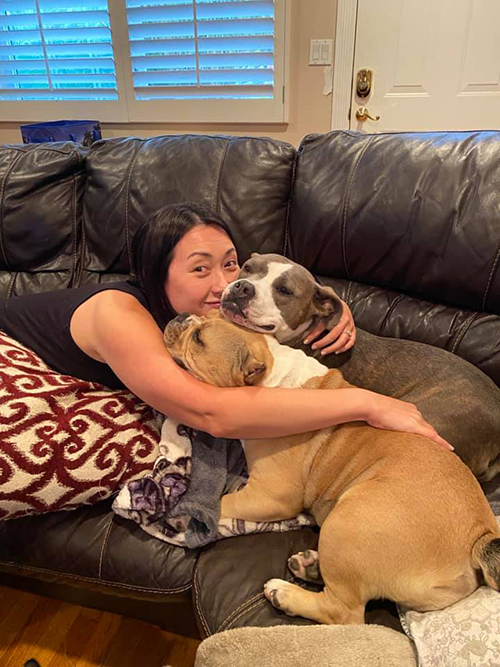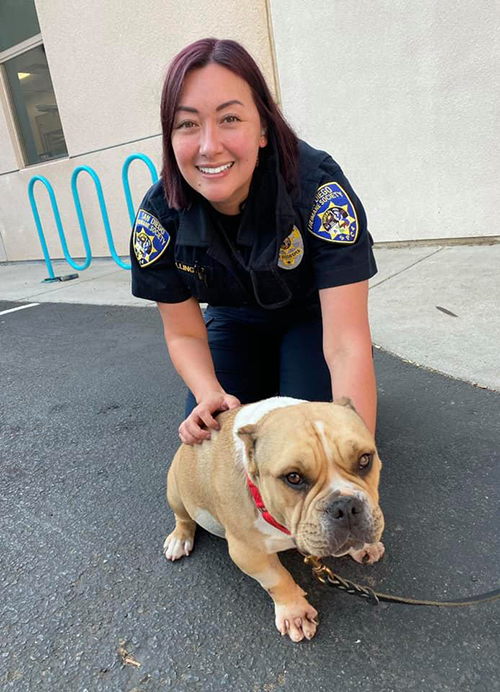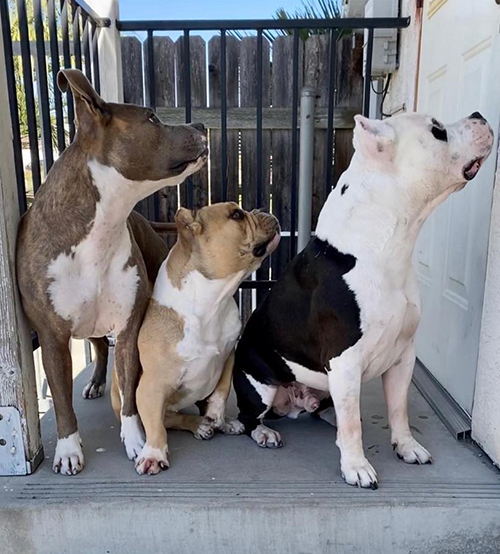 Happy Humane Officer Appreciation Week!
We are so grateful to Officer Ollinger and the entire Humane Law Enforcement team for keeping animals and the people who love them safe with their compassion and dedication!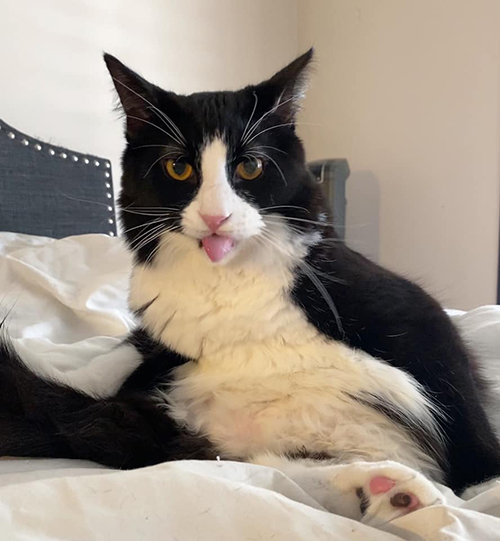 Published: April 15, 2021