Animal People:
Annie Petersen, Ed.D.
President and CEO at the Association for Human-Animal Bond Studies; Founder and Documentary Filmmaker of Animal Bond Academy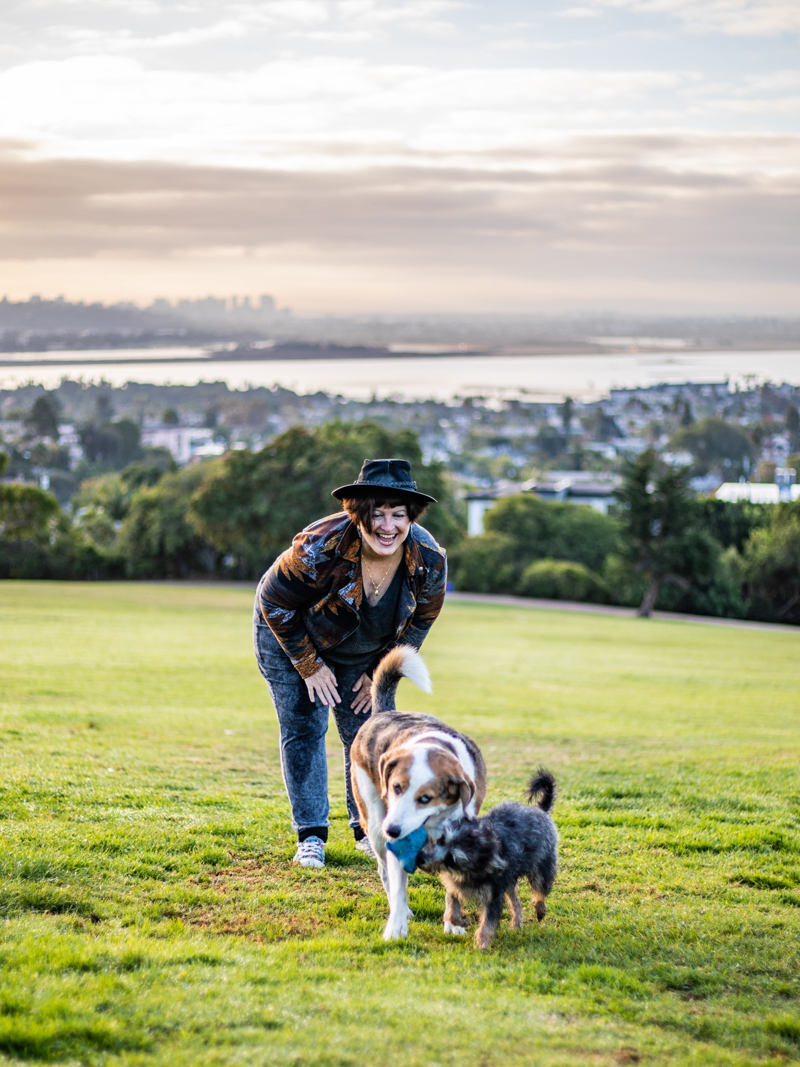 There is no doubt that humans and animals can form incredible bonds, but just how deep do those relationships go? Annie Petersen, Ed.D., is fascinated by the roles animals can play in our lives, changing how we learn and our ability to heal. Annie founded the Association for Human-Animal Bond Studies to learn more about how creatures of all kinds change our lives and help us learn more about ourselves in the process. In our Animal People interview, she shares her experiences in education and healing with animals.
How did you get your start in animal welfare?
It was never my plan to work in animal welfare — I actually started my career in education. I taught in Montessori schools for about 14 years. I was feeling burned out on working in classrooms, but I knew I wanted to stay in education. I didn't really know what to do, but I had a lot of friends who worked at the San Diego Zoo. At the time, I didn't even know that the Zoo had an education department, but I applied for a summer job. The Zoo transferred my application to the Safari Park (the Wild Animal Park at the time) and I found my people.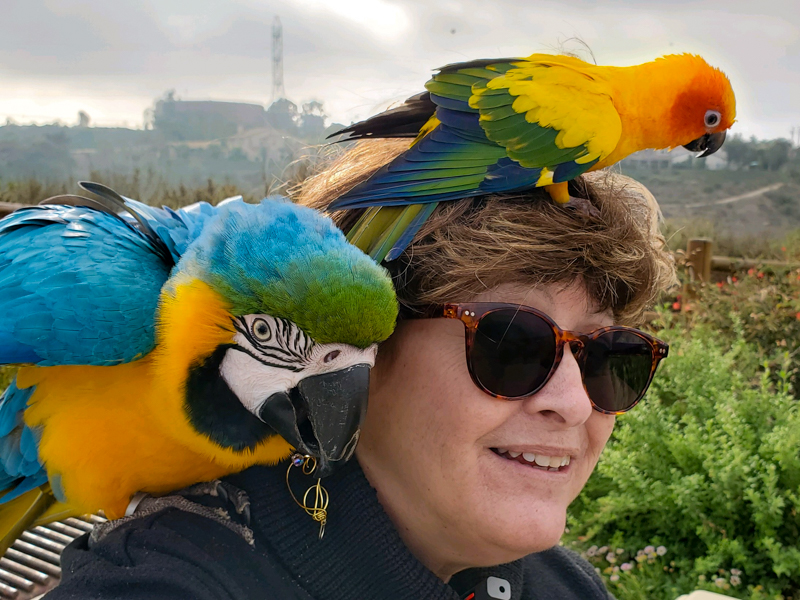 What was it like to go from a classroom setting to a workplace surrounded by wildlife?
Any new experience can be scary. It was really scary at first, but when you're in a frightening and challenging situation, and you still love it, I think that that says a lot. What's really nice about Montessori schools is because they're very nontraditional. It's not a classroom where you're sitting at a desk all day and the teacher is just lecturing — it really is experiential learning. That experience made my transition to an even less-traditional environment pretty smooth. I also think if you're not doing something that's challenging you, then you're not growing. I didn't have a background in wildlife and biology, so that was new, but I was surrounded by so many passionate people who care about helping others and sharing their passion. I hadn't realized how much I had in common with people who worked with animals. Being around people who really have such a strong connection to animals was not anything I'd ever experienced before. I didn't know where else I would be able to find that, and thought maybe that was just unique to the safari park.
Where did your passion for animals take you next?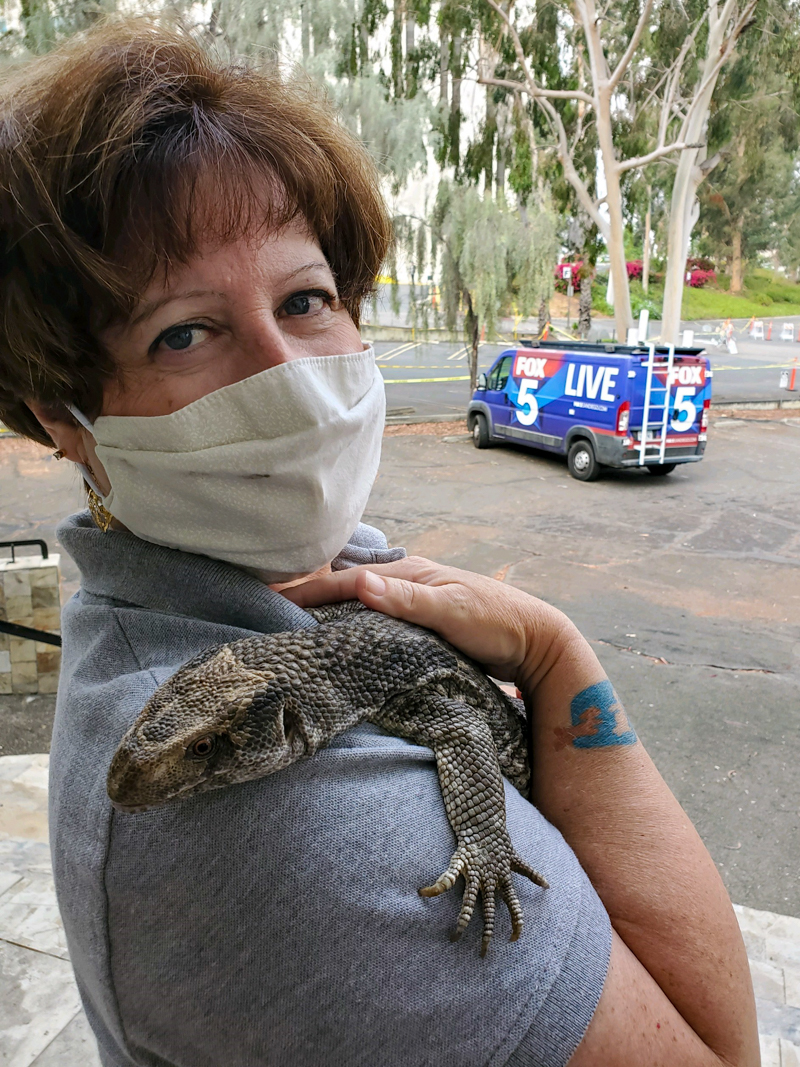 After a few years and different positions at the safari park, I moved on, and San Diego Humane Society is actually where my companion animal adventure began. I worked there for 10 years, and a majority of that time I was the Education Manager. I noticed that when people want to learn about animals, I could talk at them all day long, but once an animal was there, they really became present. Animals made all the difference in their learning. It's not about being hands-on, because you can't hold a rhino or a giraffe, but just being there with them — hearing them, seeing them and having that one on one experience — which makes such a difference.
It's not so much what I learned about animals, but what I learned about people, with animals as a conduit to learning. I learned how people relate to each other when they have animals as a partner. When people are working with an animal as a partner, they absorb so much information and can often relate so much better than they can with other people. I found all of this really interesting and wanted to do a study on it, but I had no idea how, so I decided to work on my doctorate in Education and it went from there.
How have you continued to study the special bond between animals, humans and education?
I started my own nonprofit while I was at San Diego Humane Society, called Association for Human-Animal Bond Studies, because I was so interested in the relationship that people have with animals. At the time there really wasn't an interest in these studies. Early on, I got a couple of really great grants —one through Human Animal Bond Research Institute, which worked in conjunction with the Morris Animal Foundation. I also kept a partnership with SDHS after I left, and we borrowed rabbits from them to take to a charter school to study how reading to rabbits impacted reading comprehension for third and fourth graders. It was a win-win because we were promoting San Diego Humane Society and these rabbits, who were eventually going to be available for adoption. It also helped us complete our study, and I wrote and published a book during that time.
I continued doing research with the Association for Human-Animal Bond Studies, and a few years later I started working for the FACE Foundation.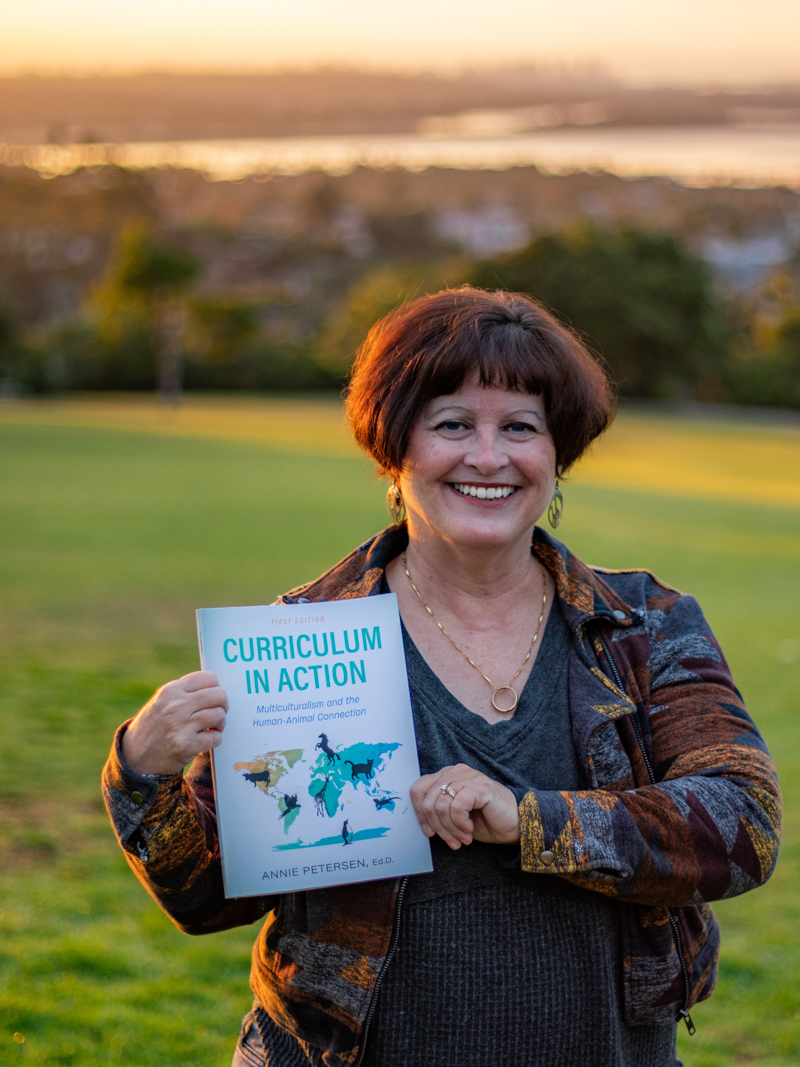 How did your research and work adapt through the challenges of COVID?
COVID really impacted my nonprofit because we were doing one-on-one research. We had been bringing animals to work with groups of people who had experienced sex trafficking. These were young women who were transitioning to new lives, had children and wanted to learn new skills. My nonprofit was doing career programs and different sorts of things to help these women, and we couldn't do that when the pandemic began.
I was talking with a friend who I met while working at the safari park, but who had since left and opened her own wildlife conservation education program. She lost all of her business, and in talking to her and thinking of all these other small animal rescue groups and nonprofits that now had zero income, I decided I wanted to help. We founded Animal Bond Academy and started making videos to promote animals and animal welfare organizations, and it just took off. We're now in our third season of Animal Bond Academy, and I've learned that the number of small animal sanctuaries and rescues in San Diego is far larger than I ever thought. My husband is a recently retired zookeeper, and we've both been in animal care and animal welfare for decades, but neither one of us were aware of how many rescue groups there are in San Diego County. On every single Animal Bond Academy video I make, I post the hashtag #LearningNeverStops, because it never does. If we're not challenging ourselves to do or learn something new, then why are we here?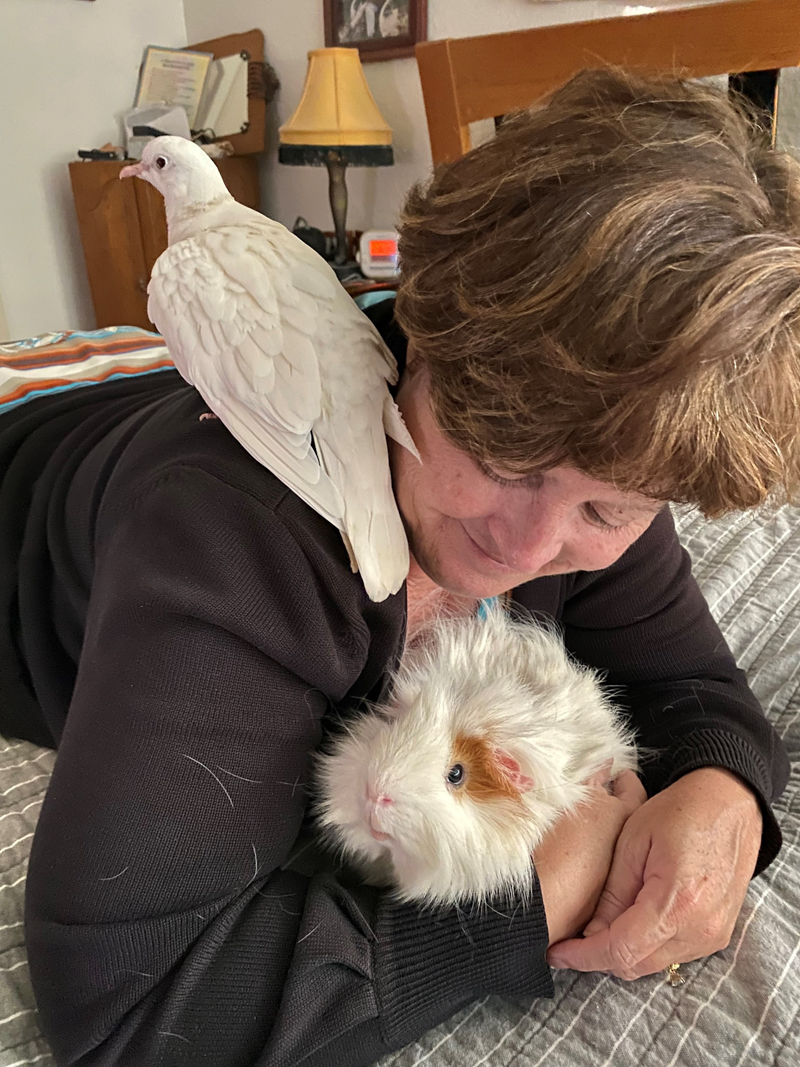 Is there a time when you've seen the full impact of the human-animal bond?
In December 2015, there was a terrorist attack in San Bernardino County. Julie, a friend I'd known since high school, was living there and I never thought she would be a victim of something like this — but she was. Julie was at a Christmas party at the Inland Regional Center and was shot 4 times. I've never had a more visceral reaction to something. It was terrible. I jumped to help with what I know to be true: animals heal. I reached out to the humane society in San Bernardino to see if we could do some kind of animal-assisted therapy. It wasn't going to make the situation better, but it was going to help somebody, somewhere along the line. I also got in touch with a group that had mini horses, and we had a healing session for victims at the humane society with horses, dogs and other animals.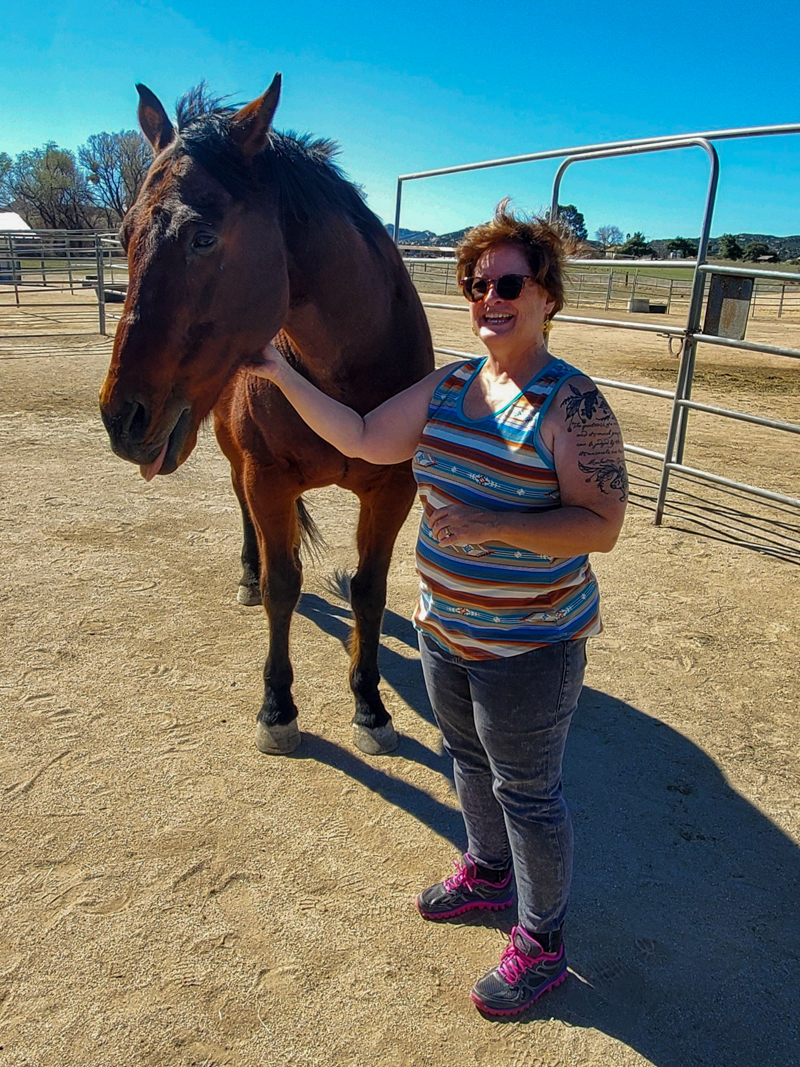 I visited my friend Julie in the hospital after her daughter, who was only 10 or 11 at the time, went to the healing session with her aunts and uncles. It had helped. Physically, Julie was able to recover (though she had to have her pelvis replaced after it was shattered by the bullets), but she and her daughter will be impacted by this for the rest of their lives. The shooting at the Inland Regional Center impacted so many people. There were people climbing over fences trying to escape, and many people at the center were in wheelchairs and had developmental disabilities. The impact on all of these people was incredible. When I started Animal Bond Academy, I made a video feature called Happiness on Four Hooves, and it actually won a Telly award. I dedicated that award to the 12 people who had been murdered on that day.
What's next in your work with human-animal bond studies?
My plan is create a documentary focusing on people and groups who are working with animals to help heal trauma they've experienced. That's a really big project that's going to take a couple of years, but that's my big focus now. It's always been a passion of mine to focus on how animals heal people and how people can also heal animals. There are so many wonderful organizations where children and adults who have suffered trauma can work in tandem with animals who have gone through trauma, and they heal each other.
Part of my work is finding out how we can reach out to people before they get to their lowest point. We don't always want to be helping on the back-end of people who have experienced trauma. We also want to be able to give, especially young people, the compassion and caring they need to heal with animals, and to do so without any stigma that can come with therapy. We want to give people options to feel better that don't involve drugs or violence.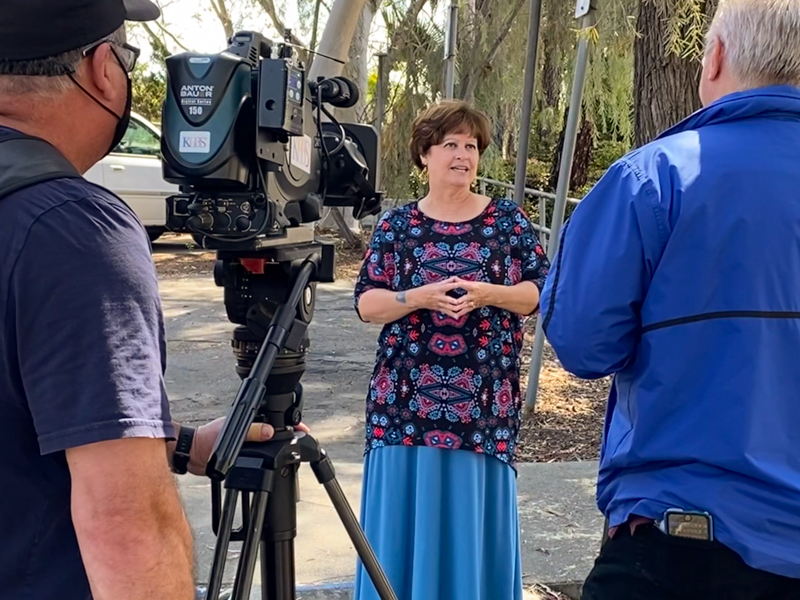 What do you want people to know about our relationships with animals?
People can relate to animals who have also been through trauma. That's actually what made the Michael Vick dogs great representatives. Some of them were so resilient and became such wonderful advocates of the breed. Sometimes it just takes a few minutes spent with an animal to feel better. They're giving you comfort and you're giving them companionship — not that they always need it, but they can be patient enough to let you just kind of drape yourself all over them, so you can get better.
What I do is for animals and animal welfare, but it also for the people involved, too. There are a lot of people and organizations out there doing amazing things, and we want to see what we can do to take away a lot of the hate and violence in the world. Sometimes animals can help — and sometimes it's art or music — but we want to develop programs that can help people get through their traumas.
---
Learn more about Annie's work and Association for Human-Animal Bond Studies at animalbondstudies.org.
Published: July 25, 2022