Animal People:
Kate Richards
Author and Mixologist
For Kate Richards, happy hour is never complete without a couple of hens. The author and cocktail connoisseur finds joy in sharing her life and work with chickens (and her other assortment of pets), and spreads the free-range fun with as many people as possible. Kate explains how her feathered and furry friends have changed her life in our Animal People interview.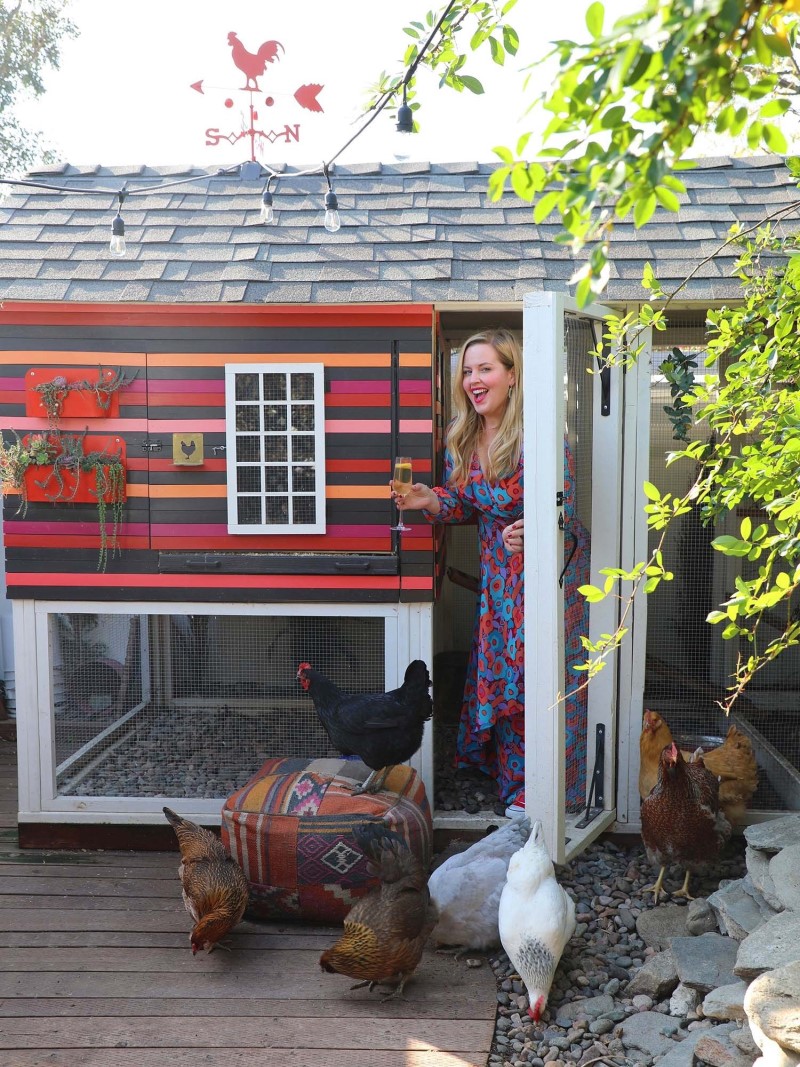 Had you always had chickens?
My family had every type of pet imaginable … except chickens. We had ducks, geese, a pig — but never chickens. And I have absolutely no clue why. Neither do my parents. So, keeping chickens was always just something that I wanted to experience, and the second my husband and I bought a home where we were legally allowed to have them, we jumped right in.
How did you go from just having pet chickens to drinking with chickens?
I was looking to lean more into sustainable gardening and growing as much food as possible in our backyard — and the hens, of course, fit quite nicely into this plan. As many backyard chicken-keepers will attest, when you have a flock, you wind up spending quite a bit of time just sitting and watching them free-range, especially in the evenings when it's nice out. They are charming and strangely entertaining to watch while they chicken about. It seemed like a natural progression of things that we'd have a glass of wine or a cocktail while we did this. It became sort of an inside joke with my husband. We'd tell people, "Sorry no! Can't come! Too busy drinking with our chickens!"
And as we leaned into growing food in our garden, we realized we were leaning even harder into growing cocktail ingredients that we used to make our garden-to-glass happy hour refreshments. And suddenly: Drinking with Chickens was born. And I kind of thought it would be my fun little hobby cocktail blog that no one would really get because it was an inside joke — but unbeknownst to me, we weren't the only ones who did this — so the concept really found a very enthusiastic audience.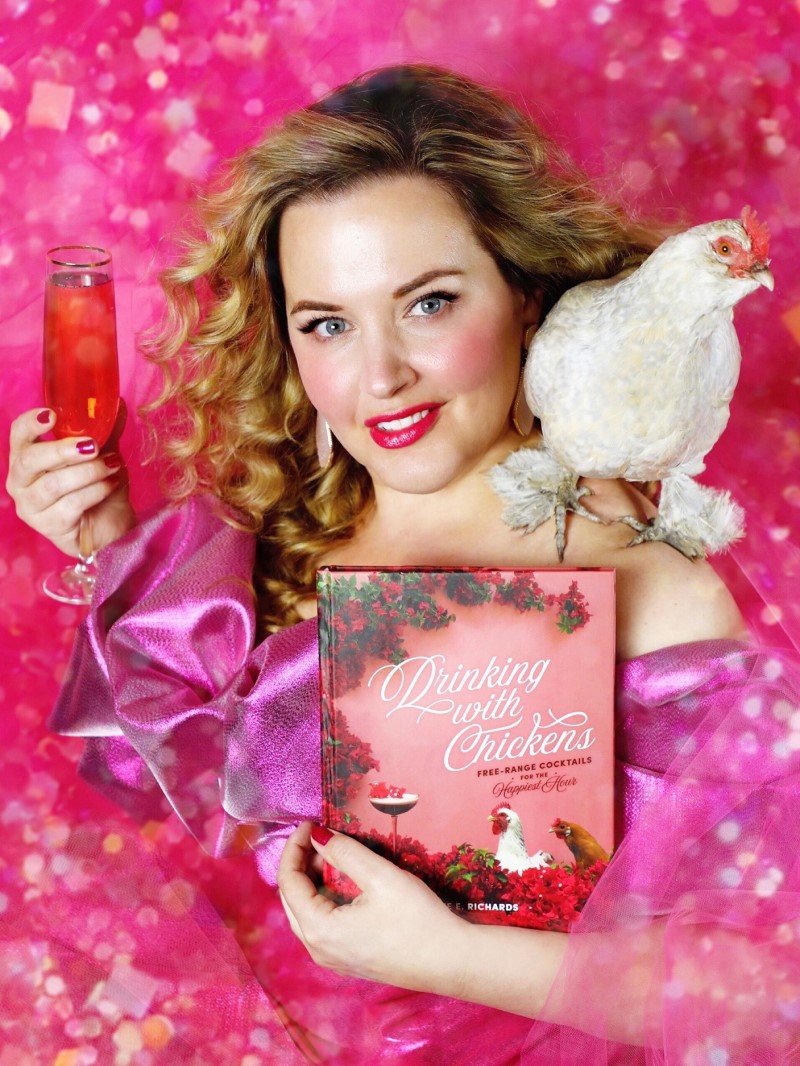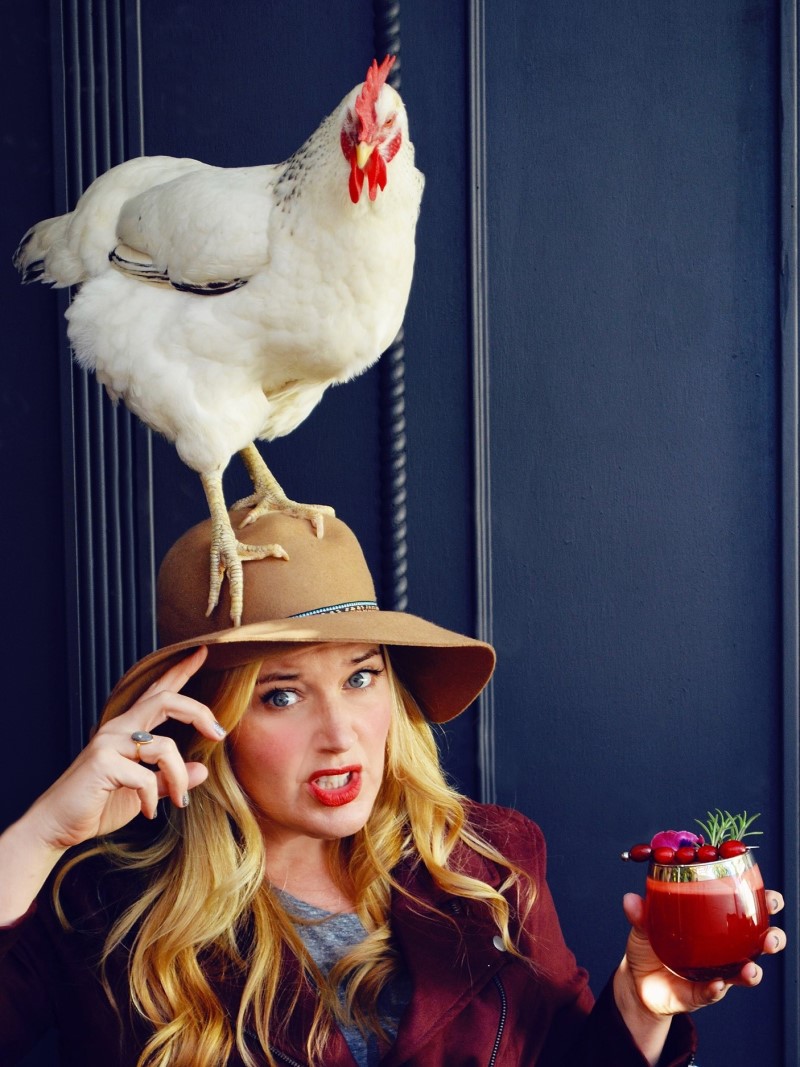 How many chickens and other pets share your home?
We have a small flock of backyard chickens (I plead the Fifth on how many exactly!) All of our animals are rescues including some of the chickens, but many of the chickens have also come from small farms and breeders. A random sampling of some of our chicken names are Corn, Spork, Parsnip, Pollywog, Poppycock, Moira Rose, Judy Blume, etc., etc., etc.
We have three dogs: boxer Phoebe, Doberbull (Doberman-pit bull mix) Rigby, and cattle dog-pit mix Rooster (he's actually an American bulldog-pit bull-cattle dog-Aussie-corgi mix). And four cats: Gimlet, Gilly, Gandalf and Voodoo.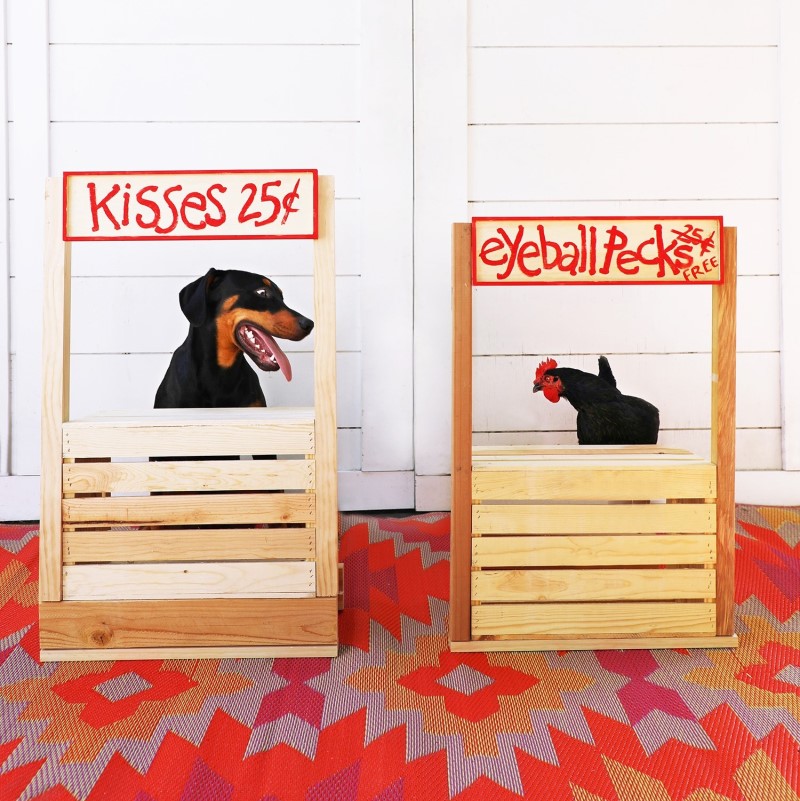 Who was the first animal to make an impact on your life?
I had lots and lots of pets growing up, but I would say the one who changed my life was a rescue mutt named Chance, the first dog I ever adopted on my own as an adult. He was a very special guy and completely changed my outlook on having "pets." He wasn't a pet — he was an absolute soul mate.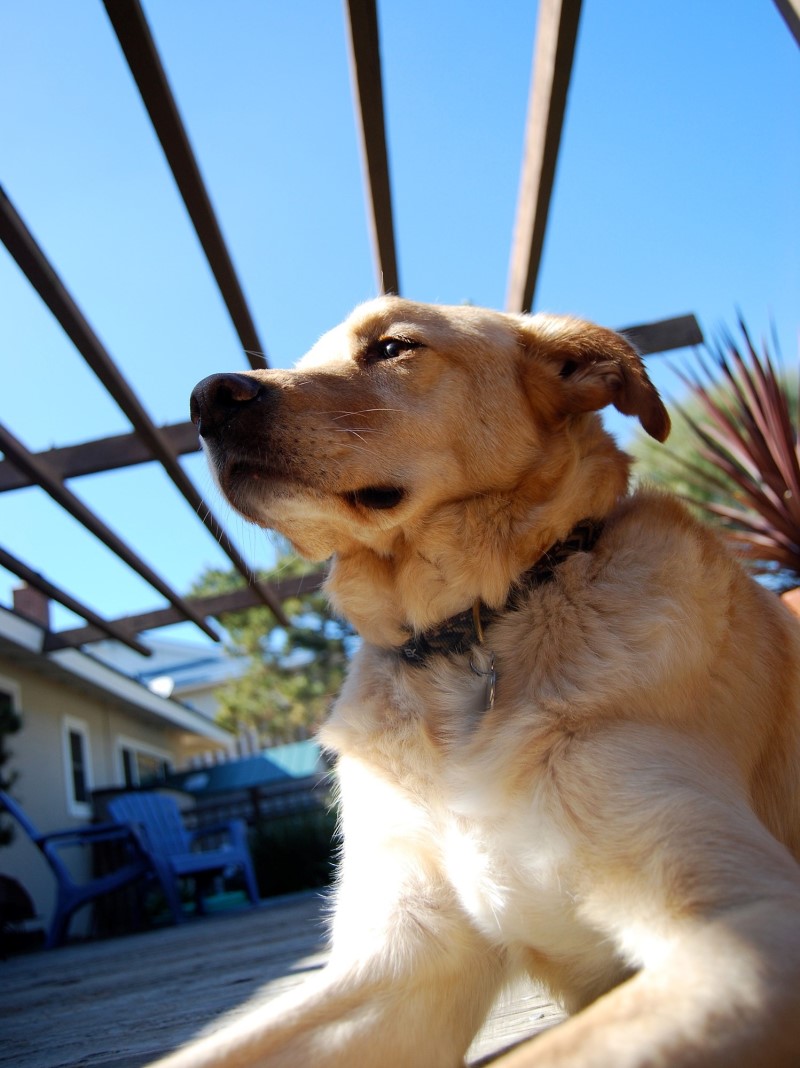 How has it been having chickens as part of your business?
Mostly, they make it not feel like work. No matter what sort of photoshoot antics I plan out, they always do what THEY want and not only keep me laughing, but have me constantly in awe of their willingness to be part of the things I am doing. I have built a business and brand based on my chicken enthusiasm (and my love of a good, fresh cocktail) — so they've definitely had a huge impact! They have literally changed the course of my life.
What does a typical day look like with a home full of feathered friends?
Oh, my entire day is built around feeding, cleaning and poop schedules. We live on a modestly sized piece of property in the suburbs of Los Angeles, and I work very hard at keeping our home and garden exceptionally clean, not only for the health and happiness of our animals and ourselves, but so that my very close neighbors aren't impacted negatively by our animal situation. This is especially important with the chickens, as their environment can easily become quite messy and stinky. One of the number-one questions I get asked on social media is how my chicken garden is so dang clean, and the answer is quite simple: I CLEAN IT CONSTANTLY.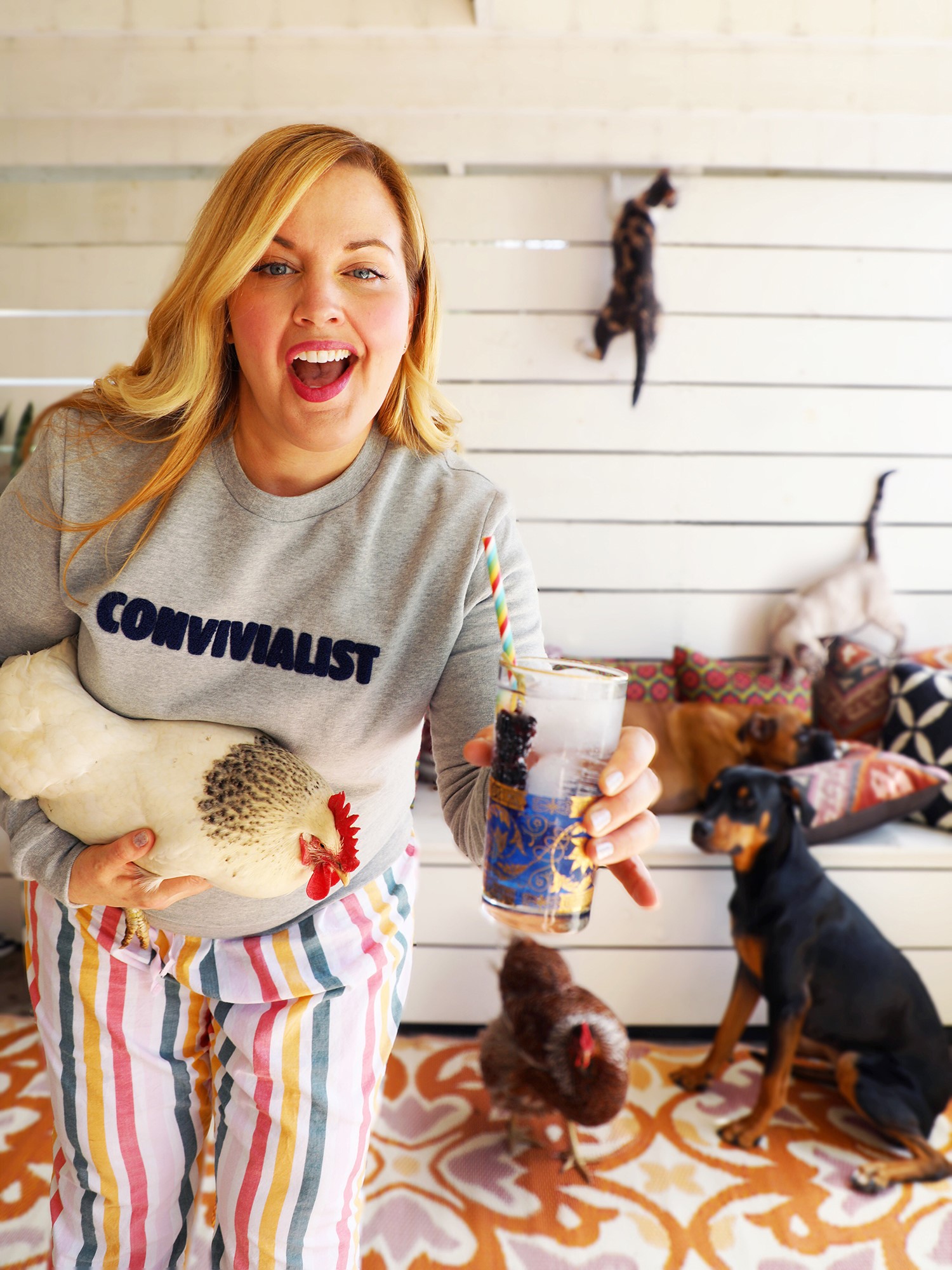 What would you say to someone thinking of adding chickens to their family?
Well, firstly, get at least three! They are flock animals and are happiest and healthiest when they are part of a feathered lady gang.
Secondly, make sure your city permits keeping them as pets. Even if you are legally allowed, it's a good idea to make sure your neighbors are cool with it, too. Hens DO make noise, mostly just after they lay an egg, because they like to scream with joy about it for a few minutes. It's not quite as disruptive as a rooster crowing, and only happens once a day or so when they lay, but depending on the bird and how many you have, it can get rather boisterous.
Finally, be forewarned that you will become obsessed and slowly morph into that person who shows people photos of their chickens, even though they didn't ask to see them, and who unabashedly wears T-shirts that say things like, "What the flock?!" and "Hens Before Mens." Resistance is futile.
Published: August 16, 2021