Animal People:
Lizzie Rodriguez
Animal Advocate & SDHS Volunteer
Since her dog Rico went missing, SDHS volunteer Lizzie Rodriguez has made it her mission to expand resources for the pets and people in her community. As a passionate animal advocate, she has been working to affect change in her Memorial Park neighborhood and beyond. In our Animal People interview, Lizzie tells us about the pets who have had a profound impact on her life and her goals for the future — including creating a new dog park!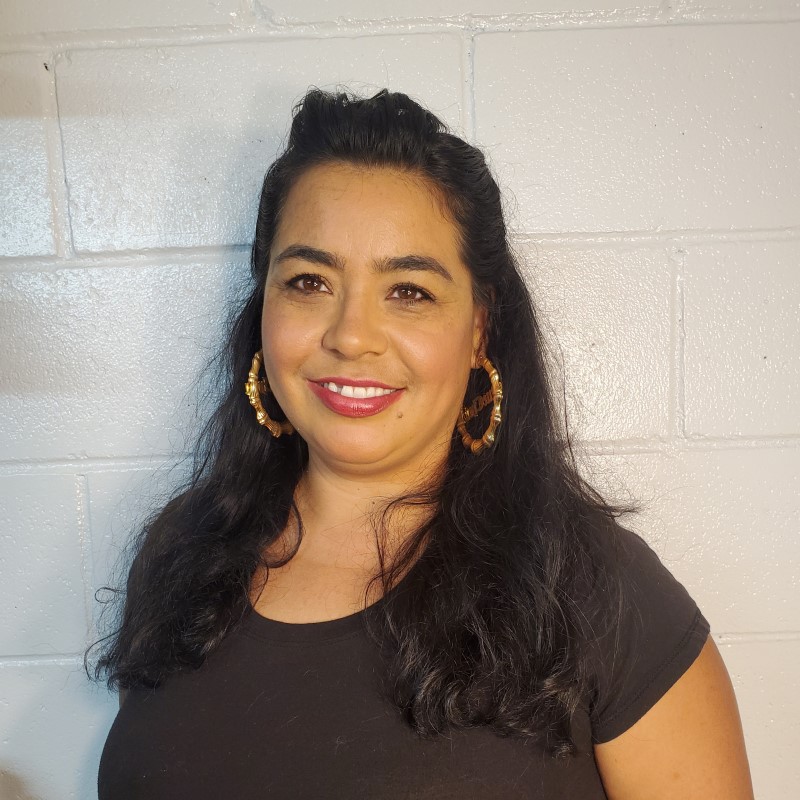 Did you grow up with animals?
Yes, I did. I'm from Texas, and we had a ton of animals growing up. I think our grandfather originally purchased them for what you would consider "consumption," and that quickly changed because we loved them. When I moved to San Diego, and as I got older, I knew that I wanted to have animals as well. They're my favorite thing in the whole world.
How have animals influenced the path your life took?
I never had that moment that some people have, like, "What do I want to be? What am I meant to do in my life?" I'm very fortunate to know I was put here to help animals. Always being interested in animals, I knew I wanted to work with them. So I became a registered veterinary technician (RVT), and that's what I did for a while.
On March 3, 2021, I accidentally left the gate open and my dog, Rico, got out. He was this little old guy, a 14-year-old Chihuahua. He's the love of my life, my passion, my little boy, my angel — and I have not been able to find him.
I think seeing how Rico helped me get through a pandemic really impacted me positively. These creatures, though they are small and may be insignificant to other people, can really get you through some of the worst parts of your life. And some of the best parts of your life, too!
In the search for Rico, I have rescued 12 dogs, one cat and one crow because people have seen the "lost" flyers and they call me. As a volunteer for San Diego Humane Society and just as an animal lover, I really do believe this is a reminder and an extension of my calling to help animals.
We're very sorry to hear that Rico is still missing. Do you have other animals at home?
I have a dog, three cats and 12 chickens at home. My dog's name is Tajin, and he came from San Diego Humane Society. A young woman had called me and said, "I think I found your dog." She lives about half a mile away from me so I went over, but it was not Rico. I brought this dog to the humane society, as I have all the other animals that I've found. About a week after that, SDHS called to say that no one claimed him and asked if I'd be interested in adopting. At first I didn't know, and then I thought maybe this is what I need. Maybe I need another partner in crime to help look for his big brother, Rico. Maybe he's the angel I need to support me in the larger work I was meant to do. He's my baby now — my 7 pounds of crazy. I don't think he understands how small he is. I think he looks in the mirror and sees something different, which I wish I could do. He's just so confident!
How has your work with animals inspired new goals?
While searching for Rico and talking to my fellow community members and residents — going door to door and passing out flyers — I realized how much other people need services for their animals. The answers they didn't have and what they need inspired me to work towards creating a dog park in my neighborhood. I also started hosting events to help bring resources to animals. I do all of this in honor of Rico, because he's really the one who ignited this. I think Rico has a larger purpose to bring all of us together and support as many animals as possible.
Why do you think it's so important for your community to have a dog park?
There are several dog parks in San Diego County, but they are quite far away and a lot of our residents have transportation issues. There are also language barriers — so if a person from my community goes to a dog park outside of this community, they may not feel as comfortable, at ease or welcome. Our community is filled with families, and as people of color we spend a lot of time with our families. We have all sorts of events, and I want this dog park to be a place for dogs, but also for families to come together. I want to make this a unique place where there are resources available for animals and for people.
So far, we had a "pup-up" (instead of a pop-up) event in July and we'll have more in the coming months. We're doing surveys at these events because I want to hear from the community and get feedback on what they really want and what their concerns are. I truly believe that a community should have a voice, especially communities of color. They should have a space, a voice and a place at the table to ask for what they need and to get what they want.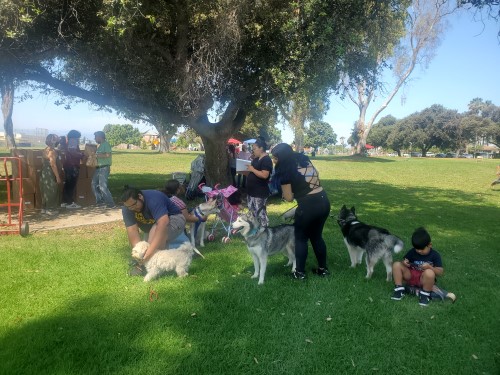 Has your volunteer work inspired new connections?
As a community neighborhood ambassador for San Diego Humane Society, I am focused on three particular zip codes right now: 92113 (Memorial Park), 92114 (the Encanto area right next to me) and 92154 (sort of San Ysidro and Otay Mesa). I had a wonderful connection at the most recent pup-up event with a young man who is going to school who wants to do the same kind of work to bring resources to these areas. I'm excited to build bridges and connections, so we can expand the work and the resources that San Diego Humane Society offers for people and for animals.
You've also been using a microchip scanner to help lost pets in your neighborhood. How has this tool inspired change?
It's incredibly helpful to have the microchip scanner. I was actually taking my dog for a walk — we go every afternoon after work on the same route — and a neighbor who lives a few houses down from me stopped and asked me a few questions in Spanish. He said, "Hey, you do a lot of stuff with the dogs, right? Well, this dog followed me home. He's super nice and I have him at my house, but I don't know anything about this dog or what to do." We stopped by my house to get the scanner and went over to his house. He hadn't understood what the scanner was or what it does, so I explained how it works. This dog was not chipped, but we were able to get them back with their owner. I think just starting those conversations is great — we went from microchipping to a larger conversation of how it works, why it's important and other resources San Diego Humane Society can offer. We're expanding the knowledge and scope of what the humane society does, when not a lot of people around here are necessarily familiar with it.
What advice would you share with others if they want to help animals and their greater community?
You're not alone. There are a lot of people out there who want to help as well, so find your tribe. Find your animal tribe, so you can get together and support each other and the larger animal and human community. I would also say to think outside the box. There is more than one way you can help an animal, and that may be by volunteering, through advocacy or maybe fundraising. There's a lot of different ways and there's a space for you, a niche for you within that larger picture, to be able to help.
I think my path forward is to continue to grow my animal tribe across the different communities of San Diego. I want to be a bridge of support to help communities get the knowledge, tools, resources and activities to best support the animals and people in their area. I think there are a lot of passionate people out there who just don't know where to start. I want to continue to help different neighborhoods, not just mine, so that we have a connected, supportive, larger network that we could all use to help animals.
Those are my passions, my two favorite things — my community and animals. Well, animals first.
What have you learned from the animals in your life?
They have reminded me to have empathy and compassion for people. Animals are my number one love, but I cannot get them the health, services, housing — any of the basic care all of that they require — without having people lean in and understand why their wellbeing is so important. Animals have shown me a depth of empathy and compassion that I think I'm now able to extend to people, where before that was more challenging for me. Now I have more patience. And I think it comes from animals because they are patient with us. I just have to be grateful that they have given me that ability and those skills, which I didn't have in my youth.
Over the last 18 months, we all had to look in to see where we could find support and comfort, whatever that may have looked like. I think people now more than ever really look to animals for that comfort, support and friendship. We need to remember what they gave us during this really challenging, difficult, fearful time, and be generous and return it to those around us, to the animals and to planet we live in. There are a lot of animals who need us, and there are a lot of changes in the environment that need attention. We need to step up and lean in now to take responsibility for things.
Published: August 30, 2021