Animal People:
Joel Sartore
National Geographic Explorer, Photographer and Creator of the National Geographic Photo Ark
For more than 16 years, renowned wildlife photographer Joel Sartore has traveled the world to answer his calling — the call of the wild. He started the National Geographic Photo Ark with the goal of documenting every wild species living in human care, to inspire action and educate on the importance of conservation. Joel's stunning photography and expansive library has moved millions and created lifesaving initiatives to protect endangered species. In our Animal People interview, Joel tells us about the incredible journey he's undertaken and his hope for the future.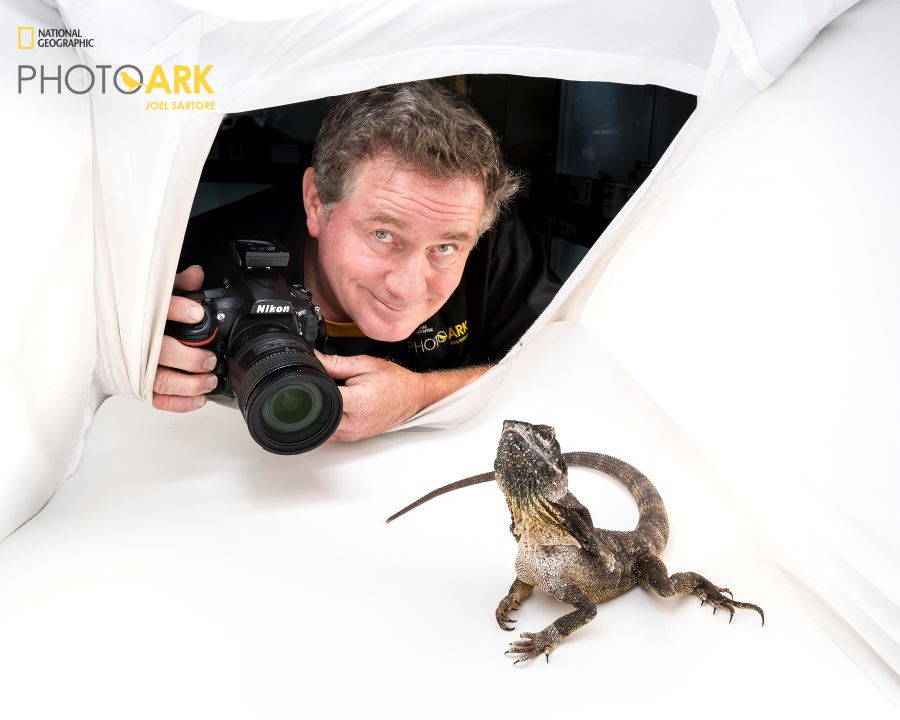 Joel Sartore with frill necked lizard, Chlamydosaurus kingii, at a high school in Victoria, Australia, 2017. Photo by Douglas Gimesy
What first sparked your passion for capturing nature and wildlife through photography?
My parents loved nature and taught me to appreciate it as well, from as early as I can remember. My father took me hunting and fishing, and my mother loved the flowers in her yard and the suburban wildlife in the park behind our home.
My interest in photography started by taking a few pictures in high school, and I discovered a darkroom in a dormitory in college. I shot a bit for my local newspaper and my college paper, got an internship and staff job at the Wichita Eagle in Kansas, and eventually ended up at National Geographic. My first assignments for National Geographic were the first real nature photography I did, and they really opened my eyes. The environment was in such terrible shape, yet people just ignored it, pretending it was "normal" to see spilled oil and tar in oceans, or medical waste laying around the beach. Those first few assignments made me realize that the amount of work needing to be done would last my lifetime, and beyond.
&nbsp
What inspired you to start the Photo Ark series?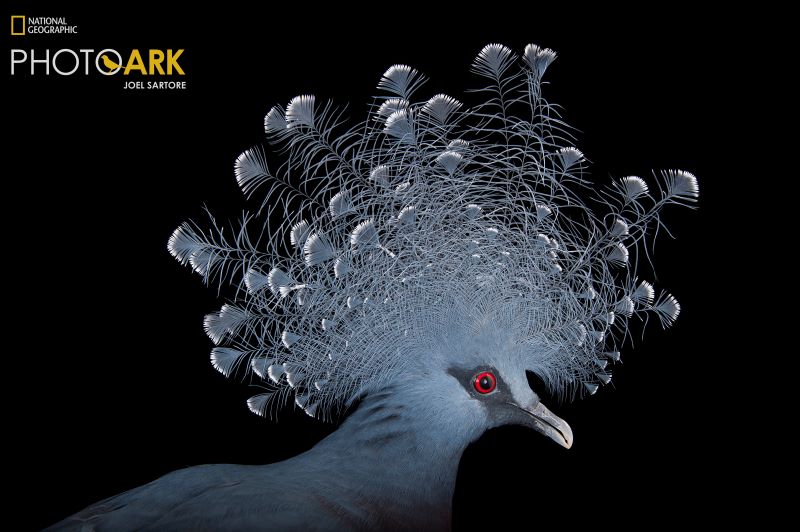 A Victoria crowned pigeon, Goura victoria, at the Columbus Zoo, Ohio, 2012.
I got the idea for the Photo Ark when my wife was battling breast cancer in 2006. She's healthy and fine today, but I stayed home for a year to take care of her and our three kids. Once Kathy recovered, I decided to focus on one big project, something to reach the public and really try to move the needle of conservation.
I started going to the Lincoln Children's Zoo, a mile from my house in Lincoln, Nebraska, to take photos. I asked the zoo staff if they had a small animal that would hold fairly still, so they brought out a naked mole rat and put it on a white cutting board from their kitchen. He didn't hold still very well. I was intrigued by the fact that these animals live underground in the wild but I could see his face against the clean white background so well. It helped me appreciate the animal in a whole new way. That's how Photo Ark started, and I'm now 100% dedicated to Photo Ark. Through the project, I give a voice to the voiceless. It's a huge honor, and a responsibility.
Did you expect this projects to take off in the way it has?
I'm grateful that the National Geographic Photo Ark has inspired so many people and I am proud that it has influenced real, impactful conservation efforts. One example I love to share is that of the Florida grasshopper sparrow. Historically, this bird inhabited the prairies of central Florida. In the last few years, however, it has neared extinction, with biologists struggling to find the reasons why. When the Photo Ark photographed the bird for an Audubon Magazine cover story, it got so much attention that the U.S. government went from spending $20,000-$30,000 per year to document its demise, to $1.2 million to begin a captive breeding program. That breeding program is a success today, and there's real hope for the sparrow, thanks to the hard work of the researchers and breeding centers like White Oak Conservation Center in Yulee, FL. I'm very proud of that. This short story is just one example of the real impact the Photo Ark has created.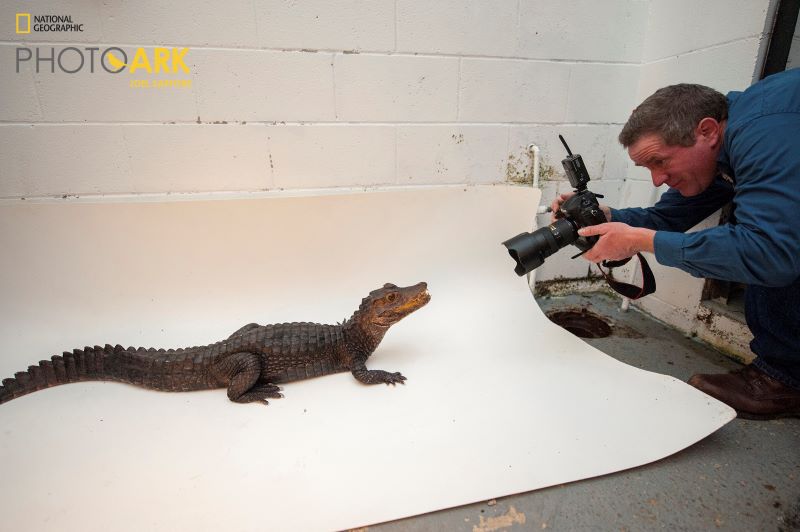 Joel Sartore carefully photographs a dwarf caiman, Paleosuchus palpebrosus, at the Sunset Zoo, 2011. Photo by Cole Sartore/National Geographic Photo Ark.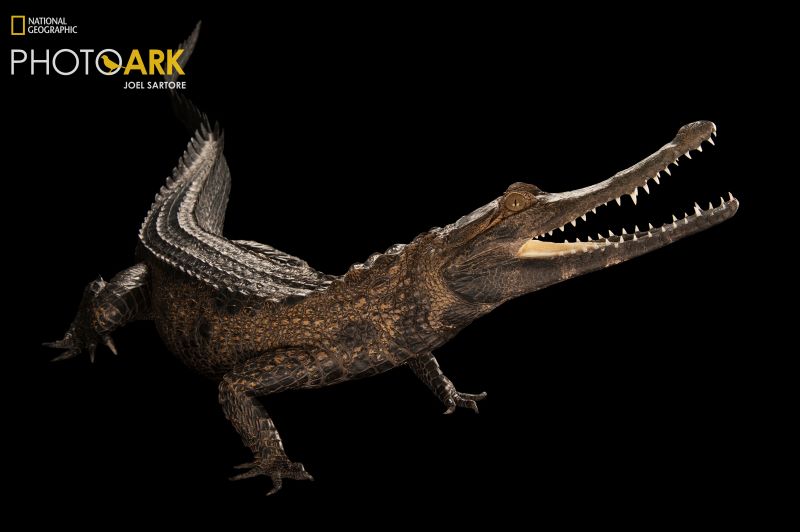 An African slender snouted crocodile, Ouroborus cataphractus photographed in Tampa, Florida, 2012.
I believe that people want to help save this world, and the species in it, but they first have to meet these animals and learn what their problems are. I meet wildlife heroes all the time — individuals who work hard to save species right in their own backyards. For each and every one of them, it started with education, pure and simple. I was inspired to start photographing animals because so many had no voice of their own in terms of conservation, and that's what continues to drive me on this project. We also have to remember that when we save other species, we're saving ourselves. We need pollinating insects to bring us fruits and vegetables. We need healthy, intact rainforests both to help keep the planet cool and help regulate global rainfall patterns, which enable our crops to dependably grow. It's folly to think that we can doom millions of plant and animal species to extinction and we'll be just fine. It won't work that way.
How meaningful is it to be able to follow your passion in life and share your experiences with a global audience?
It's an incredible privilege and responsibility. I see the Photo Ark as giving a voice to the voiceless — to the wonderful, fascinating, unique animals that urgently need our protection. I hope when people look at my images they are surprised, captivated and then moved to learn all they can about the animals they most connect to. Only then will they be moved to take action to save the species.
How many wildlife species have you photographed so far?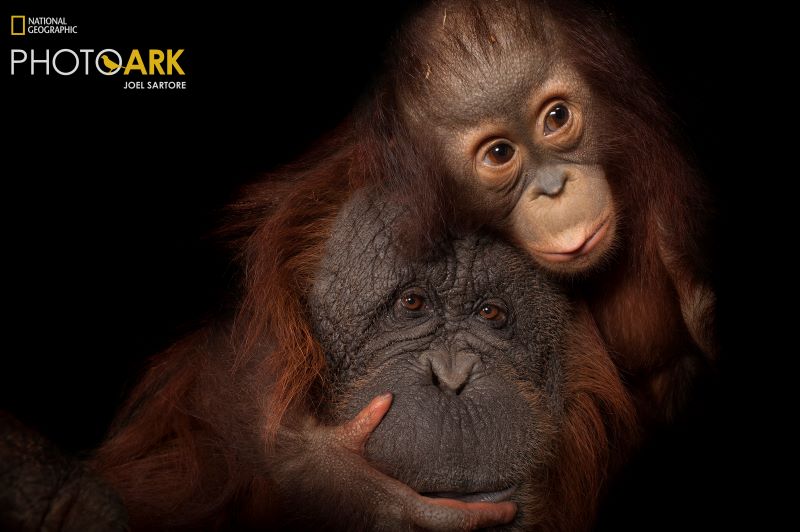 An endangered baby Bornean orangutan, Pongo pygmaeus, with her adoptive mother, a Bornean/Sumatran cross, Pongo pygmaeus x abelii, at the Houston Zoo, Texas, 2013.
Since I started the National Geographic Photo Ark 16 years ago, I have visited nearly 60 countries and worked with nearly 700 zoos, aquariums and animal rescue centers around the world. Our goal is to photograph the 20,000-24,000 species in human care around the world, which will take another 15 years at least — likely the rest of my lifetime. I've photographed 13,500 species with the most recent milestone species being the Spoon-billed sandpiper. We now have to travel farther and wider to get the remaining species.
Are there any moments through this incredible journey that feel most memorable?
There have been a number of memorable moments throughout my time photographing for the Photo Ark. Many of the animals I photograph have a real impact on me. I think of their stories and hope to tell each as well as I can. I'm reminded of the honor I had of photographing Nabire, one of the last northern white rhinos left on the planet. She lived at the Dvur Kralove Zoo in the Czech Republic and passed away less than two weeks after our visit due to complications brought on by old age. Now the world has just two left. Or my first chimpanzee photo session, which lasted less than three seconds after the chimps completely destroyed my set at the Sunset Zoo in Manhattan, KS. People can see "The Chimp Incident" on my website. There is never a dull moment when it comes to the Photo Ark.
What can others do to help protect the environment and the incredible species we share our planet with?
The ultimate goal of the National Geographic Photo Ark is to document every species in the world's zoos, aquariums and wildlife sanctuaries, inspire action through education and help save wildlife by supporting on-the-ground conservation efforts. There are so many ways people can help save species. Here are a few:
Support your local zoo, aquarium or wildlife rehab center. They work tirelessly to save wildlife every day of the year. Many species only exist in captivity now, so when you support a local accredited zoo, your money goes directly towards breeding and saving rare animals.
Reduce, reuse and recycle what you buy. Remember that recycling is the last resort though, because it takes a lot of energy to break down and reform materials. It's very important to purchase second hand clothing as well, as the fashion industry is the second-dirtiest, right behind the fossil fuel industry.
And speaking of energy, it is critical that we turn towards no-carbon sources in a hurry to combat climate change. In the meantime, insulate your home, and drive as fuel efficient a vehicle as you can, or better yet, use public transportation whenever possible.
Eat healthier! Eat less meat and eat locally whenever possible. Meat takes a lot of energy, grain and water to produce. Buying locally produced fruits and veggies supports local farmers, and doesn't require the carbon emissions of a diesel truck driving it to you from across the country.
Think about each and every dollar you spend. You are in effect "voting" every time you break out your purse or your wallet, telling retailers you want their products again and again. How you spend your money can literally move mountains, so be sure you are voting in a way that is sustainable for your future.
Plant a pollinator garden to support local bees, butterflies, birds, you name it. Insects need all the help they can get, so planting native plants in our yards, city parks and road ways is a great way to help, with beautiful results whenever the wildflowers are in bloom.
If I could finish with one thought, it's that there is no better time to act than now. I truly believe that together we can protect the species and ecosystems that are critical to our survival before it's too late.
---
Learn how you can get involved with and support the National Geographic Photo Ark at NatGeoPhotoArk.org, and see more of Joel's work at joelsatore.com.
Published: January 2, 2023