Animal People: Julien Solomita
Greyhound Foster, Animal Advocate and Content Creator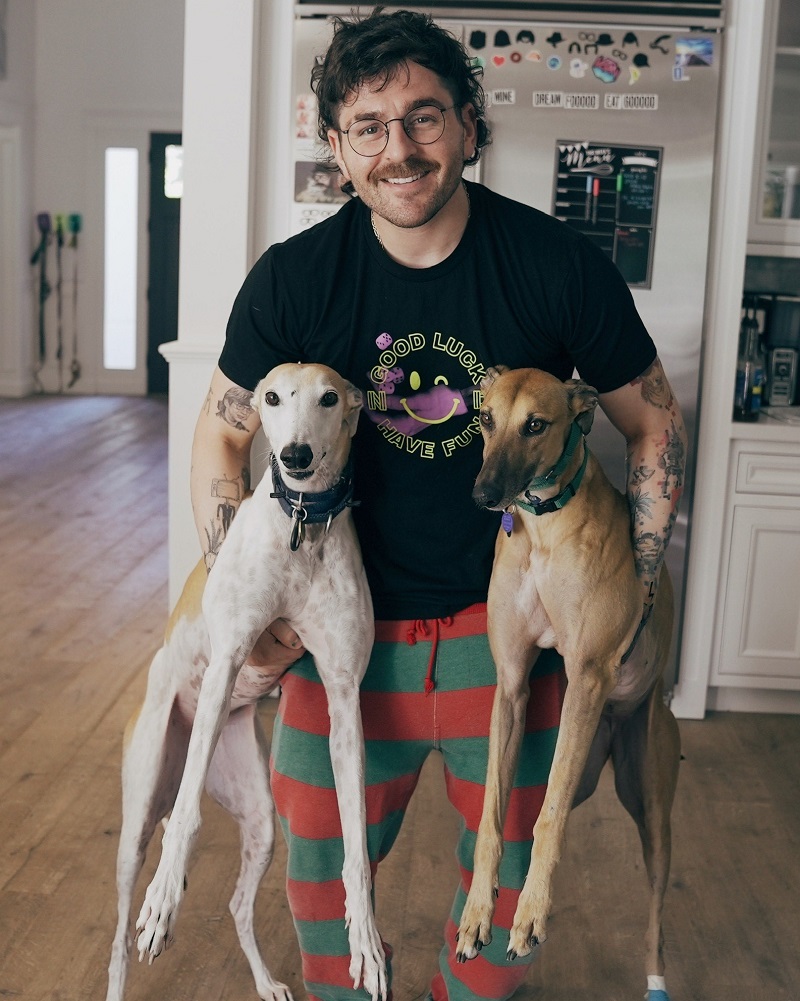 After spending life in the fast lane, Julien Solomita gives rescued greyhounds the opportunity to slow down and focus on life after the track. Julien, a greyhound foster and full-time content creator, gives these often misunderstood creatures the chance to be loved and treated as individuals before being adopted into new homes. In our Animal People interview, he shares what these incredible animals have taught him about himself and his passion for giving back.
Who was the first animal to change your outlook on life?
I would say two animals come to mind. One would be my greyhound, Bunny, who I've had for almost 3-and-a-half years. We adopted Bunny through GreySave, the organization I now work with. She really changed my life in a lot of ways, and without my experience with Bunny, I wouldn't be where I am today with other greyhounds. I think all the greyhounds we help now have Bunny to thank.
The other animal who comes to mind would be a cow named Buttercup. I met Buttercup on my first visit to an animal sanctuary called The Gentle Barn, near Los Angeles. I had never met a cow — the closest I came to a cow was driving up the I-5 towards San Francisco and seeing them on the side of the road. I had never pet a cow or come in close contact with one, and that meeting was a really meaningful connection for me. I think, at some point in everyone's life, they should get to meet a cow, face to face. It's one of the most impactful things. So Buttercup and Bunny are probably two of the most impactful animals, and have led me to connections with more animals.
How did your first greyhound, Bunny, come into your life?
My fiancée Jenna and I were looking to adopt the greyhound for a while. One of the sticking points for us was that we wanted to have our own house, because renting made it very difficult to have a big dog. Once we got our own house, it was like, "Nothing's in the way. Let's do this thing!" We were complete beginners when we went through GreySave to adopt. The only experience we had with greyhounds was meeting them from time to time when we would come across them on walks. Aside from our own research and desire to meet the breed, we didn't really have much experience. We were starting from the baseline and were thrown into the deep end with a dog like Bunny, who came with a lot of behavioral issues. She was very scared of a lot of things.
A lot of rescue greyhounds come off the track, but Bunny came from a company where she was basically used as a blood donor dog. Depending on their past and their time spent in those situations, these dogs can come to you with all sorts of behavioral issues, though some have none at all. Some come to you and they're like, "Hey, what's up?" It's like they were practicing this all along. But Bunny's situation was very difficult. It took a lot for us to work with her and to be patient with her, and find little, tiny victories in the in the weeks and the months of struggle. We just felt so bad, because we really wanted her to be happy, feel comfortable and be at ease. We wanted her to be able to feel the love we wanted to give her, but it was all on her time. She's flourished over the last couple of years, and she's just become the sweetest, most confident girl. I couldn't be more grateful.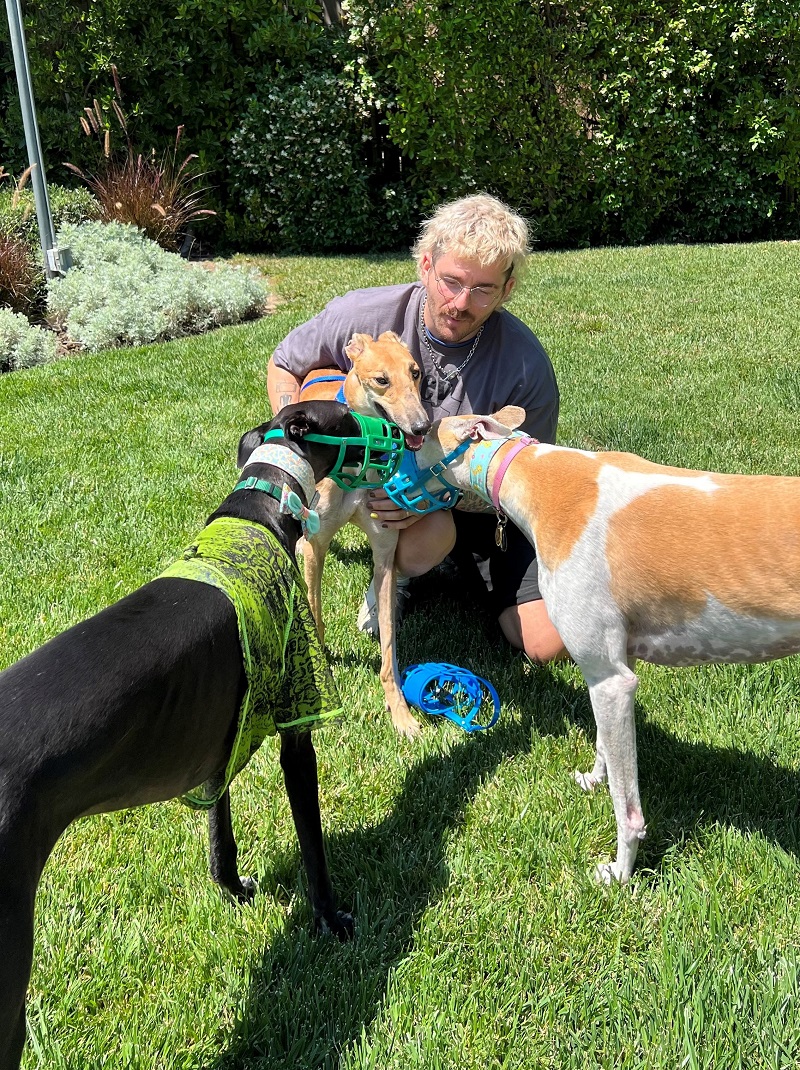 How did Bunny open the door, and your heart, to more greyhounds?
A little over a year ago, we got an email from the wonderful people at GreySave with a plea for foster homes for dogs who needed to come off the track but didn't have anywhere to go. It came at a moment when we had the time and the space, and already had a greyhound, so we just decided to do it and figure it out. We immediately threw ourselves into it. With that one step, our whole worlds have opened up. Now we get to meet all these greyhounds and bond with them, and then we get to help them move on to their forever homes. We wanted to see what we could do to help.
What makes these dogs so special to you?
It's got to be their temperament. There's just such a special, sweet speed to them. No pun intended, because they are very fast. I think they're also pretty misunderstood. A lot of people look at them and just see images of them on race tracks and with the muzzles on, and they're not really sure what to think. A lot of people will ask, "Oh man, you probably have to run them a lot, huh?" And this dog is lazier than me! I just wish people got to understand the true temperament of greyhounds. In getting to know them, I relate to them. They have little spurts of energy throughout the day and then they just like to chill. They're very sweet, they have the biggest hearts, they're adorable and they're sensitive.
Greyhounds have this energy that you really can't get anywhere else. They're such a special, resilient breed of dog. They're able to overcome situational changes very easily and are very good with humans since they're typically being handled by humans at the track from a very young age. They have an affinity for being around people which I think is just wonderful.
I could go on all day, but I really do think that they're one of the sweetest animals I've ever gotten the pleasure to meet and be around.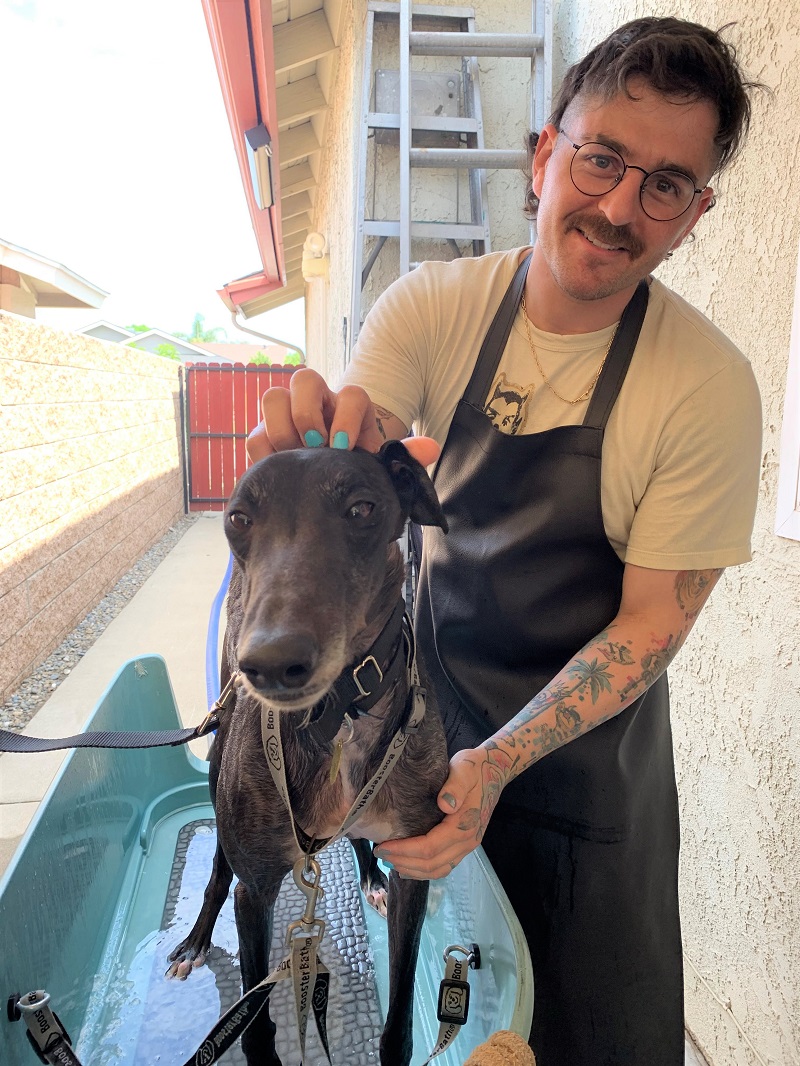 How has fostering expanded your relationships with these dogs?
The first time we let a foster go, it was it was incredibly emotional, as you'd imagine. You bond with a dog for six weeks and then, all of a sudden, it's goodbye forever. It was difficult and there were a lot of tears, but then we reframed it. This is what they needed, which we knew all along, and we just get to enjoy this 4-8 week process. That time with them is a valuable gift. That time changes us and makes us better people, better foster parents. In exchange, they get a home and a family.
We know how important it is for us to be the intermediary from the track to their forever home, and we know these dogs wouldn't have the lives they deserve if people didn't step up to volunteer the time, space and love to help them get there. Goodbye is the goal, but it's hard. It's hard saying goodbye to these guys when you're just putting your faith in people to do what's right for these dogs. It's difficult, but ultimately, it's worth it. If the dogs could talk, I'm sure they'd say thank you.
How many dogs do you have at home now?
We have our little dogs, who have been our pack for a long time: Mr. Marbles, Kermit and Peach. We also have Bunny and Loni, a greyhound we had fostered for about 6 months. We got Loni adopted into a home and it didn't work out, so she came back to us. That was the first time that had happened to us, so we were in uncharted territory. We were so sorry that happened to her, and we buckled down our standards so it wouldn't happen to her again. Moving forward, we were going to find her the perfect home. Unfortunately, we'd been really dry on adopters, and good adopters for her, so months and weeks went by.
It came down to one adoption application from people who specifically asked for Loni. We looked at each other knew we'd have to let her go. We met the potential adopters and went through with the whole interview, and it turned out they just weren't interested once they learned more about her personality and temperament. In that moment, we said, "You're saying here with us forever. And you don't get to leave ever again." So Bunny and Loni are our two "perma-greyhounds," and we currently have a foster named Norman. He's our first greyhound boy and he's just a real sweetheart. Norman raced the longest that greyhounds are allowed, starting at 1-and-a-half years old and retiring at 5. He's the first 5-year-old racer we've had, and he just loves being able to sleep anywhere and everywhere.
Do all of the dogs get along, with the mix of personalities, sizes and varying lengths of stay?
Everyone's got their place in the hierarchy, which is underneath Mr. Marbles. Everyone listens to him, so we're all fine. We have new fosters come in on a pretty regular basis, and Loni is like medicine to them. She makes them feel at home and immediately wants to be friends with them. I think her purpose isn't just to be our dog. She's also like the foster pal, and I think that's such an important role for her to play to make new fosters feel comfortable. Bunny will sometimes struggle a little with sharing her space and being outgoing. She's more of an introverted and sensitive dog, and she and Loni complement each other well. Once we get everyone on a leash and walking next to each other, they're just they're like little fish — they just kind of go together. Everyone's happy, and there's a consensus of good vibes here.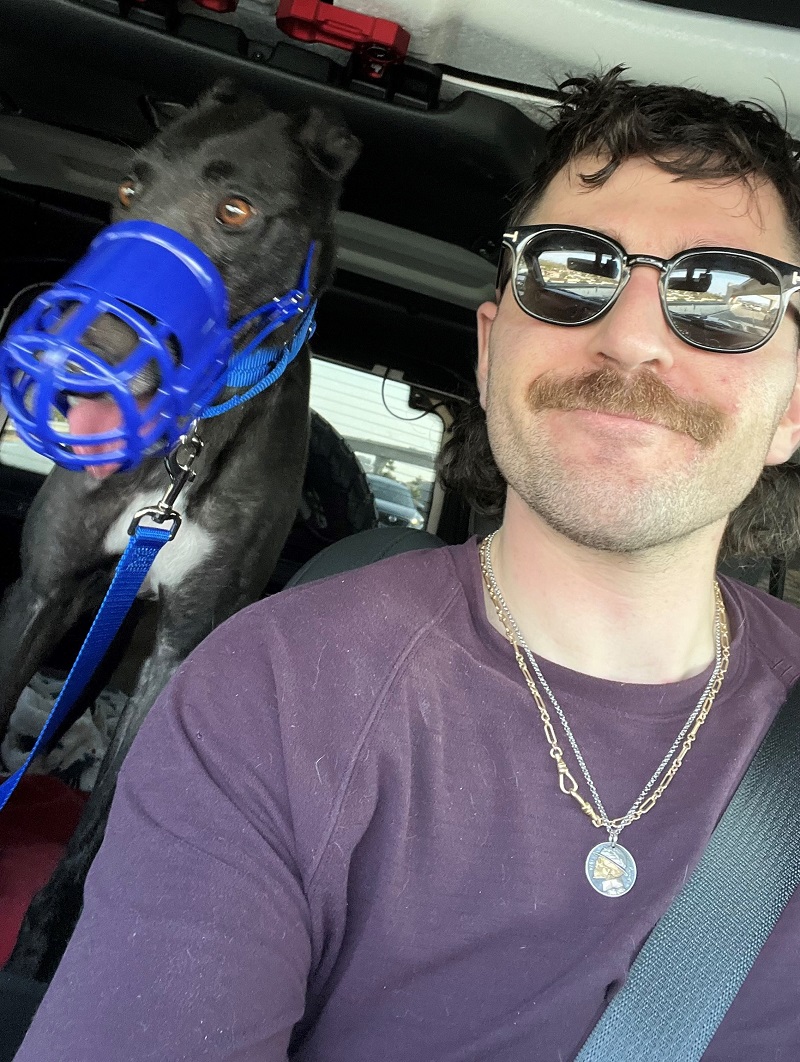 What do you think we can learn from our relationships with animals?
I think a lot of people would be surprised by how much an animal can teach them about themselves. This is coming from someone who didn't really know that at a younger age. I spent a lot of my life not connecting with animals, eating animals and not really having the ability to be around them in a deeper capacity. The moment you open yourself up to making that connection, I think it pays off immediately. For me, it's been about self-discovery, and it's helped me become a better person. Giving animals a shot could really make a big difference in your life. This has been one of the more unexpected things that has changed my life.
But I still tell everyone who asks that this is a selfish endeavor. I get to be around these greyhounds, and it's something I want to do with my time so. Make no mistake about it — I'm fully gaining a lot from this experience.
How can others get involved with greyhound rescue?
Education is the number one thing. The more people learn about greyhounds, the more they're going to want to be involved with them. Because who doesn't? I also think spreading awareness about what this breed of dog is like, what they need and what they go through is so important. When people know about these dogs' situation and are willing to step a bit into the unknown, they can help reduce an animal's suffering. So often, their future is up in the air and it just takes a selfless act to help these greyhounds. I'm fully aware that not everyone can foster, but there are other ways to be active with GreySave and in the rescue community. People can donate, attend the events that we hold, visit the website and use that as a tool if they're looking to adopt or learn about the breed. Even just spreading the word helps get this cause moving.
---
Follow Julien's greyhound chronicles on his YouTube and Twitch, and learn more about GraySave at greysave.org.
Published: September 5, 2022