Animal People:
Kwane Stewart
Veterinarian & CMO of Papaya Pet Care, Founder of Project Street Vet
Pets can bring an indefinable sense of love, comfort and hope to our lives, and Dr. Kwane Stewart is helping ensure that beloved pets can remain with people who may be low on hope. Dr. Stewart started walking the streets to provide free veterinary support for pet owners experiencing homelessness during a time in his career when he had lost some hope himself. He rekindled his passion and founded Project StreetVet to provide life-changing veterinary care for pet owners in need. In our Animal People interview, Dr. Stewart shares how his passion project evolved into a reality TV series and nonprofit helping both pets and people in San Diego and other communities.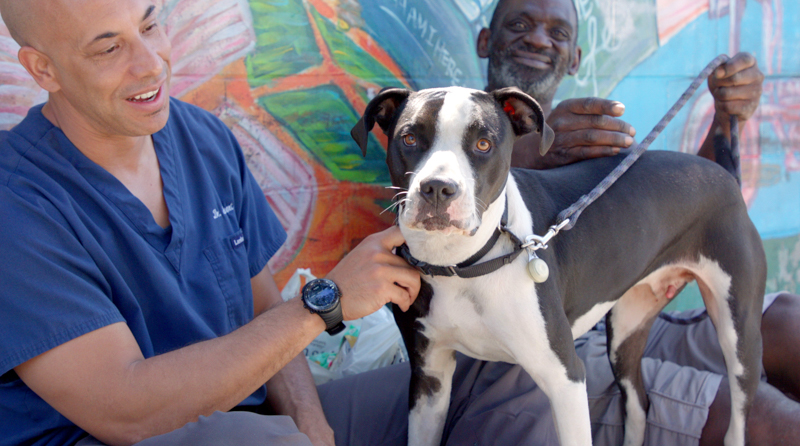 Did you know from an early age that you wanted to go into the veterinary field?
Animals have been part of my life for as long as I can remember. My mother was a huge animal lover and I think it's where I get it from. We had dogs and cats, and, as I got older, we got horses, chickens and birds. I came to relate with animals at a very young age.
I can recall two events that convinced me that my future was with animals. When I about 8 years old, there was an injured golden retriever running around our neighborhood in Texas. It looked like she was injured, and her ear flap was sort of hanging and you could see the shiny, bloody cartilage below. I just remember seeing that dog sort of skip from house to house, scared and looking for someone to help. We happened to see her when we were coming home from school one day, and I just remember telling my mom, "Stop!" She stopped the car and I tried to chase the dog down. She was so scared. I would get within 10 feet and she would scurry off, then get closer and scurry off. I remember going to bed that night upset and crying, wanting to find that dog. I made my mom drive the neighborhood the next day after school to no avail. The third day, I saw the dog, got out of the car and the same thing happened. I just could not get close to that dog and that memory sat with me for a long time — I just really wanted to find and help that dog.
The second event I remember is seeing the movie "The Black Stallion." My mom took me, and I came out of the theater laughing and crying and just mesmerized by the movie. I was holding her hand and I looked up at her and said, "When I grow up, I'm going to be an animal doctor." She said from that moment I was set, always talking about animals and science. I've been lucky because by 8 years old, give or take, I knew exactly where I was going.
What were your early experiences in animal welfare like?
The first 10 years of my career were pretty traditional. I was working in vet clinics, hospitals and did some emergency room work, in addition to a lot of general practice (GP) work with small animals. Critical care was of interest to me and I did like surgery, but I mainly served in a GP capacity. In 2007, I decided to change course and become a shelter vet. County veterinarian was my glorified title, but I was a shelter vet performing spays and neuters and euthanasia in Modesto, California.
I did that work for the municipality for five years to the day, and on some mornings I was euthanizing 40 or 50 animals by 10 a.m., and it wrecked me. This was also during the recession, in a place of the state where we were getting hit hard economically. There were just boxes of kittens being dropped off and stray dogs, because when people suffer, animals pay the price, too. It was heartbreaking, and I held out as long as I could. But I also did some good things and I was proud of a lot of things we accomplished together. Under my watch, we built a brand-new, state-of-the-art shelter, we cut our euthanasia rates in half and doubled our adoption rates. With the new shelter, we sort of became part of the community and that was a dream. Just like a library or a park, we were also part of the Modesto community, and that changed things. I was proud of a lot, but destroying that many animals started to kill my soul.
How did you decide where to go from there?
In 2012, a colleague of mine told me about a job in Los Angeles looking for a vet to run this Hollywood movie program, so I threw my name in the hat. Apparently, there were over 100 qualified veterinarians across the country who applied, and I got it. I was the chief medical officer at American Humane for seven years, doing very, very different work than I was used to. I went from spays and neuters and 500 barking dogs to visiting movie sets and rubbing elbows with A-listers. I needed the change because I was about to walk away from the profession.
Many people wouldn't think of this work when they think of animal welfare, but American Humane is a very big national nonprofit, and this is a legacy program of theirs to make sure that no animals were harmed in productions. I was at the helm for seven years and it was like a dream job. I traveled the country to go on sets and meet Tom Hanks and Brad Pitt. I thought, "Wow, this is something vets do?" I loved that period of my career. Then Netflix hired me, because I was actually one of the very few vets in the world who had this type of set experience — it is sort of a special skill set to navigate the hierarchy on set. You have to understand best practices and how that fits into meeting the director's vision. Directors want this crazy stuff, like a horse jumping over a train car, and you have to tell them, "No, you can't do that." You have to manage all the expectations of these directors and producers, and I developed this sort of very unique skill. It is a very different world.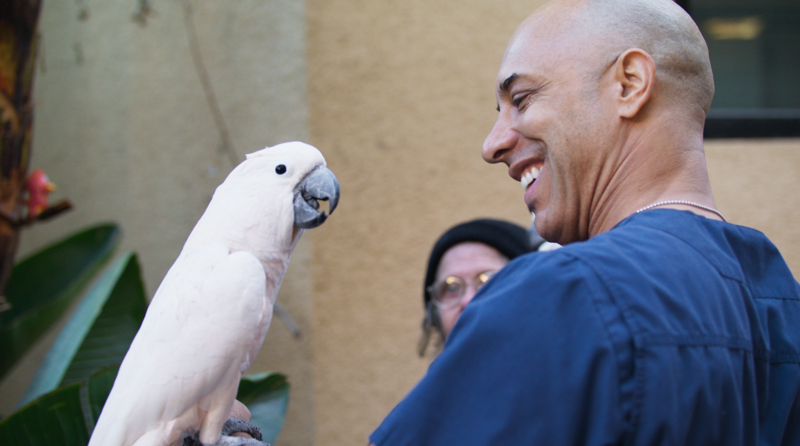 What prompted you to start providing veterinary services on the streets?
I think we hear from a lot of veterinarians — especially now, because it's becoming more talked about and less taboo — about burnout, compassion fatigue, depression and the high suicide rate. I don't know if I would have said this at the time, but during my time as a shelter vet around 2010, I was experiencing a lot of those things. I was just trying to push it off and compartmentalize it to get up and go to work again and again, but it was a low point for me, emotionally and certainly career-wise. I got this idea one day that I wanted to go out and redeem myself. It's hard to describe, but I just wanted to get back to saving animals, and I wanted to do it away from work, in a way that felt good and felt like I was giving back.
I created my own little pop-up clinic at a soup kitchen one day, and I called over anyone who had a pet, and before I knew it, I had a line of 10 customers. Of course, it was all free of charge, and it was the greatest feeling. There were a couple of people who said, "You know, I have a friend who couldn't make it, but would you consider going to them?" Now, as I host these clinics or I go to a homeless person living under a bridge, I've found they always know somebody else who has a pet who needs help as well. It occurred to me that there was nothing stopping me from helping. This is when the idea of the street vet was born — I was just going to start walking and finding people.
How did your passion project turn into a nonprofit?
For the first five or six years, nobody even knew I was doing this work — it was just my own private little mission. I wasn't doing it for attention or notoriety. The one thing that led me to finally let it out was that I was funding this on my own, and there are many cases I would come across that I couldn't financially afford. There are pets who needed a dental or procedural work to be done in a hospital, and that can be $1,000 or $2,000. I carved away a portion of my salary that I was comfortable giving up every year, and each year that cost was growing. I knew I was going to need help eventually, and it just broke my heart when I'd examine a pet and I would do everything I could for them, but they'd still need a procedure I couldn't provide.
I happened to be talking to a producer on a set I was working on, and I think he was one of the first people I told. He asked what I do, and then asked what my hobbies and my passions are. I happened to mention the street vet work to him, and he said, "Wow, that's so cool! That's like a reality series." And it turned out to be exactly that. He helped green light and finance the docuseries called "The Street Vet." That was in 2017, and that sort of launched me into this public arena and we opened a GoFundMe, and finally, we established a 501(c)(3) last year. Now it's legitimate and it's really catching steam, and it's becoming a little bit of a movement. It's very cool.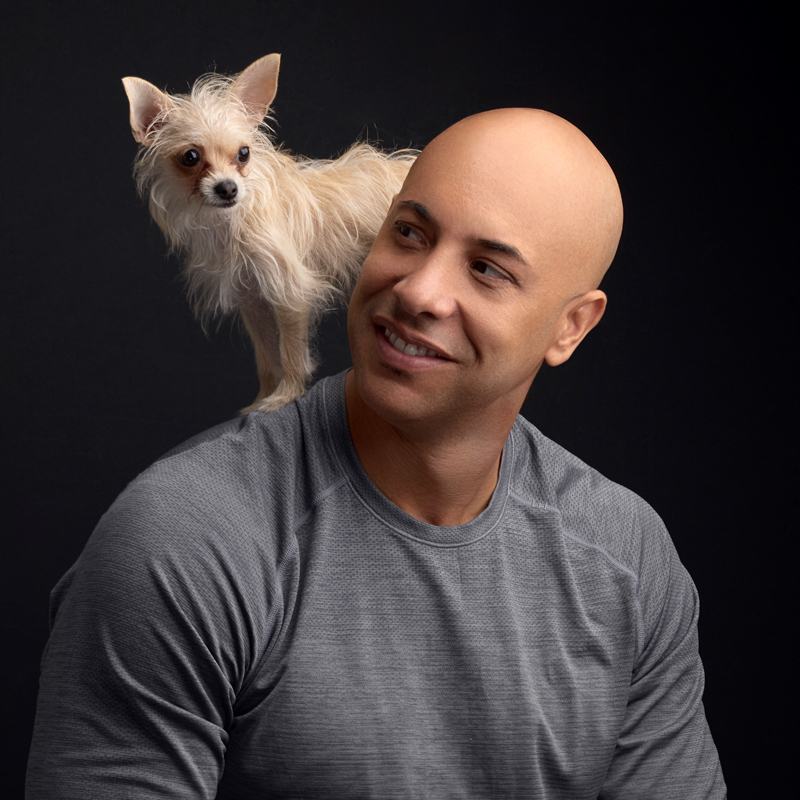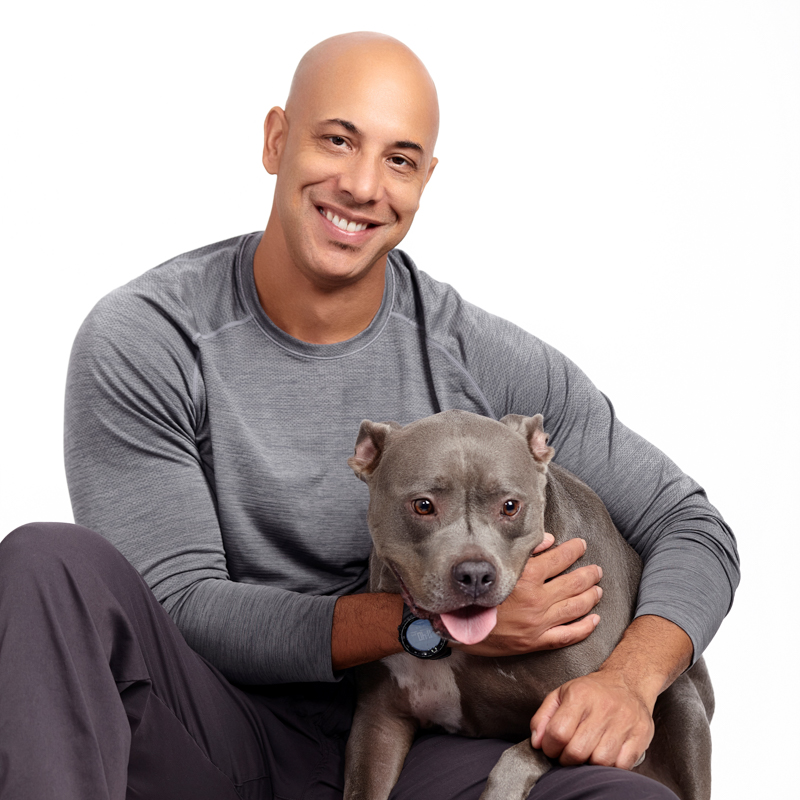 How meaningful is free veterinary care for your clients experiencing homelessness?
It means the world. I will surprise people in some cases and that help is the last thing they're expecting. They'll be in their tent or sitting making themselves something to eat, and I'll turn a corner in my scrubs and I'll announce who I am, and they're like, "Who? Wait, what?" I tell them what I do and that I walk around to find people like themselves who may have medical needs with their pet, and I offer help for free. I always ask if they'd mind, and I'd say 90% of the time they're good with it. There's maybe one out of 10 people who are skeptical, wondering if I'm not who I say I am. I get it and I understand why a lot of these people are suspicious.
After I do what I do, we usually end up talking and I feel like I make a friend before I leave. It's emotional a lot of times, for them and for me. I guess there's still humanity in the world and there are people who could go out and do things with no agenda other than just helping somebody. When I'm saying goodbye, I will usually give them my cellphone number and say, "I'm your veterinarian now, so if you need something, you can call." Sometimes I give vaccines or medications, and I want to know if there's a reaction or an issue. Many animals will still need follow-up care, so I do give out my number to answer any questions. A fair amount of times there's tears and then I move on.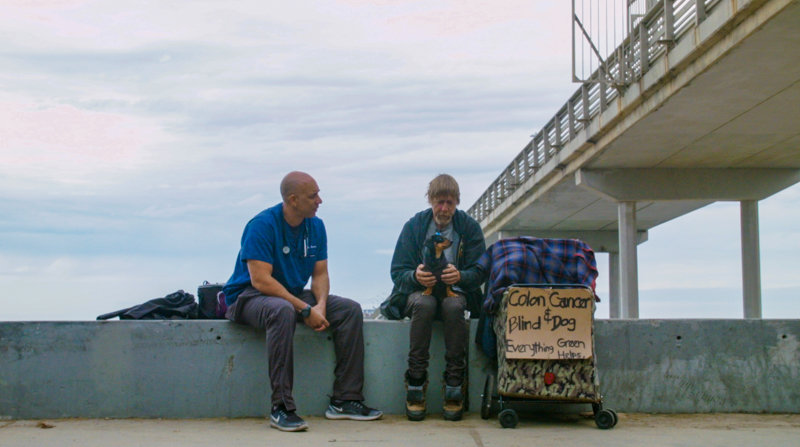 Do you know how many pets you've helped?
In the beginning, I didn't keep track. By law, I was recording my exam findings. I'd write what I could about the pets and keep very loose records. Veterinarians aren't required by law to keep our records very long, and this started 11 years ago. When I went public, I just had to sort of go back and guesstimate. Between the clinics and the one-on-one work, I've probably helped somewhere shy of 1,000 pets. If you host a clinic a few times a year, you can knock out big numbers. I host clinics every once in a while, but I really do enjoy walking and finding (and almost surprising) people, who a lot of times wouldn't know the clinics are happening and don't know where these resources are. They aren't seeking it, yet they still need the help. If I can take the care to them, it may not be very efficient, but I'm finding that pet that probably wouldn't have gotten care, and I love that feeling.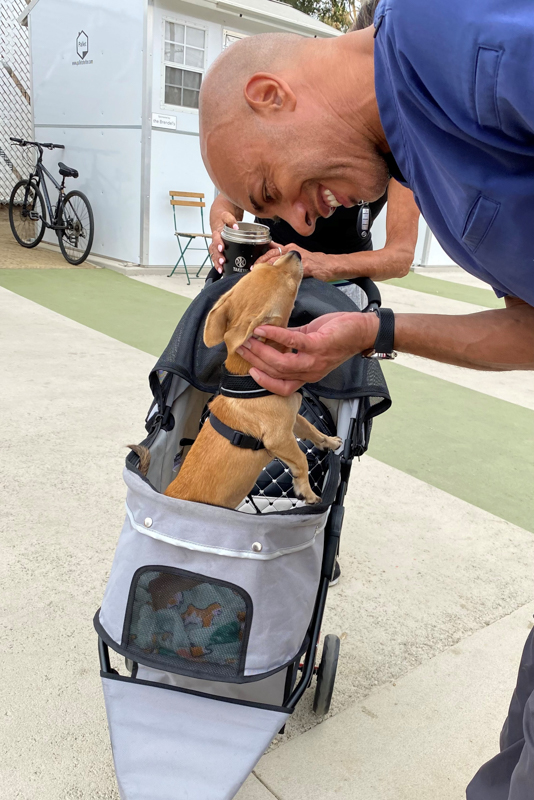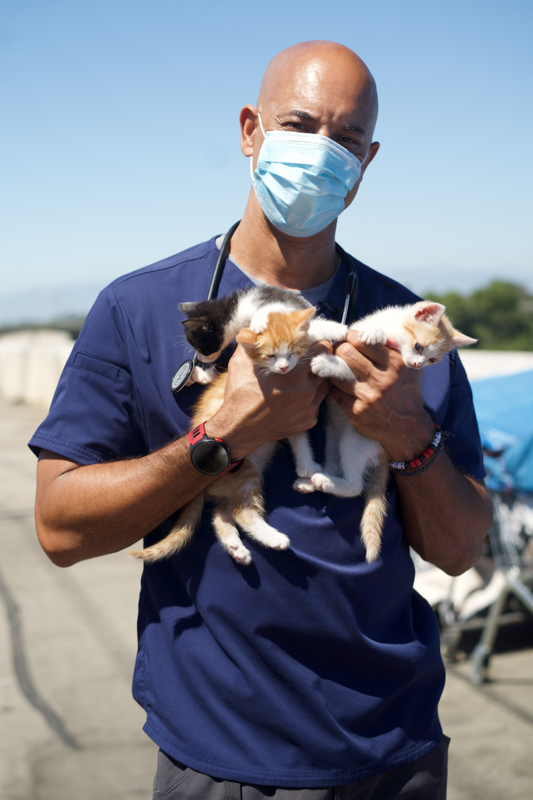 What have you learned through this experience?
This is a long journey and I've learned a lot. Admittedly, I had my own judgments about people experiencing homelessness and the unhoused, and it was a learning lesson for me that you just really have to set the judgment aside. You don't know how these people landed here — it's for a whole host of reasons, including bad decisions or bad luck, no family support, drug abuse, the economy and domestic violence. I think once you set the judgment aside, it's much easier to help people.
If we're talking about larger scale ways to finally solve this civic problem, it's going to take a lot of people, a lot of resources and a lot of people thinking like-minded for an extended period of time. I've noticed that politicians come in with all kinds of promises and push a lot of money toward the problem for a while, and then, when it doesn't work, there's a change of guard and it starts all over. My observation over 10 years is that we end up right back where we started. I'm not saying I know what the solution is necessarily, but I know inconsistency is what's killing these efforts. Whether it's a program to develop housing or provide support and mental health services, we just need to be consistent. At the current rate, I feel like we're losing this battle, because homelessness is just becoming more prevalent in this country, especially in big urban areas. It's sad, and my hope is that I get put out of business one day. Until then, I'm just going to keep on going.
I do what I can do, and my part is helping their pets. I do help people when I can, because I get to know them in a lot of cases. If I can return and bring a sleeping bag, or something that I know may just make life a little bit easier for them, it's great. What's really cool is sometimes it doesn't take a whole lot of money to give someone a little hope. I think a lot of people are just short on hope. I've noticed that even something small means a lot to them, and it means that they aren't this dismissed castaway and that people still care. That's my small part.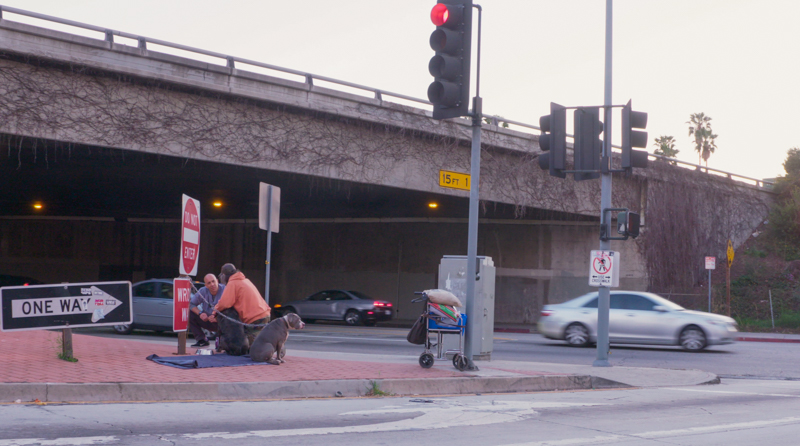 Do you have any of your own pets at home?
I have my dog, Kora, who I adopted from my old shelter — and it's kind of crazy how things came full circle. I was in Modesto last year, and I hadn't stepped foot in the shelter since I worked there; call it PTSD. For nearly 10 years, I hadn't returned there, but I happened to be in town and wanted to stop in to see old friends. My old director still worked there along a lot of the animal control officers and kennel workers, and it was great to see them. As I walked in, the first thing I said was, "I'm not here to adopt a pet. I just want to see you guys." In some ways, this was my legacy that I helped create, and I wanted to walk through the shelter again. It's still sort of a beacon in that town, and it was very nostalgic. I don't know what happened, but I walked to this one cage and there she was, looking at me. I ended up adopting this dog who was staring at me, and I still don't know why. She was just 4 months old and she's still my little baby.
How do animals bring fulfillment to your life?
Veterinary work is different than a lot of other professions. We get into it for the heart of it. I think there is a very special connection when you're a kid and you have a love for animals, and then you go into that profession. I'm a pet lover, setting my work aside. I love being around animals and interacting with them, and they provide great mental and emotional support. Kora provides all of that for me. Seeing my clients' dogs on the streets and in the clinics is really the most rewarding things. They say do what you love and call it work, and I've been doing that for 25 years. We are a pet-loving nation, and I think it's a cool time and place to do what I do.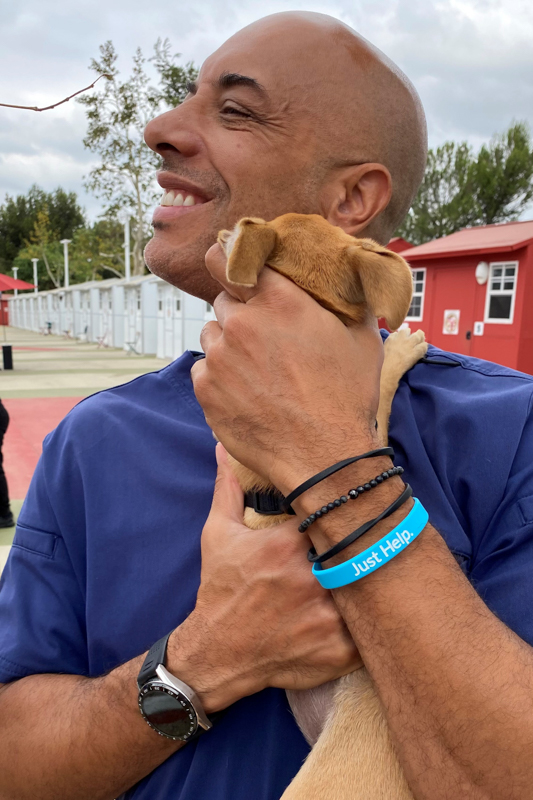 What message do you want to share with others looking to give back?
Kindness is free, and it's not hard to give. I think we get in our own way sometimes, when we see somebody hurting, in pain or suffering — and yes, I'm talking about the unhoused. We have our own judgments or hang-ups, and I think as a society, if we started to let that go, we could rally behind this issue a lot harder and a lot faster. It's going to take somewhat of a mental reset to do that, but I try to share this message anytime I can. We need to rethink this and realize that these are humans who are just in a moment of their lives where they need some help.
…
Learn more about Project StreetVet at projectstreetvet.org
Learn more about Dr. Stewart's San Diego-based veterinary practice, Papaya Pet Care, at papayapet.com.
---
Published: February 7, 2022