Animal People:
Tony Wang
Founder, The Cat Café in San Diego
A plain coffee is just fine, but how about a cat with your cappuccino? Tony Wang opened the first cat cafe in Southern California, giving guests an un-fur-gettable cafe experience while helping cats find new homes! In our Animal People interview, Tony tells us about the felines who've inspired him and the joy that comes with each new adoption.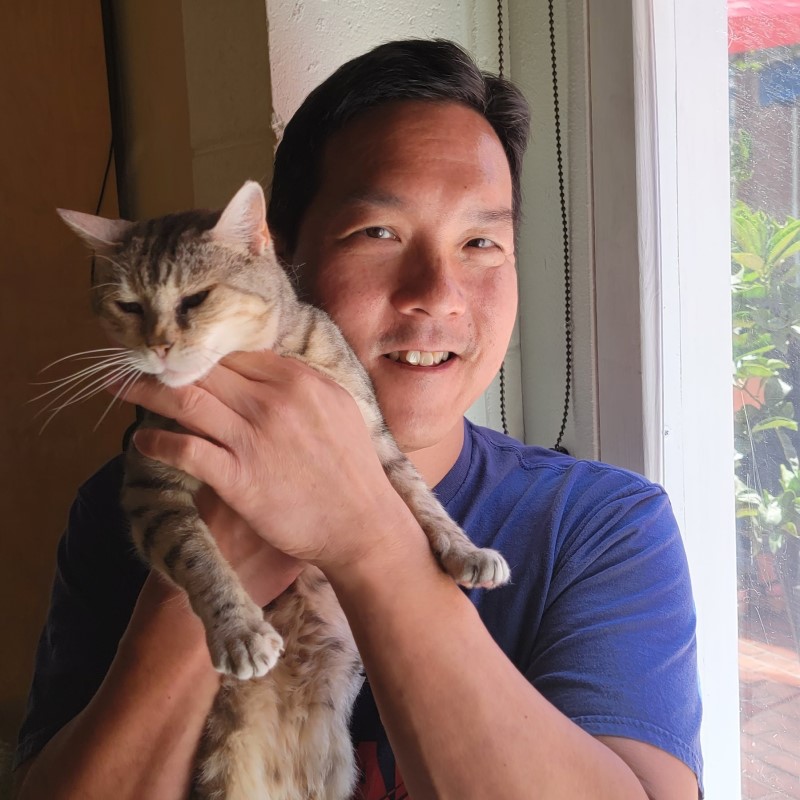 Have cats been a big part of your life since you were young?
I've always been an animal person. I grew up with dogs as a child, but didn't have my own pets as a young adult. My sister had a couple of cats I was pet sitting, and I realized these creatures were actually kind of cool! After that, I thought about adopting a cat but one made the decision for me. I was walking through the rooms of cats at the animal shelter and an orange and white cat decided to stick his paws through the bars and rub my nose, and that was that. That was my cat Tigger, who I adopted in 1998.
What inspired you to start The Cat Café?
I was doing software sales for a company, and it was all well and good, but things weren't really thrilling for me. In 2013, I had read about a cat cafe in Paris that had a monthslong waiting list to get a reservation, and I figured we could do something similar in the United States. I started bouncing ideas around with the health department in 2014, and we were finally able to open in 2015. We were the fifth cat cafe in the United States and the first in Southern California.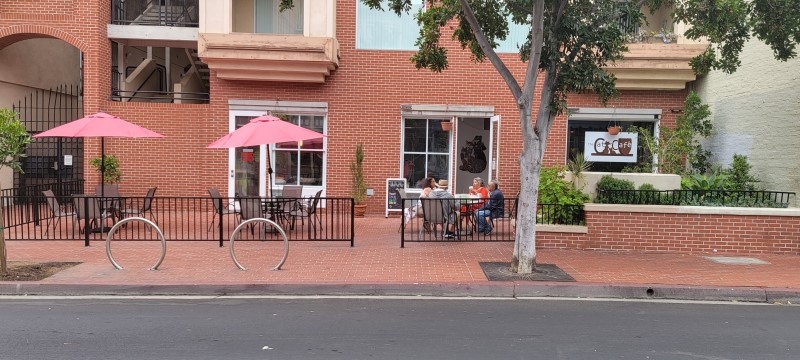 What's it like running a business that's part cafe and part adoption center?
At first, it took a little fine-tuning. We initially assumed a little too much of our visitors. For example, a lot of cats don't like to be held and they especially don't like to be held by people they don't know. We had to put some rules in place — like don't pick up the cats. But watching people interact with the animals and later adopt and take them home has been really enjoyable. Going on seven years now, it's always awesome to see the cats go home.
What makes The Cat Café a unique adoption location?
All cats have different personalities. Some cats are just happy to sit off to the side in a little cubby and will accept pets and even purr, but they probably won't come out into the center of the room where everyone is looking at them. Then some animals will run right into the center of the room to play with toys and start walking on people's laps. This environment lets you see the different personalities of the animals and that's really great for a potential adopter. You might read about a particular cat, but you don't always get to know what their personality is like until you take them home. With us, you can interact with the animals and see what they're like in an environment with up to 10 people in a room. You can figure out if they're the right cat for you — whether they're more playful or active or a mellower cat who just wants to sit by you. Typically, when our cats go home, they don't come back. The returns we do see are generally because someone in the house who didn't come to the cafe turns out to be allergic to the cat.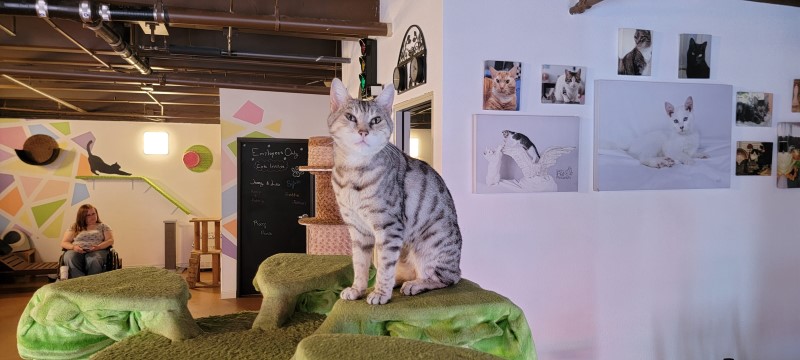 Where do all of The Cat Café animals come from?
We've worked with different rescues to find the right cats to come to the cafe. We worked with San Diego Humane Society in the beginning for two years, but had to end the partnership for a very good reason" SDHS couldn't keep cats coming in as fast as they were adopted! You need a special kind of cat — one who is all right with people coming in and out all day long and isn't going to be so scared that they shut down. Now, we partner with The Rescue House, and we've sent almost 600 cats home! We average one to two adoptions per week, and the best thing we did during the pandemic was send a lot of animals home.
We still have a partnership with San Diego Humane Society by operating the cafe at the San Diego Campus. It's a great way to expand our offerings for all of the animal lovers there who need a great cup of coffee.
After long days spent around cats and coffee, do you come home to even more cats?
Wherever I go, I am surrounded with cats. I have Jacey and a Bengal named Leo who stay at the cafe. Leo was also originally from San Diego Humane Society and had been abandoned by his people who left him behind after eight years. When he came to us, he was really depressed and wouldn't eat, so he got really thin. Fortunately, he learned to trust us and got back up to a healthy weight. There were literally dozens of people who wanted to adopt Leo, but we knew we did the right thing by letting him stay at the cafe so he didn't potentially feel abandoned again. We knew it would be really challenging for him to start over in a new home.
At home, I have a Bengal cat who I adopted from San Diego Humane Society named Koji. He had come to The Cat Café but was too rambunctious there. He was just 2 years old and on his intake form under "energy level" it said "HIGH" in all caps with seven or eight exclamation points. He had been surrendered because he was scaring all of the other animals in his previous home except for a 60-pound Lab, who was the only one who could keep up with him. Fortunately, I adopted him and he went to a home with a few other Bengal cats. One was bigger than him at 16 pounds, and that was Bagheera. Bagheera was diabetic and is unfortunately not here anymore. He lived for 16 years, and about eight or nine of those with diabetes, so he lived a pretty good life. Now I've entered into a foster-to-adopt arrangement with a Bengal rescue and Koji has a buddy named Mojo. It's been a little over a week and they've become fast friends.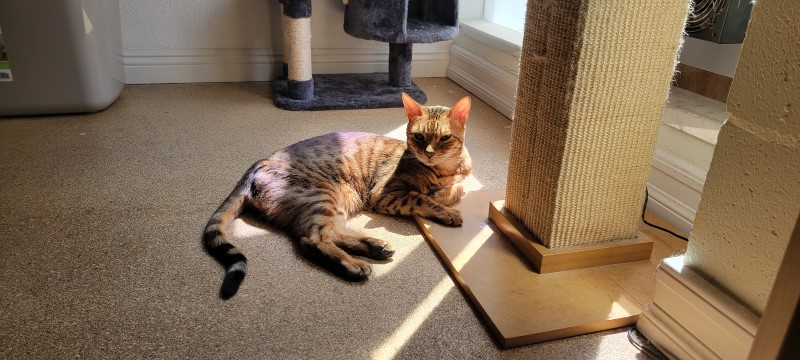 What does making all of these adoptions possible mean to you?
Seeing adoptions is kind of the thing that keeps us going. It's what kept us going through the pandemic. We weren't making any money because we were shut down, but to be able to continue adoptions gave us a focus to work toward while we couldn't bring people in. We were losing money, but we were still sending animals home, which was taking care of the social side of our mission.
Now, people are really excited to be back, and we've been really busy. Unfortunately, we're now in a situation where we have to turn people away when we're fully booked most days. It's disappointing for both them and us when we have to turn them away. The best way to come is to make a reservation.
---
The Cat Café is located at 302 Island Ave. Visit catcafesd.com for more info and to make a reservation.
Published: September 6, 2021