Animal People:
Elisha Wright
Rescue Advocate, Winner of Best in Rescue 2022
A roaring snore, goofy smile and friendly soul won over Elisha Wright when she first met Capone — and those same traits captivated the judges in the 2022 Best in Rescue show! Elisha entered her happy-go-lucky pit bull in the competition to dispel the negative stereotypes surrounding the breed, and highlight the wonderful individuality of rescue pets. When lovable Capone was crowned Best in Snoring (for his astounding vocal talents) and overall Best in Rescue, part of his prize included a $100,000 grant to support San Diego Humane Society! In our Animal People interview, Elisha tells us how Capone transformed from a sickly street dog to a beloved champ, and the joy her family finds giving back to animals in need.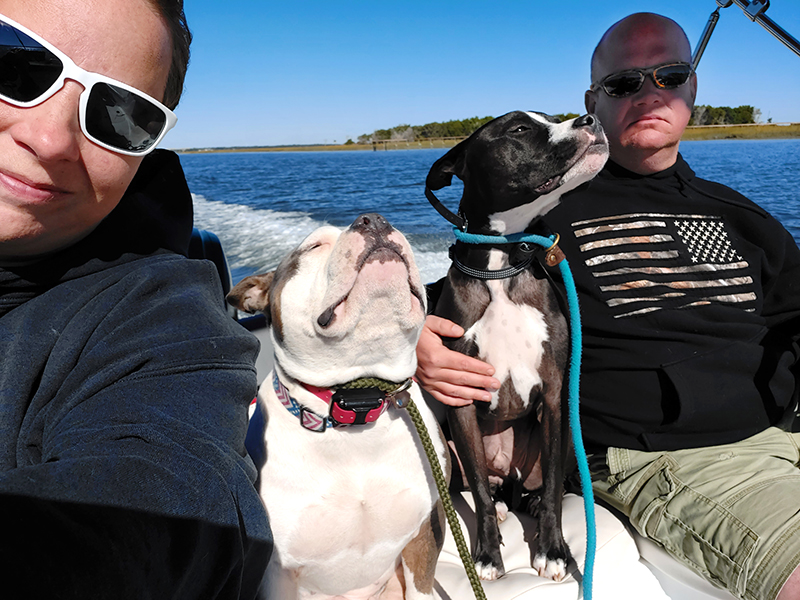 How did Capone come into your life?
We had just lost our 12-year-old shepherd pit bull mix, Coheed, and looked at a couple different dogs, but no one was the right fit. My husband, Jacob, and I were about to start "tiny living" in our camper, and move out to California for his last military station. We found Capone on the internet and went to talk to his foster. His foster mom almost decided to keep him, because he was her first foster and he's just that cool. The moment I saw Capone though, I knew I was done. I looked at my husband and said, "That's our dog." We told his foster that he would be traveling the country with us in our camper, and could live as a beach bum on the West coast. Our plan has always been to travel around more once we were done with the military. The foster heard our story and wanted him to have the life we could give him. We were so grateful, and we still keep in touch!
Capone was found on the streets of Jacksonville, Florida. From what we understand, he was used for backyard breeding. He was found with a female dog who was pregnant. We officially adopted him in September 2021. Since then, he's gone to 14 different states, been coast to coast and touched both the Pacific and Atlantic oceans. At the end of June, he's going to have about four more states under his belt when we travel to Iowa.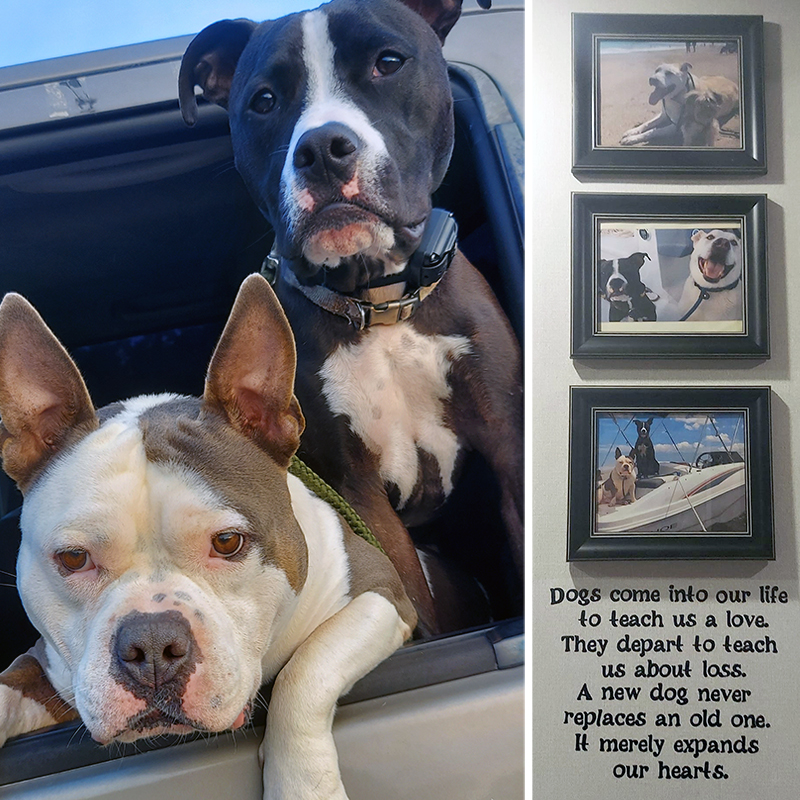 Have animals always been an important part of your life?
Animals are a big deal for my husband and me. I had a rougher lifestyle growing up, and grew up on farms with lots of pets — from parrots to horses, cattle and dogs. When we first lived in San Diego from 2014 to 2019, we volunteered at a horse rescue. It's funny, because my husband was scared of horses, but he started volunteering there to be with me. By the time we were done, he was comfortable being in with all the horses, and he overcame a lot of fear which was awesome. Whenever he's home from deployment now, we try to volunteer at Devotion to Dogs and help with dogs they're training. We love volunteering!
It's just me and my husband — we have no babies, so our dogs are our kids. My Yorkie, Riley James, was a rescue, and he was by my side for 14 years. When we lost him, we found Murray, who had been returned twice to the Humane Society in Kingsland, Georgia. I needed to have a puppy for company, because this was during COVID and my husband was gone a lot. I didn't want to be home alone experiencing that heartbreak. Murray stole my heart when he first walked out, and within an hour, we took him sailing on our boat with us. He got to see the beach and wild horses! Then we lost our shepherd pit bull, Coheed, and Murray was so sad. When we found Capone, his sadness was over. They were instant best friends. It's like he knew that's who was supposed to come. The stars aligned, and these dogs were meant to be with us.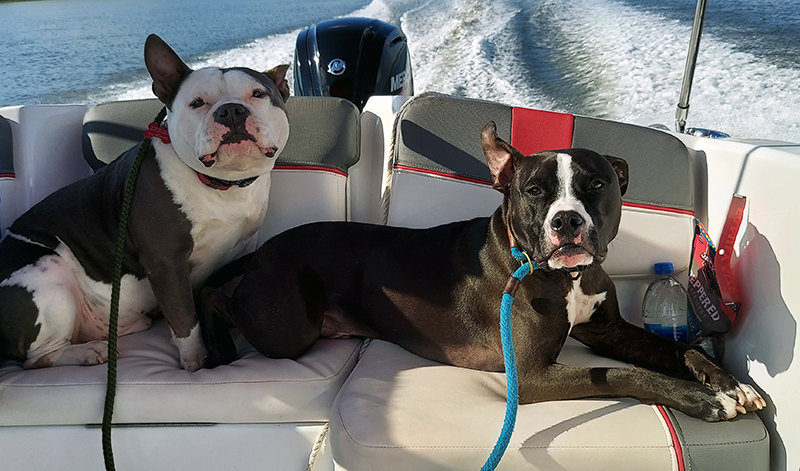 Do you enjoy tiny living with two big dogs?
We live tiny in our 37-foot camper, and Capone and Murray are the perfect companions on all of our adventures. To be honest, I don't think I could live our lifestyle without the dogs. I don't have babies, and we're away from our family and friends, so they're are all we have. They've been the absolute perfect addition to our family. They are lovers and on top of me all the time.
We take the dogs to the park for at least an hour every day to let them run and play, and people wait for us at the dog park just to see Capone. When we get home, they'll lay in our bed with us. It can be hard to sleep when Capone is snoring because my husband is snoring, too.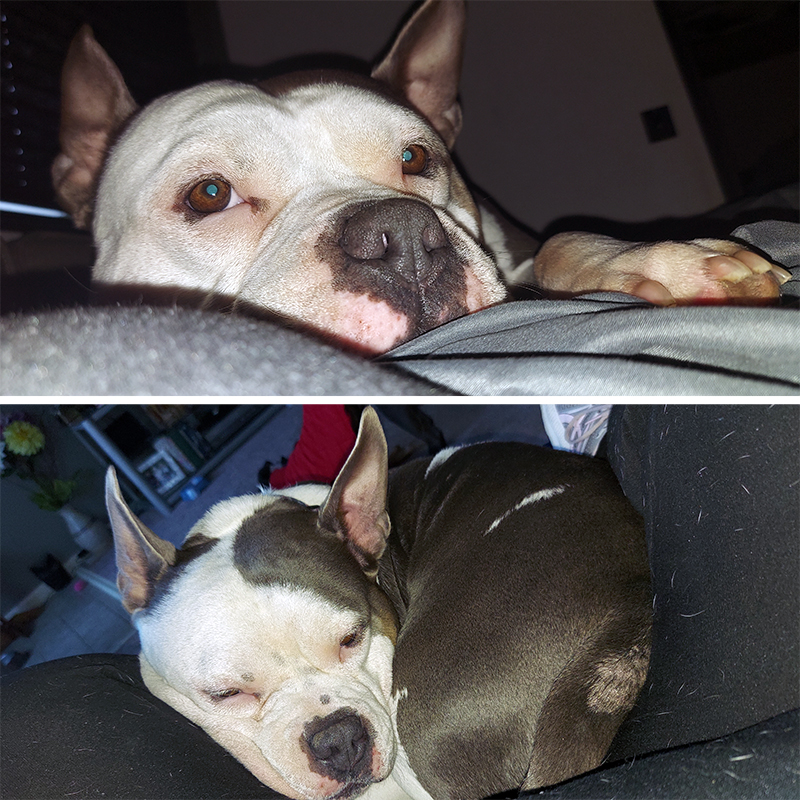 What prompted you to enter Capone in the Best in Rescue show?
We had worked with animal trainer Jennifer Gray, who was an American Dog Rescue Show judge for a couple of years. She helped us with Coheed, who had been a hard dog to handle. But with the right training, he was able to enjoy the best dog life. We kept in contact with Jennifer after that and she posted about the Best in Rescue show in February. When I saw it, I thought, "Why not? Might as well try." I first entered Capone for Best in Ears, because everyone always cuts the ears off pit bulls. But Capone's ears rock! The producers actually called me and asked if he snored. I jokingly thought he could win the whole show with his snoring, so we re-entered him in that category. My husband, Jacob, was supposed to walk him in the show in his military uniform, but he ended up getting shipped out right before the show, so I took his place. It worked out great, because Capone and I have such a good bond, and we both had a great time.
What traits made Capone stand out during the competition?
I don't want to say that he stood out in the show, but I think he had all the traits they were looking for to be Best in Rescue. He has it all — he loves belly rubs, he talks, he's a total couch potato. He's ridiculous. He's really a cool dog, and we lucked out having him. He's also a great ambassador for the pit bull breed.
People always comment on Capone's love — he's all about people. I take him to the beach and I no longer exist because he goes to say hi to everyone else. We were at the dog park a few months back, and Capone went running straight for a guy in a wheelchair, and he usually doesn't run so fast. He sat in front of this guy and waited to be pet, and this man was almost in tears. He told us that most dogs want to attack his wheels, but Capone doesn't care about that. Capone helps people overcome their fear of pit bulls. He'll sit and wait for attention, and if someone doesn't pet him, he'll move on. (But he always comes back to try again!) People almost always give in to his good looks. Since the show, he's gotten even more ridiculous than he was in the first place. He's a funny dog.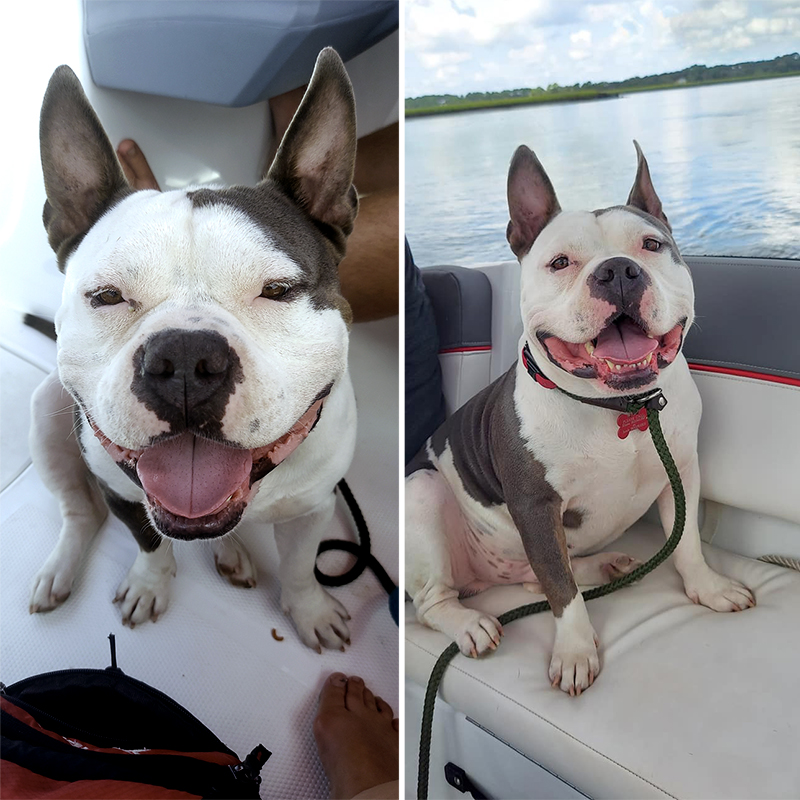 What does it mean to you to be able to share Capone's story and help more rescue animals?
Capone had heartworm and a bad fungal infection on his skin when we met him. When we finally adopted him, after fostering him through his treatments, there was no adoption fee. The shelter had been running a big promotion to adopt out dogs with medical needs. Capone couldn't do much for three months, and it was rewarding to see him come out of his shell after so much work. That's also part of the reason why we entered the competition. We were so excited to be able to give back to other animals through the Best in Rescue winnings. He's such a cool dog, and we just wanted to show him off and give back. I think it's pretty cool — even if you get a dog with medical needs, they're still so awesome.
---
Published: June 27, 2022