Be The Best Pet Owner You Can Be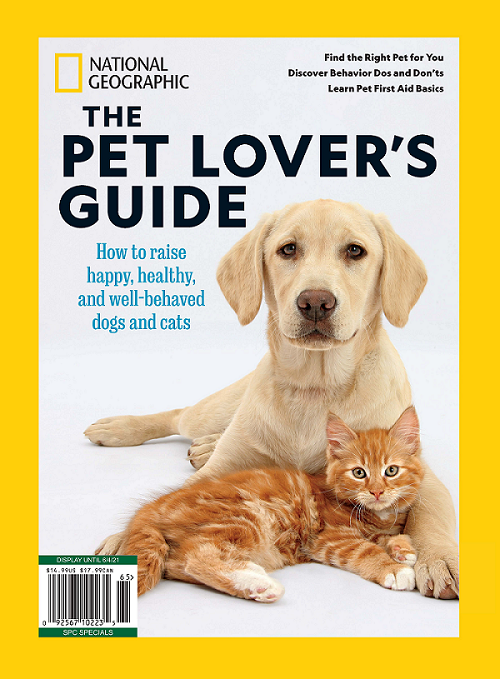 Have you ever wondered if your pet is happy? Or whether a gurgling stomach could be a true emergency? How often do you wish you had instant access to a veterinarian for help?
Well, now you can.
Our very own President and CEO Dr. Gary Weitzman has published a new bookazine (his ninth title with National Geographic): "The Pet Lover's Guide: How to raise happy, healthy, and well-behaved dogs and cats." This easy-to-read guide brings pet expertise to your fingertips — morning, noon and, yes, even the middle of the night.
"The Pet Lover's Guide" is your go-to resource for at-home animal care with expert advice on health, behavior and training. Animal lovers will find the answers to common questions and curiosities, including:
Basic first aid every pet owner should know.
Simple training techniques to improve behavior.
Understanding your pet's body language and behaviors.
Insights on nutrition and healthy living.
This handy reference will help new and seasoned pet owners understand everything about being a responsible pet parent. Building on more than three decades of knowledge, renowned veterinarian Dr. Gary Weitzman combines insider tips and expert advice in this essential guide for caring for your pets.
"The Pet Lover's Guide" is available for purchase on Amazon or at your favorite retailer, wherever magazines are sold. Plus a portion of the proceeds will support San Diego Humane Society!
About the Author:
Dr. Gary Weitzman joined San Diego Humane Society as its president and CEO in 2012. A Certified Animal Welfare Administrator, he has served as chair of the board of the Association for Animal Welfare Advancement and is currently a board member of Shelter Animals Count and Mama's Kitchen, a San Diego nonprofit committed to providing food for people with chronic illnesses. An Air Force veteran, he earned a double BA in biology and English from Colby College, a master's in International Public Health from Boston University and his DVM from Tufts' Cummings School of Veterinary Medicine.

Dr. Weitzman was the former co-host of the nationally distributed public radio program The Animal House which ran for seven years, and is the author of eight additional books published by National Geographic: "Everything Dogs," "How to Speak Dog," "How to Speak Cat," "The Complete Guide to Pet Health, Behavior and Happiness," "Fetch" and "Pounce." From National Geographic Kids are "Dog Breed Guide" and "Cat Breed Guide."
Published: March 4, 2021