Tips for a Safe Fourth of July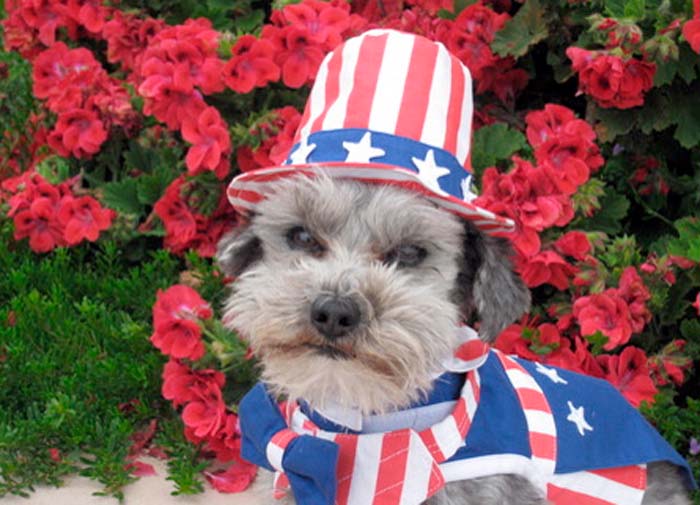 San Diego Humane Society is reminding pet parents to keep their animals in mind as they plan their July Fourth celebrations. The number of stray pets typically spikes as a result of startling fireworks and the commotion of at-home festivities, so planning ahead can help ensure animals stay safe throughout the holiday.
For the safety and protection of your pets, SDHS recommends the following:
*Secure pets inside your home. Pets are members of our family, so it is understandable to want to include them in your holiday plans. But it's safer and less stressful for your pet if you keep them securely inside your home. Animals are more sensitive to their surroundings, so the jolts, lights and loud noise of fireworks can be scary and cause them to flee in search of safety.
*Create a cozy space. Prepare a comfortable space in your home where your pet can be sheltered from outside noise and lights. Provide a crate or bed to snuggle in, and consider leaving the TV on or playing soothing music to help drown out other noise and ease anxiety. Giving your pets their favorite treat or toy also provides enrichment and will help keep them busy throughout the day.
*Pet-proof your home. When scared, some animals may become destructive, so be sure to remove anything from reach that can become damaged or may harm your pet if chewed or eaten. Keep all doors and windows closed, and patch any holes in your fence to keep your pets in — and unfamiliar animals out — of your yard. If you have guests, ensure they know to keep your pets inside at all times.
*Identification is essential. Make sure that your dogs are licensed, that all your pets are microchipped, and that collar tags have up-to-date contact information. If your pet does go missing, these can make for a quick reunion.
*Consult a veterinarian for pets with anxiety. Check with your veterinarian before the holiday to discuss strategies for lowering your pet's stress level.
All SDHS shelters will be closed for July Fourth. If you lose a pet over the holiday, please check our Found Pets page on July 5.
If you find a stray pet over the holiday, try to locate the owner in your area first. The pet may have tags with a phone number and you may be able to prevent a ride to the shelter. If you cannot find an owner, please keep the pet safe overnight (including isolated from your own pets) and bring him or her to your local shelter on July 5, during normal business hours. If you are unable to safely care for the animal overnight, call your local law enforcement agency for next steps. More information is available at sdhumane.org/lostandfound.
San Diego Humane Society campus locations and contact info can be found here.
Published: June 30, 2021