Born to be Wild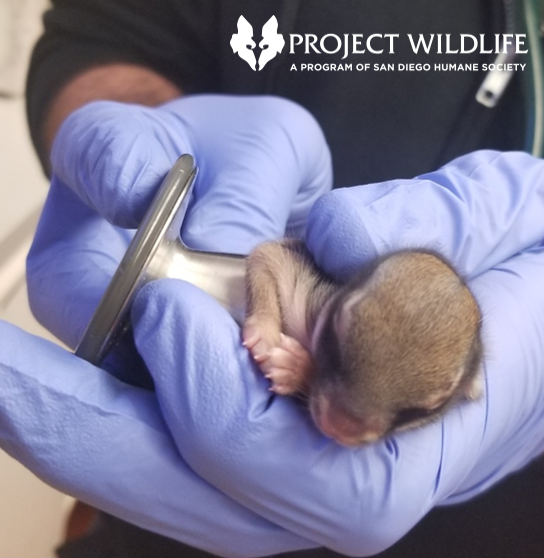 This bunny was just a few days old when she was found in a children's sandbox with a sibling. These fragile babies—weighing only as much as a ballpoint pen—were among the first patients to arrive at Project Wildlife this year.
Now, with the opening of the Pilar & Chuck Bahde Wildlife Center, thousands of babies like them have a new habitat in which to thrive when they need time and space to recover. This state-of-the-art facility will provide 12,000 injured and orphaned wild animals each year with habitats specially designed to reduce stress as they recover before they are released back into the wild.
The Pilar & Chuck Bahde Wildlife Center is an important milestone for Project Wildlife and wild animals in our region:
For nearly 50 years, Project Wildlife has operated in a 1,120-square-foot trailer. This limited space was no longer sufficient to provide the specialized care needed by the growing number of wild animals coming through our doors.
The new 5,200-square-foot facility will increase capacity, reduce stress and improve quality of care so injured and orphaned wild animals can be successfully rehabilitated and returned to the wild.
New features of the Bahde Wildlife Center include:
A new, state-of-the-art medical and surgical suite that will expand our veterinary capabilities and provide a permanent, dedicated home for veterinary care for wildlife.
Expanded and segregated habitats designed to reduce stress by providing adequate space and limiting our patients' exposure to humans and other animals.
New waterfowl enclosures with ponds for the thousands of ducklings we rehabilitate each year.
Animal enclosures include essential preventive measures against diseases such as rabies, giardia and more, all of which may be zoonotic.
Larger pre-release enclosures will allow birds to test their wings for flight or develop their foraging abilities so they're able to survive in the wild.
The Center will set new standards and serve as a model for wildlife triage and care nationwide.
The Center has a medical team led by our new wildlife veterinarian, Dr. Jonathan Enyart.
The new Wildlife Center will enable a greater level of care for wild animals. But caring for wild animals starts with how we coexist with them in our own back yards. Often, the best thing you can do for wildlife is to leave them alone. Too often, perfectly healthy animals are orphaned or become injured when we interfere. If you ever have questions about how to coexist with wildlife, or how to humanely deter a so-called "nuisance" animal from your yard, we have plenty of information here, including what to do if you find an orphaned animal or how to stop wildlife from moving in.
From the coast and mountains to the desert and urban neighborhoods, San Diegans share our beautiful landscape with more than 320 animal species. Project Wildlife is the primary resource in San Diego County for wildlife to receive help when they critically need it. As our human population grows, we have less natural space for wildlife, which dramatically increases the need for rehabilitative care and conservation. Now we'll have a facility built specifically to help care for the animals which make San Diego such a special place.
By respecting wildlife, we're preserving our rich ecosystem for current and future generations. We're the most biodiverse region in the country, and together, we can make sure we stay that way.
Sincerely,

Gary Weitzman, DVM, MPH, CAWA
President and CEO, San Diego Humane Society
---