Meet Tabby
For five years, the author of our Dear Tabby column has dispensed expert pet behavior advice from behind the scenes. But who is "Tabby"?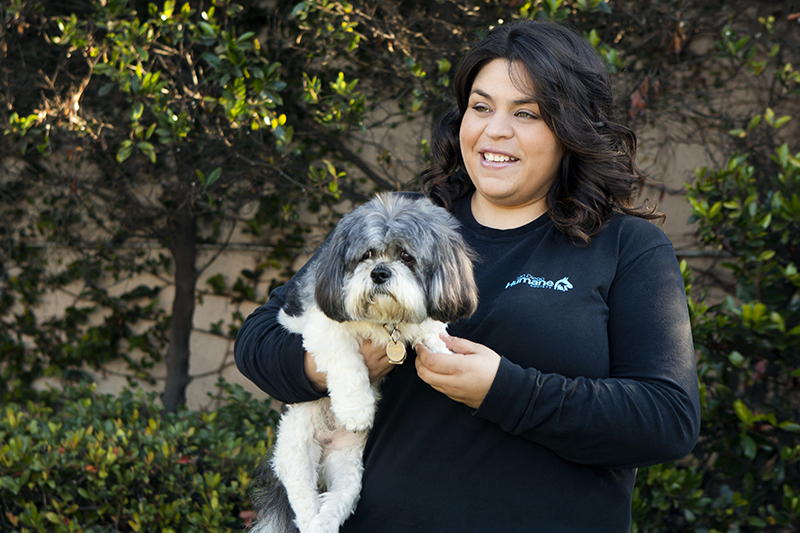 It turns out she's One cool cat. Meet Shauna Romero, whose endless pet wisdom is borne of a career volunteering and working in shelters. "It's hard to stump me on a behavior question," she says. Romero was recently promoted to San Diego Humane Society's behavior and training supervisor. The new role has her overseeing all training programs and trainers at the San Diego Campus.
Of course, her passion for animals spills into her personal life, too. Enter Kiki, Romero's shih tzu mix. They met 13 years ago when Romero was a college student in San Luis Obispo and volunteering at a local shelter. When the authorities rescued 80 small dogs from a hoarder, Romero was given Kiki, a 5-day-old puppy born in the shelter, to foster. Romero had always wanted a big dog for herself. "But my best friend convinced me to keep her. She said, 'This is a big dog in a little body,' so I adopted her."
They became fast friends, and in a short time Romero taught Kiki 60 tricks ranging from agility training to nose work. Kiki visited schools to assist with humane education programs. She even became something of a celebrity, appearing on a billboard for a bank and attending events where she gave "pawtographs." "All the early socialization and training I did with her molded her personality and allowed her to learn all of this," Romero says.
Around her fifth birthday, however, Kiki began having back problems—stemming from a ruptured disc that required surgery. "When she came out of surgery, she wasn't walking," Romero says. Despite swimming sessions and other physical therapy, the procedure ultimately left her with paralyzed hind legs and no control over her bladder. Both Kiki and Romero had to modify their lives, which included outfitting Kiki with a pink wheelchair.
Kiki adapted to these changes right away and now keeps a busy schedule of appearing before groups of kids and performing plenty of tricks—she barks on cue and can even say, "I love you, Mama." By example, Kiki teaches perseverance and compassion. "I say, 'Does she look sad?'" Romero says. "She can do a lot more than most. I tell kids we still go to the beach. The fact that she's disabled doesn't mean she has a bad life, or I have a bad life."
Published: January 1, 2020