The Art and Science of Pet Behavior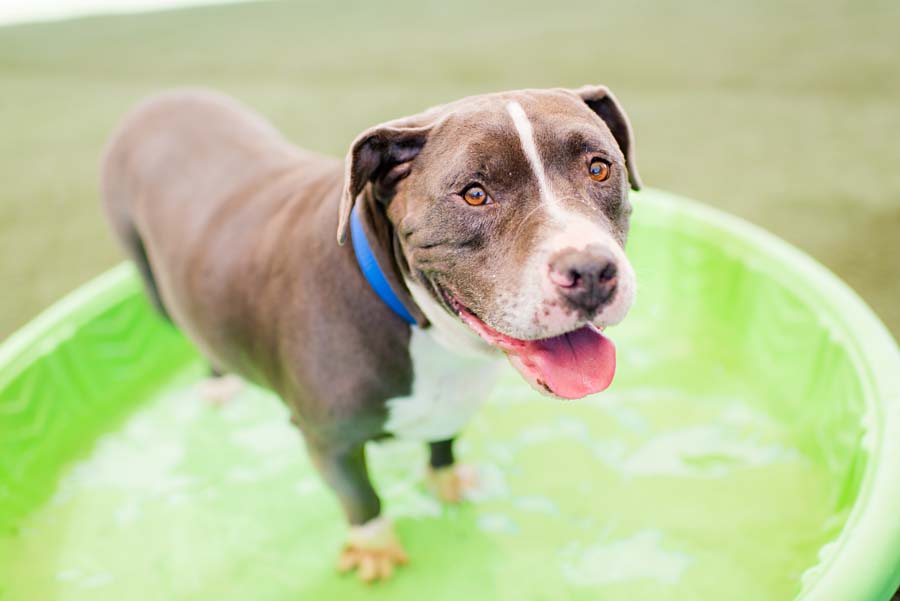 Maybe when you were little, your parents said to you, "Will you please just behave?" They were talking about your socialization.
Socialization is a big word, and when applied to cats and dogs, the goal is to help them get comfortable with their feline and canine pals, with "their" people and other people, and with situations they encounter in daily life. To do that requires the right kind of intervention at an early age.
"With kittens and puppies, proper socialization is really critical to development, because it influences the kind of behavior they'll exhibit in the future," says San Diego Humane Society Behavior Center Director Amanda Kowalski, M.S., CPDT-KA. "Socialization is so important that later in their lives it may be a factor that prevents them from entering a shelter—one of the top reasons for relinquishment."
It's Important to Start Now
Kowalski says that cats and dogs less than 3 years old—specifically between 6 and 18 months or in their "adolescent period"—do get surrendered to shelters for behavior challenges their owners don't understand or can't manage.
"At that point, it's very important that you build a bond and lay the foundation to help them be a more well-adjusted animal as they grow and mature—to enjoy life with you now and in the future," she says.
Because not every animal gets that strong foundation, Kowalski is part of a seven-trainer team at the main San Diego Campus that works with animals identified as needing some extra help in the behavior area. Trainers also work with pets at Oceanside and Escondido, and in 2017, the comprehensive program graduated 478 animals.
"We are fortunate to have the ability to keep some animals in our care for a long time while maintaining their quality of life, as we prepare them to go to their new home," says Kowalski, "and they go on to lead enriched, fulfilled lives."
What Stresses Pets
All the behavior professionals concentrate on these main areas of focus with their young meowing and barking students, says Kowalski:
1) Fear of new people, environments and situations
Behaviorists work to reduce fear, and to teach the youngsters skills to help them cope with their entire spectrum of emotions. Animals can employ avoidance to get away from what's bothering them. When scared, dogs may lunge, growl or snap as more overt behaviors, or when highly aroused, jump around and be very "mouthy."
Cats may hiss, swat or bite. "While normal behaviors," Kowalski says. "We want to teach them all to be comfortable and calm."
2) Overstimulation
This often occurs when a well-meaning admirer pets a cat "for just one second too long," she says, resulting in over-arousal. "That can result in the human getting 'nailed': swatted at or bitten."
Cats, like all animals, have a limited range of ways to express themselves, lacking the extensive vocabulary of the human species. To train cats, behaviorists will limit the amount of time they play with the animal to short intervals, not allowing them to get to that point of overstimulation. Some animals in general may simply not enjoy being touched or petted, especially those with medical conditions.
Although the term does apply to cats specifically, "jumpy and mouthy dogs are referred to as highly aroused, with poor impulse control," says Kowalski.
3) Handling sensitivity
Like overstimulation, this behavior can result from being touched. Some animals just don't like it, as with being brushed or groomed, having ears cleaned or nails trimmed. Others would rather just be left alone and still others want nothing to do with being restrained.
"Sometimes fear and handling sensitivity can be combined in the same animal," says Kowalski.
How We Can Help
When San Diego Humane Society began providing services to six additional regional cities on July 1, 2018, that meant behavioral services were needed for some of the additional 20,000 animals now cared for each year. Public training classes were discontinued, but they'll be back in January 2019.
Look for two classes sure to bring smiles to everyone: kitten and puppy socialization classes that establish basic manners and help forge that invincible bond between pet and owner.
Kitten kindergarten, for three weeks, is for babies age 8 to 13 weeks, and owners will work on teaching their little ones to be comfortable being touched all over, especially ears and paws.
"By the third class, they've learned to sit, and they're playing with toys and each other," she says. "They're also used to wearing a harness. Owners are so surprised that their cats can learn a trained skill, when in fact cats are recognized as very intelligent animals. They say, 'I didn't know my cat could do this!'"
Puppies ages 8-16 weeks attend class for six consecutive weeks. "The most rewarding thing is when we've had a puppy or adult dog that maybe wasn't doing so well on the first night and is a little fearful. Then the last night, you see they've blossomed and have really gained confidence. Those owners say, 'I'm so proud that my dog has accomplished so much!'"
Once out of training, socialization remains a lifelong experience for both cats and dogs.
Owners can control the environment and exposure to certain situations, Kowalski says. "The rate of socialization, however, is controlled by the pet, and should be done at the pet's pace. It should be fun and enjoyable, and never result in fear, anxiety or stress."
Sounds like pets and people need the same things. Learn more about behavior resources at San Diego Humane Society here. If your pet needs some training, don't get frustrated and give up, or give your pet up—get some help. You'll both be glad you did!
Published: April 15, 2019