De-Stress Activities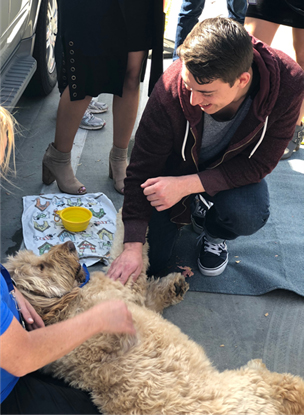 Thank you for your interest in hosting a De-Stress Activity to support the lifesaving programs at San Diego Humane Society! These guidelines will help you prepare for a special activity with furry friends.
Our friendly Animal Ambassadors can be invited to your organization, school or workplace to give participants a calming break in their day.
WHAT WE'LL NEED FROM YOU:
Determine your timeframe. For the comfort of the animals, two hours is the maximum visit time unless we arrange for multiple shifts of volunteers.
Designate an indoor or covered outdoor area large enough to accommodate volunteers, animals and participants. If you have more than 30 participants, please ask them to take turns visiting the animals.
Verify that animals are permitted on-site. Please note: the pets attending are not considered service animals.
Specify the types of animals you would like us to bring. We typically send Canine Ambassador dogs to these activities. Small animals (guinea pigs, rabbits and rats) and occasionally puppies or kittens may be available upon request.
Provide parking for volunteers (when possible). If parking cannot be reserved, instructions on parking options will be needed.
Volunteers will typically arrive 10-15 minutes before the activity begins. Please provide detailed instructions on where they will need to go when they arrive, as well as a contact person and cell phone number for day-of questions.
The program fee is $50. Payment can be made online.
Fundraising opportunities are a great way to enhance the visit and support our animals! Participants, companies and the organizer can give cash donations or items for a wish list donation drive. If interested, we can supply signage, donation lists and other information as needed.
WHAT WE OFFER:
Depending on the size of your event, we will provide 1-5 Animal Ambassadors per 1-2 hour shift. Visits are typically made by volunteers, so the number of animals available depends on the number of available volunteers and staff members.
Our Canine Ambassadors are volunteers who bring their own dogs who have been medically and behaviorally assessed to participate. The dogs are various breeds and ages. Small animals (guinea pigs, rabbits and rats), puppies and kittens may be Animal Ambassadors, or other animals in our care.
Once we confirm your activity, we will begin recruiting Animal Ambassadors. We will reach out the week before the visit to confirm the number of animals and handlers to expect.
Our volunteers are responsible for picking up after the animals as needed and managing interactions with participants.
For fundraising initiatives, we can support you in advance and/or on-site with signage, donation lists and other information.
THANK YOU FOR YOUR SUPPORT!
For more information or questions, contact Kelly Termine at [email protected]