Project Wildlife Speaking Engagements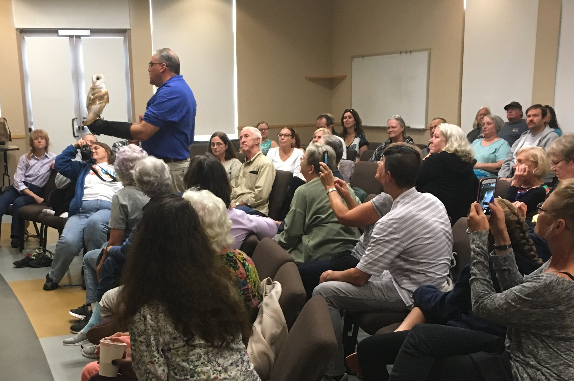 Project Wildlife, a program of San Diego Humane Society, welcomes requests to speak at community organizations, companies, clubs, etc. about our wildlife services and how to better co-exist with local wildlife. We are available both virtually and in-person. We can tailor the presentation to meet your needs.
Due to the Highly Pathogenic Avian Influenza (HPAI) we cannot guarantee the attendance of a Wildlife Ambassador, however we will do our best to accommodate. For more information on HPAI please visit sdhumane.org/birdflu.
Project Wildlife has begun charging for our educational programs so we can continue to help over 13,000 patients annually. When requesting a program please provide a few different dates/times that work for you, the number of people expected to attend, and your preference on wildlife ambassador and we can provide a quote for the program.
To learn more, email [email protected]
To schedule a presentation, please fill out this request form