The Worst of Times is Showing Us a Better Future for Animals
Since the world has been battling COVID-19, animal shelters have adapted and evolved to find new ways to care for pets and wildlife in need. And we'll continue to do so through this pandemic and beyond. If there's a silver lining to how COVID-19 has impacted animal welfare, it's that it's caused us to imagine a world where fewer animals need to enter shelters in the first place — and we're getting an unexpected head start on making that a reality during this pandemic.
Animals are blissfully unaware of the threat that humans are facing with the new coronavirus — and those working in shelters know that these animals can't wait for their second chance just because humans are social distancing. At San Diego Humane Society, our foster program has become key to keeping our employees and volunteers as safe as possible, and to reducing the number of animals housed in our shelters. We put out a call to our community to begin fostering pets in need, and we received an amazing response! The availability and willingness of hundreds of local fosters could have a long-term impact on how animal shelters operate.
Since the start of this pandemic, we've placed more than 70% of our animals in foster care! Additionally, our foster, reclaim and adoption services have all become virtual and curbside.
The pandemic has given us an opportunity we can't afford to squander. For more than a century, the responsibility for the welfare of animals has fallen almost entirely to animal shelters and rescue groups. These past two months have made it abundantly clear that our animal-loving community will come to our assistance when we really need them. That time is now as we develop new technologies and processes to complete adoptions, place animals who are available for adoption in foster until they find their families, and make our processes to reclaim and adopt animals digital and more efficient. This is our chance to propel animal sheltering into the 21st century.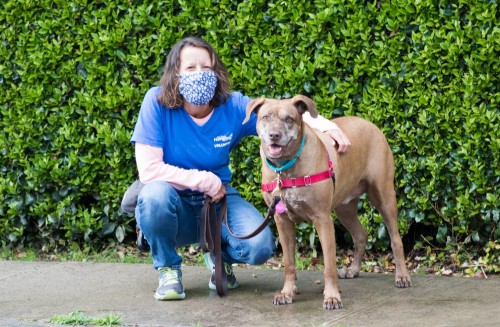 The current situation we're collectively facing is going to change a lot in our lives, and for many it will have a lasting impact. In animal welfare, this may change the way we shelter animals long after the pandemic is over —and that change may be for the better. We've established a task force to examine how to bring our operations fully online, and how to best implement the lessons we've learned in our new model of sheltering.
Here are just a few ways our virtual processes are benefiting animals and our community:
One of the benefits of our new virtual adoptions process is that pets can live in foster homes while they are available for adoption on our website.
To help with virtual operations, our Resource (Call) Center has expanded hours and doubled in capacity with staff working safely and remotely from home.
Our Foster team has paired up potential foster families with available animals — and some of those families may very well end up adopting those animals!
Each of these represent ways our work for animals continues to thrive — even during this time of social distancing. While we humans are separated, we'll look to our shared passion for animals to continue to unite us. And we'll look to take advantage of new opportunities to partner with our friends and neighbors to join us in creating a more humane San Diego. While it feels so far away now, the time will come when we'll be back to seeing our friends, sharing our stories and uniting in person behind our joint commitment to animals and the people who love them.
Stay safe,
Gary Weitzman, DVM, MPH, CAWA
President and CEO
San Diego Humane Society
Published: April 29, 2020