Animal Ambassadors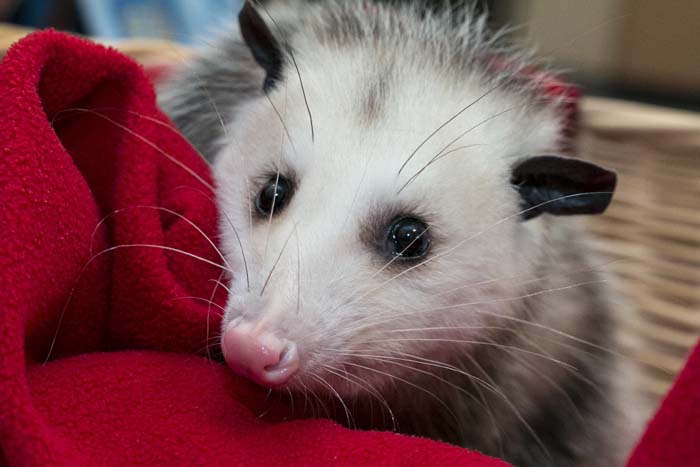 Part of our mission at Project Wildlife is to promote wildlife conservation by teaching children and adults about the beauty and value of our wildlife.
California's wildlife belongs to us all, and we want to encourage stewardship and appreciation of our native species and ecosystems. As the continuing loss of habitat brings wildlife in contact with people now more than ever before, it is imperative we communicate the importance of protecting natural spaces for wildlife and ways to better coexist.
To help achieve this goal, we travel throughout the county with our education animals, providing safe and fun wildlife encounters. In booth programs and presentations for schools, Scout troops, organizations and various private groups, we share the stories of these animals that cannot do so for themselves.
Meet our Animals Ambassadors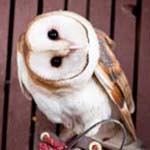 Boo
Boo came to Project Wildlife as a young owl who had been raised by the public. Due to being hand-raised, Boo is not afraid of people and as a result cannot survive in the wild. Boo lives in Ramona with his caregiver with whom he has formed a special bond. In addition to flying right to his caregiver's wrist for training sessions and outings, during breeding season Boo makes mating calls to his caregiver to let him know that he's his chosen mate!
---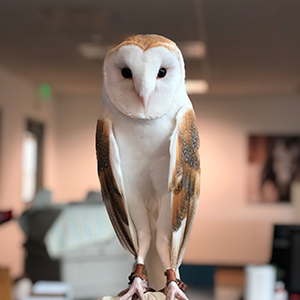 Casper
Casper the barn owl arrived at Project Wildlife in 2015 as a very sick young bird. It took six months to get him healthy and eating on his own. Unfortunately, due to his length of stay and how often he had to be hand-fed, he was too used to humans to be released into the wild.
---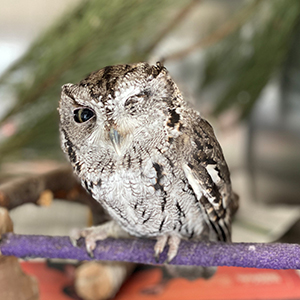 Chuck
Chuck is a western screech owl who came into Project Wildlife in 2018 with head trauma and a parasite infection. The parasites were treated but to prevent infection and pain, our vet staff removed his left eye. They noticed he had poor vision in his right eye and compromised hearing. With poor eyesight and hearing, he would not be successful in the wild. We believe his injuries may have been caused by a car strike, so Chuck now educates the public about safely driving at night and being aware of our nocturnal wildlife.
---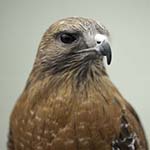 Kwa'Pai
Kwa'Pai is a Red-shouldered Hawk who came to Project Wildlife as a hatchling in 2004. He was found on the ground underneath a nest, and it was soon discovered that he was blind in his right eye. With poor depth perception and the inability to see danger from one side, Kwa'Pai was unable to be released into the wild. Kwa'Pai's vocalizations and regal bearing inspired his name, which means "chief" in a dialect of the Kumeyaay people. He actually has a very calm personality and loves the showers he gets in his enclosure on hot days, holding out his wings to get soaking wet underneath.
---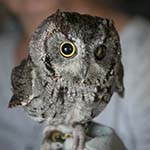 Luna
As a young adolescent, this female Western Screech Owl was transferred to Project Wildlife by a veterinary hospital in July 2011 with severe head injuries. After Luna was examined by our staff veterinarian and a veterinary eye specialist, it was determined she had loss of vision in her left eye, damage to her right eye and loss of hearing in her left ear. Without at least one healthy eye and both functioning ears, she would be unable to survive in the wild. She has since adapted well to life in captivity, and can now be found doing educational programs throughout San Diego County.
---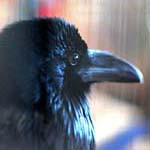 Moki
Moki (Hawaiian for "Rascal") is a common raven brought to Project Wildlife in 2000 as a hatchling with a broken wing. His injury did not heal completely enough for him to be able to survive on his own in the wild. As a result, we brought him into our education program and habituated him to humans and human behavior. Like all ravens, Moki is excellent at imitating sounds that he hears regularly, including the voice of his regular caregiver.
---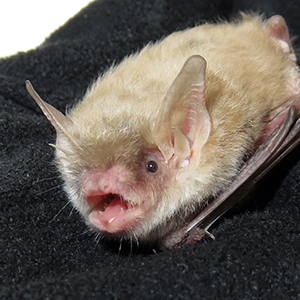 Tracy
Tracy the Yuma myotis bat came into care in 2017 when two wildlife biologists observed her struggling to stay airborne. Upon examination, it was clear that her finger bones and arm bones were severely deformed and stunted — she had metabolic bone disease. Despite getting extra dietary calcium in care, the bone damage was already done and she would never fully develop the ability to fly. In the wild, this shy species hunts almost exclusively around fresh water sources, feeding on emerging aquatic insects such as mosquitoes. They are one of the first bat species to awaken after sundown, so if you are ever near a water source at dusk, such as one of our coastal lagoons, and you see tiny bats hunting low above the water, you are probably watching Yuma myotis snagging their breakfast.
---