Group Activities for Adults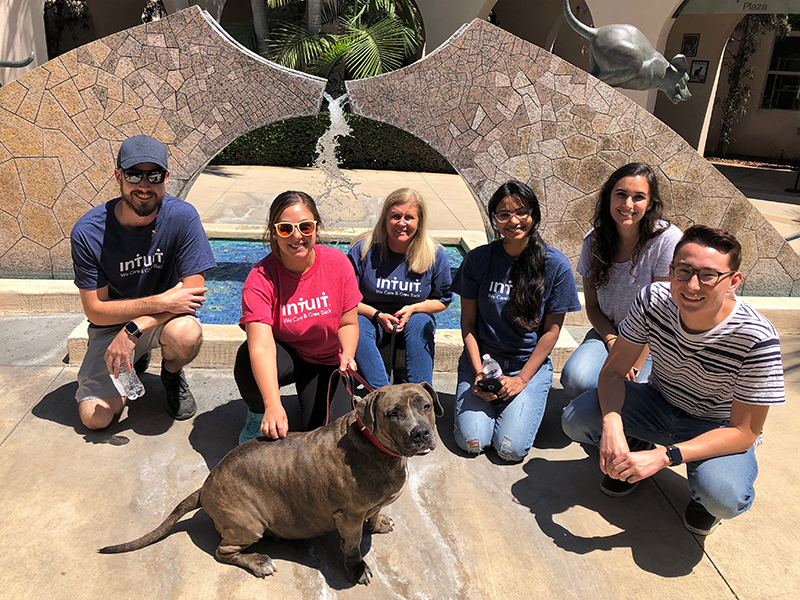 Thank you for your interest in bringing a group to San Diego Humane Society! Please check out the following opportunities we have available for friends, families, companies or organizations (groups of 5 or more) looking to support our mission. Read through the list of activities below to see which one fits your group's interest and size best (please, choose just one activity). Then, reserve your space to get the process started.
College students, please visit our College Student Project and Engagement page for more information.
2022 Walk for Animals - San Diego
We have an immediate need at our Walk for Animals fundraising event at NTC Park at Liberty Station on Saturday May 7, 2022. Please click here if you are interested in learning more on how you and your group can get involved!
Which activity best fits your group's interest and size?
Thanks for your interest in volunteering with the San Diego Humane Society. Please provide some information about your group, and we'll be in touch shortly.
Do-It-Yourself Together Projects
We invite you to finish these projects with your group at home, your place of business or another location due to the current COVID situation. Once you finish, we are happy to have you deliver the completed projects and attend a tour of one of our campuses.
If you are interested in us hosting your group, we ask that the group is less than 10 and you provide the supplies. An animal meet and greet and tour will be included as part of your volunteer activity. These opportunities are limited.
Check out the DIY options, to see what works for your team's interest and skill level.
---
Wag n' Walk
November and December 2022 currently available
You and your group of 10 or less are invited to enjoy an active 60-90 minutes of walking with some of the pups in our care. This a great way to socialize our pups, get some exercise and enjoy a beautiful day!
Donation: $20 per person
Your experience includes:
Meeting at a convenient hiking location
Brief training session
Walking with a staff person and 1-5 dogs (depending on availability)
Your support will benefit many of our life saving programs!
---
Ramona Wildlife Center Clean Up
Your experience includes:
You and your group of 15 or less are welcomed at our wildlife center in Ramona for various landscaping projects.
Your experience includes:
Clean up, planting, painting, organizing, etc. Each project will be determined on the campus needs.
Limited campus tour
Wildlife ambassador sighting
Your support will keep our campus looking its best, so the caretakers can spend their time rehabilitating the thousands of animals that come into our care every year!
---
Community Pet Pantry
Offered on Wednesday-Saturday depending on availability
You and your group of 8 or less are invited to support a program that supports people and pets in need.
Your experience includes:
Ambassador Meet & Greet
Campus tour
Volunteer activity - Bagging pet food/litter, organizing & cleaning
Your support will benefit many of our community support services programs!
---
Treats (ON HOLD)
Your group of any size can put on a bake sale (human and/or dog) either at your place of business, school, etc. or at a San Diego Humane Society campus. Treat sales will be donated to San Diego Humane Society.
How: Participants will receive a tour and animal meet & greet. If group is larger than 20, special arrangements will need to be made for the tour.
When: Monday-Sunday
Hours: 9am-6pm (if you choose to do this at a San Diego Humane Society location)
Cost: Materials / ingredients for treats
Please choose only one activity.
---
For more information, contact Elkie Wills at [email protected].